BOA
What If? Experimenting with 2022 BOA Grand Nationals Predictions
What If? Experimenting with 2022 BOA Grand Nationals Predictions
As the Bands of America Grand Nationals loom, we experiment with math to try and predict the exact order of finish for nearly 100 bands.
Nov 11, 2022
by Jeff Griffith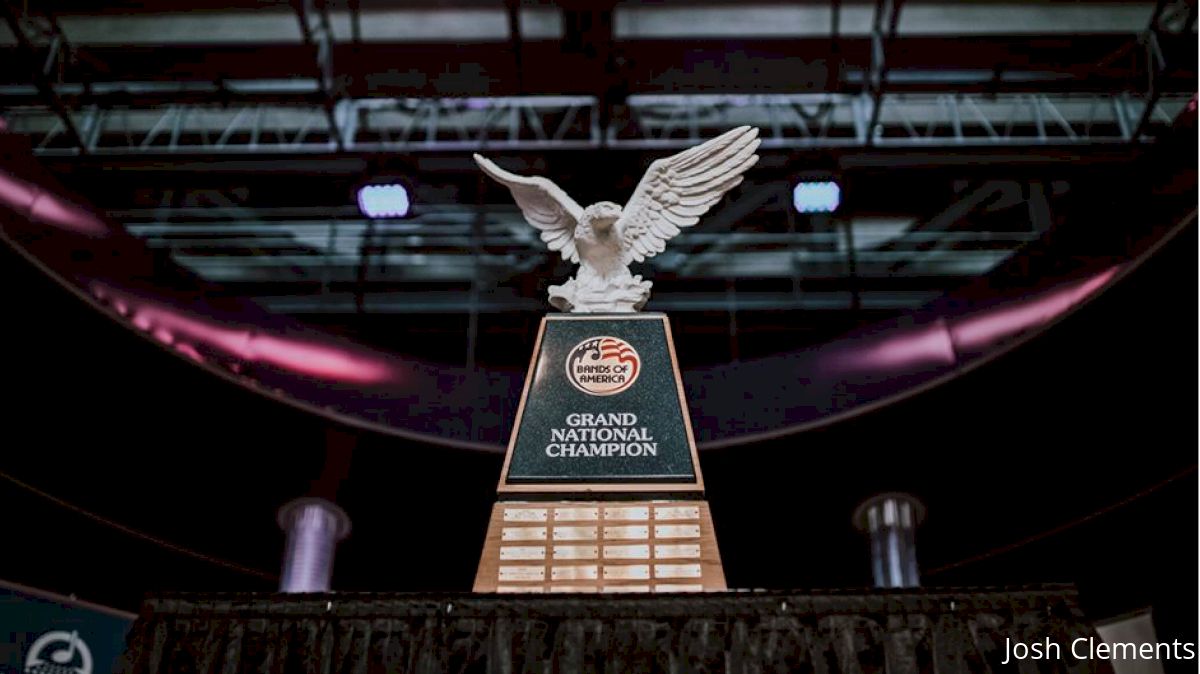 If there's one thing we know for sure, it's that marching band scores aren't perfectly formulaic. And that means there's competitive intrigue — which is fun!
As the Bands of America Grand Nationals loom at Lucas Oil Stadium in Indianapolis, November 10-12, it's almost impossible to predict the exact order of finish for nearly 100 bands.
These bands are coming from all over, too — Utah, Florida, Texas, Missouri, Oklahoma, and more. The vast majority of them haven't gone head-to-head with one another.
Of course they haven't; again, they're from all over the country.
But let's experiment, for a second. What if the numbers were formulaic?
They're not. So everything from here on should be taken with a grain of salt. But it's fun to try nonetheless.
And if we're going to try, we're going to use the most trustworthy thing in competitive sports and activities.
Math.
Let's experiment.
Disclaimer: At the end of the day, this is exactly what the previous sentence says, an experiment! Scores from event to event and panel to panel can't really be compared in a one-to-one sense, so there's plenty that's more than likely to change come Finals night.
THE FORMULA
It's a pretty simple formula — nothing too crazy. Using last year's data from the top, middle, and bottom of the finalist pool, generally speaking, one can conclude that bands gain approximately 0.18 points per day from their most recent BOA appearances to their Finals appearances.
That number comes from an average of several data points, using a handful of bands in 2021 and 2019's finalist pools whose samples differed in terms of variables like geographic pocket, final tier of placement, and amount of elapsed time since a previous BOA appearance.
It's not a giant sample size, but it's enough for a rough formula. Let's put it to work.
Last Score + (Number of days since score x 0.18) = Finals Score
THE RESULTS
1. Broken Arrow (OK) - 97.465
2. Avon (IN) - 96.580
3. Carmel (IN) - 95.980
4. William Mason (OH) - 93.830
5. Tarpon Springs (FL) - 93.330
6. O'Fallon Township (IL) - 92.790
7. Mustang (OK) - 92.590
8. Moe & Gene Johnson (TX) - 92.420
9. Dobyns-Bennett (TN) - 92.120
10. Fishers (IN) - 91.705
11. American Fork (UT) - 91.560
12. Brownsburg (IN) - 91.330
A few close finishers: Prosper (TX), James F. Byrnes (SC), Southlake Carroll (TX)
TAKEAWAYS
A few interesting things come out of these results, and ought to be mentioned. Some various thoughts and disclaimers:
Based on what we've seen in a big-picture sense this fall, anecdotally speaking, Broken Arrow, Avon, and Carmel all seem pretty interchangeable. Carmel scored ahead of Avon in the bands' recent State Finals competition, so anything could happen amongst that top three.
Certain bands are harder to get a gauge on, as they come to Grand Nationals from pockets of the country where they haven't met up head-to-head with many, if any, Grand Nationals participating bands. Those bands include American Fork, Dobyns-Bennett, and Tarpon Springs, so if their placements in this experiment seem off to you, that may be why.
The low-end scores are likely inflated based on this formula. Generally speaking, in looking at past years' data, bands that finish near the top of Finals gain points at a faster per-day rate than those around the 9th-12th place range. So, in a ballpark sense, that range may end up looking more like 88s, 89s, and 90s based on some of that math and past data.
As you can see, the margins between, basically, 4th and 12th place are all razor-thin. For that and several other reasons, there's plenty of room for the order to shift on this list.
Anyway, I hope you enjoyed this experiment! I like math, so I sure did. But more than anything, I'm excited to see how the chips fall this weekend, and fully expect my list to look much different come Saturday.
And most of all, to all the bands competing in Indy — have a great show!