BOA
San Antonio Scores Soar, Razor-Thin Fishes in Troy, & More from BOA Week 9
San Antonio Scores Soar, Razor-Thin Fishes in Troy, & More from BOA Week 9
Recapping the three 2023 Bands of America competitions from this past weekend, November 3-5, ahead of this weekend's grand finale of the 2023 season
Nov 7, 2023
by Natalie Shelton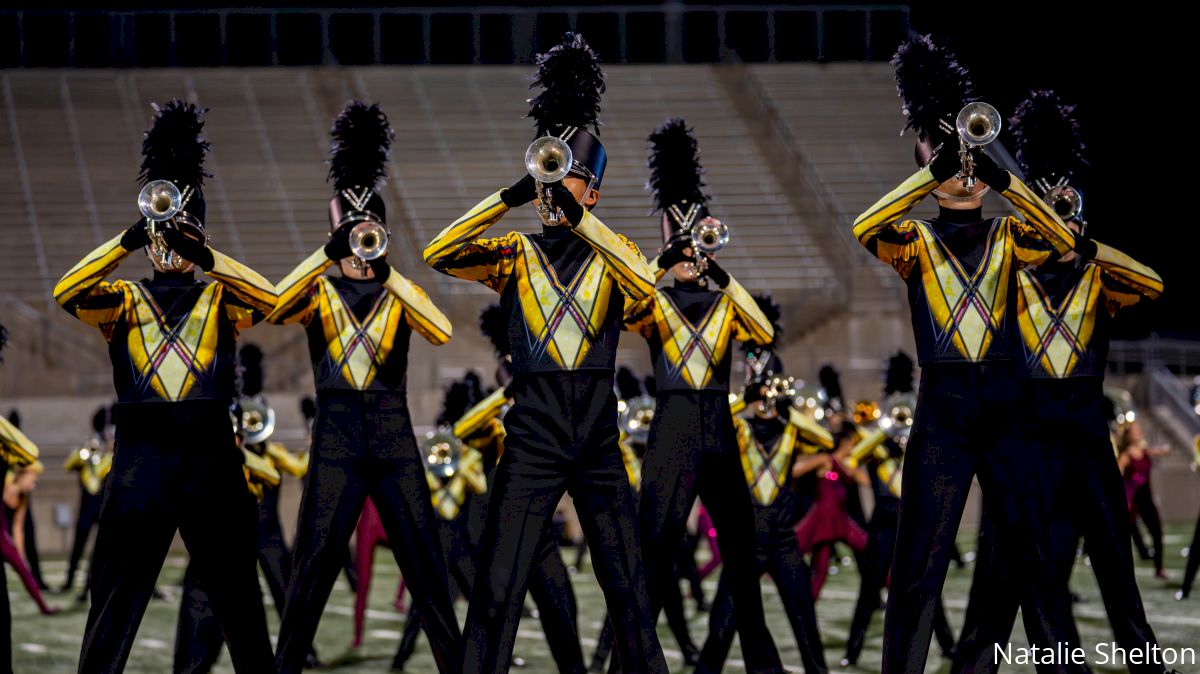 The 2023 Bands of America season is mere days away from its close. Of course, there are still over a hundred competitive performances left before the season officially ends, but at this point, all eyes are on the Grand National Championships, November 9-11 in Indianapolis.
That being said, the first weekend of November – and the final weekend of BOA "regular season play" — featured plenty of exciting competition.
Here's the rundown:
Massive scores at massive San Antonio Super
It's simple — the BOA San Antonio Super Regional always delivers.
This year's event had no shortage of eye-opening scores and intriguing competitive finishes, and saw Vandegrift (1st, 97.600) posted by far the BOA season's highest score to date while winning caption awards for Music and General Effect.
The Woodlands (2nd, 96.700), though, kept things very close, scoring within a point of Vandegrift's top mark and earning a caption award for Visual, while also fending off Marcus (3rd, 96.275) by just under half a point for second place.
The Woodlands will be one to watch in the coming days, as the current highest scorer of any band set to appear at this year's Grand Nationals, and one of eight Texas bands poised to compete at the Indianapolis event.
In total, four bands at Saturday's event cracked 95 points, with an impressive 10 breaking 90. Rouse (6th, 93.975), which is in the midst of a strong competitive season, earned top Class AAA honors, while Argyle (Class AA) and Krum (Class A) each won their own classifications.
Razor-thin finish in Troy
A smattering of southeastern bands from an array of southeastern states took to the campus of Troy University in Alabama and raced to a photo finish Saturday.
At the top of the leaderboard, just 0.35 points separated first and third place, with just 0.05 separating first and second. Mississippi-based South Jones came out with the overall title, scoring 84.850 in Finals and winning Outstanding General Effect. Kennesaw Mountain (2nd, 84.800) took home Music and Visual caption honors, while fending off Catawba Ridge (3rd, 84.500).
Those three bands, though, saw a noticeably different competitive order in Prelims competition, all competing in Class AA. The class win went to Kennesaw Mountain, with Catawba Ridge in second and South Jones in third.
Class AAA's Sparkman (4th, 82.450) and Class AAAA's West Broward (5th, 80.050) rounded out the top five and also won their respective classes in Prelims, while (12th, 69.400) Oak Grove represented Class A in its home state.
American Fork goes off in home state
An established BOA contender out of Utah, American Fork rounded out the BOA slate with one of the season's top scores, posting a 92.100 and running away from a deep field of majority-western state bands.
After a finalist finish at last year's Grand Nationals, American Fork won't attend this year's event, but can boast one of just a couple dozen 90-point scores on the 2023 BOA schedule; fewer than 10 bands had broken 92 points prior to Saturday, including several perennial BOA Grand National finalists.
American Fork swept captions, won Class AAAA, and led the field by nearly four points. Fellow Utah bands Westlake (2nd, 88.250) and Davis (3rd, 87.650) rounded out the top three, while Fort Mill (12th, 78.600) came all the way from South Carolina to take home a Class AAA title.
Green Canyon (7th, 83.850) won Class AA, while Nevada-based Pinecrest Academy of Nevada Cadence represented Class A.