BOA
2023 BOA Grand National Championships Preview: The Final Showdown
2023 BOA Grand National Championships Preview: The Final Showdown
It all comes down to this. The 2023 Bands of America Grand National Championships will take place on November 9-11 at Lucas Oil Stadium in Indianapolis, IN
Nov 9, 2023
by Natalie Shelton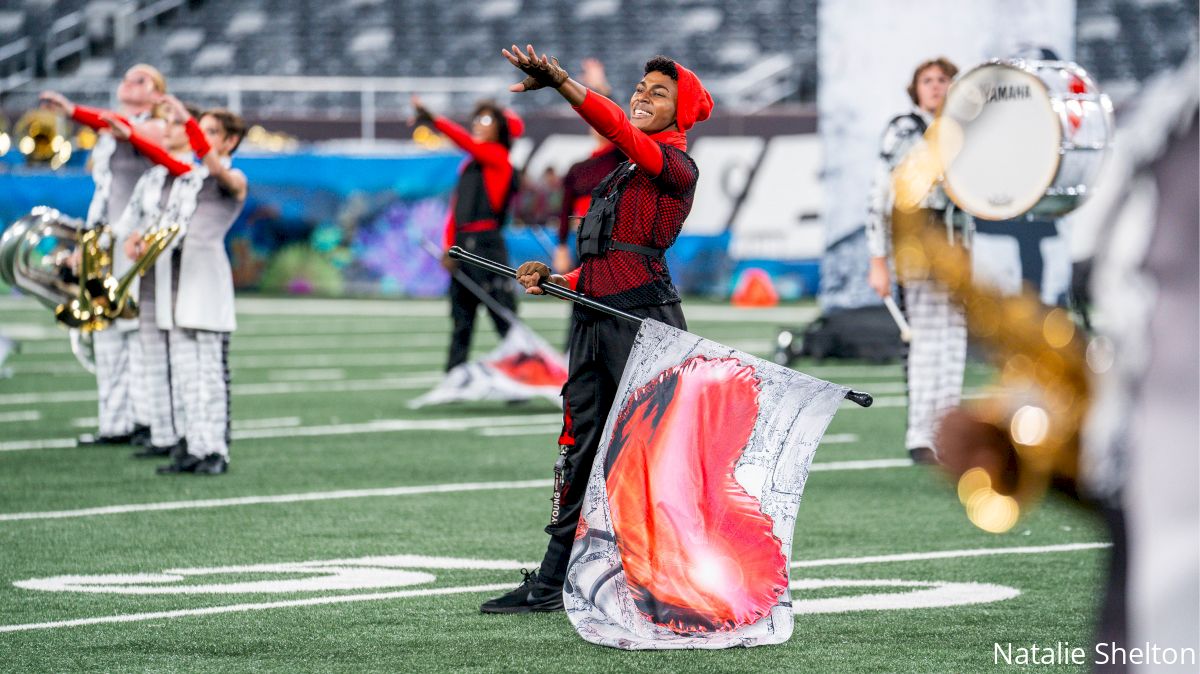 I don't know about you, but it sure feels to me like the 2023 Bands of America season has gone by in a blink.
It feels like mid-Septemebr was just yesterday. But now, out of nowhere, it's time for the BOA Grand National Championships, with more than 100 bands all converging on Indianapolis and Lucas Oil Stadium for three days of performances.
Following along with the competition this weekend? Here are five storylines to follow:
These are just a few of the storylines worth following closely, but there are many more intriguing threads that are sure to unfold over the course of the weekend.
1. Hometown Hype
At this point, it's pretty much standard custom to discuss a specific pair of Indiana bands when preparing for BOA Grand Nationals. Avon and Carmel, two annual stalwarts, are sure to make competitive headlines at any season-ending BOA event.
This year, they've been competitive with one another as always. They've met twice at BOA events, with both of those head-to-head scoring results going the way of Carmel, by margins of 0.850 (September 17 in Louisville) and 0.625 (October 21 in Indianapolis).
That being said, Avon is fresh off of an ISSMA Class A state championship title, which adds an extra layer of intrigue to a storyline that is sure to help define the top of this weekend's leaderboard.
2. Hebron's Shot
For a couple of years now, Hebron (TX) has made major noise throughout the state of Texas, winning the 2021 and 2022 UIL 6A state championship titles and garnering the attention of much of the marching music community with complex and impressive productions.
2023 has been another successful year for Hebron. It didn't win this year's 6A state title — 2019 BOA Grand National champion Vandegrift owns that honor — but took third, outscoring all of the Texas bands who are set to appear at this weekend's event.
This year will be Hebron's chance to prove itself after two years of headline-making within the Lone Star State. Hebron attended the 2019 BOA Grand Nationals, taking 3rd (behind first-place Vandegrift and second-place Avon), but hasn't been back since, and will surely be looking to make noise this weekend in its return.
3. Plenty of Texas
Keeping with the Texas theme, the Lone Star State — always a hotbed for quality high school marching bands — will have eight representatives at this weekend's event.
First of all, there's The Woodlands. A 2022 BOA Grand National Finalist, The Woodlands boasts the highest score at a 2023 BOA event out of any of this weekend's Grand Nationals competitors, having scored an impressive 96.700 at Saturday's San Antonio Super Regional. It's worth noting, though, that Hebron was not in attendance at the San Antonio event.
In total, of the eight Texas bands set to compete at BOA Grand Nationals, five earned finalist status at the UIL 6A State Marching Band Contest, with another two finishing just a hair outside the cut-off.
4. Watch out for Blue Springs
Blue Springs took 10th in its last BOA Grand Nationals, but it's only been five years since this was a medalist band.
This year, Blue Springs' scores have been an attention grabber, to say the least. The Missouri band won the October 28 BOA St. Louis Super Regional going away with a score of 93.400, which is 1.5 points higher than the band's score at the same event when it ended up earning BOA Grand National bronze (2018).
The rest is yet to be seen when it comes to head-to-head matchups, but there's plenty of mathematical reason to believe Blue Springs may have a chance to turn some heads this weekend in Indianapolis.
5. East Coast Represent
Perennial East Coast powerhouse Dartmouth High School will be making the trek from Massachusetts to the Hoosier State for the first time in more than 20 years.
Fresh off of a Class V victory at the 2023 USBands Open Class National Championship where it bested second-place West Shore School District by a massive 1.300 points, Dartmouth has been on a hot streak this season, having claimed first-place finishes at each competition the ensemble attended.
It's tough to tell where Dartmouth may finish at the end of the weekend, but if there's a dark horse in this competition, my money is on them.