BOA
5 Things To Look Out For at This Weekend's BOA San Antonio Super Regional
5 Things To Look Out For at This Weekend's BOA San Antonio Super Regional
The 2023 Bands Of America San Antonio Super Regional takes place this weekend, November 3-4, at the Alamodome in San Antonio, TX
Nov 2, 2023
by Natalie Shelton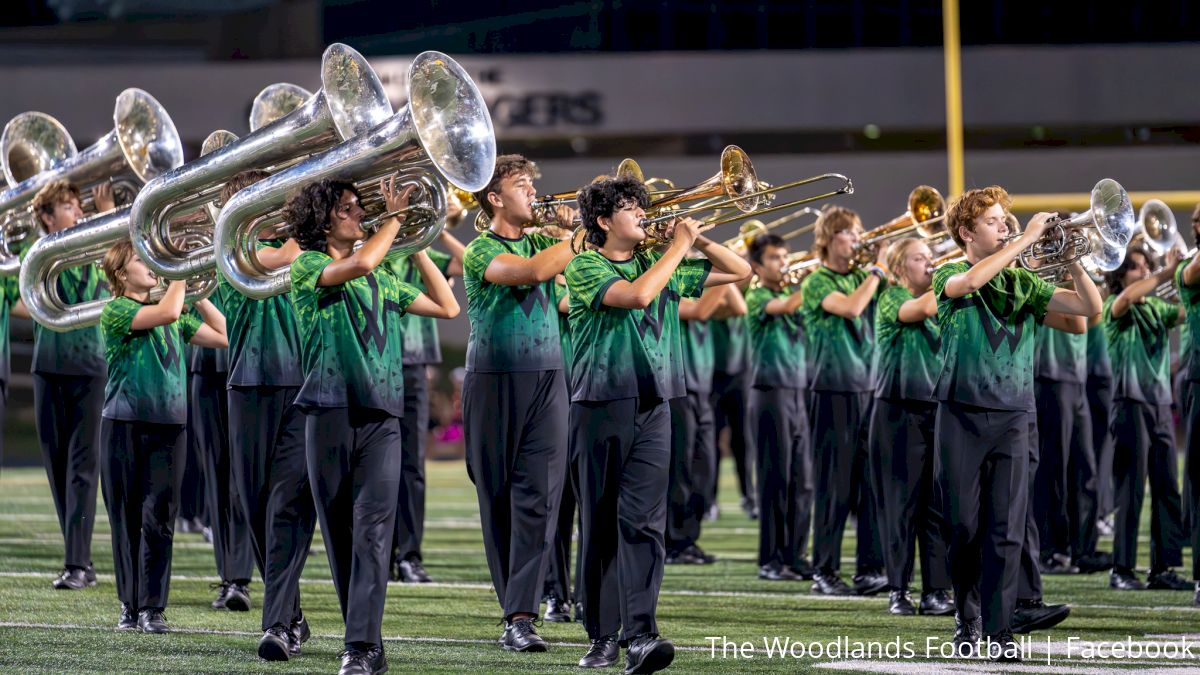 The 2023 San Antonio Super Regional is the last big Super Regional of the Bands of America season, making it the last time you can see a lot of the top marching band programs in the nation go toe-to-toe ahead of the season finale showdown in Indianapolis: BOA Grand Nationals.
A swarm of nearly 70 ensembles hailing from every corner of the Lone Star State will converge on the Alamodome on Friday, November 3rd to begin a two-day showdown to see who will come out with some bragging rights ahead of BOA Grand Nationals next week.
Here are our top five key points to remember heading into the 2023 Bands of America San Antonio Super Regional:
1. Vandegrift High School
Fresh off of a UIL 6A State win, Vandegrift High School has been on a hot streak for most of the 2023 season. While the Austin-based ensemble hasn't had many scored performance opportunities, it earned a second-place finish at BOA Austin on September 23 with a score of 85.000, coming in second just behind Rouse High School (85.150). However, when the two went head-to-head again a couple of weeks later at the Texas Marching Classic on October 14, Vandegrift got its revenge and secured a decisive first-place finish with a score of 91.200, besting second-place Rouse by over two full points (88.950).
Vandegrift's 2023 program is titled, 'Spotlight' and is said to "illuminate the individual performer and place them at the focus of the production. The performers travel through an emotional journey of discovering the spotlight, fighting for the spotlight, embracing the spotlight, and we end with everyone in the Spotlight, revealing our love for the art form we create together, and our awareness of the power and importance of each performer's journey and story."
Many of the ensembles that Vandegrift has competed against at BOA Austin and the Texas Marching Classic will be in attendance at the BOA San Antonio Super Regionals, but there are other programs throughout the state that the Viper Band has yet to meet this season who are also on hot streaks of their own. Fans should expect some fierce competition especially at the top of the scoring table on Friday and Saturday, including a possible run from...
2. The Woodlands High School
The East Texas program has steadily been making a comeback in recent years, solidifying itself on the national stage as a frequent BOA Grand National Finalist, most recently in 2019. Throughout the 2023 season, The Woodlands has been making waves as a top competitor with solid finishes at various Texas-based competitions. At BOA Katy on October 7, the ensemble earned a decisive first-place finish with a score of 85.900, sweeping all of the captions and besting second-place Ronald Reagan High School (84.950), third-place Cy-Fair High School (83.800), and many others.
The only Texas band to be "ranked" ahead of The Woodlands is Hebron High School, last year's 2022 BOA San Antonio Super Regional Grand Champion. With Hebron not making the journey to the Alamodome this year, it could be The Woodland's time to shine and garner some momentum heading into next week's Bands of America Grand Nationals competition.
The Woodlands recently finished 6th at UIL 6A State Championship Finals on October 31st coming in behind Vista Ridge High School (5th), Flower Mound High School (4th), Hebron High School (3rd), Marcus High School (2nd), and Vandegrift High School (1st). The Woodlands' 2023 show is titled, 'Day Danse.'
3. Westwood High School
If you take your focus off of Texas and check out last weekend's BOA St. Louis competition, one result that's worth highlighting is Westwood High School's fantastic third-place finish. Coming in behind National powerhouse programs Blue Springs High School (1st, 93.400) and O'Fallon Township High School (2nd 90.075), Westwood represented just two Texas bands that made the trek to Missouri to get some out-of-state competition under their belts before the 2023 season comes to a close.
At last year's 2022 San Antonio Super Regional, Westwood placed 33rd in Prelims with a score of 83.550, missing the cutoff to advance to Finals. Based on its latest scores from this season, it's evident that the ensemble has already far surpassed where it was when compared to 2022, adding to the intrigue building around Westwood this season.
This will be Westwood's last competition of the season, and it'll be interesting to see where they land on Saturday evening. The Warrior Band's 2023 program is titled, 'Birds on a Wire.'
4. Marcus High School
One school that we haven't talked about too much this season is Marcus High School. While the North Texas ensemble is a consistent BOA Regional and Super Regional Finalist, its season has been a bit scaled back when compared to other Texas programs, with their only major regional appearance being in early October at BOA Bedford. In spite of the ensemble claiming second place with a score of 88.050 (coming in behind first-place Hebron High School - 89.275), don't count it out due to lack of performance opportunities; if there's a program that can shake things up at the top of the scoring table, my money would be on Marcus.
Just days ago, Marcus High School competed at the 6A UIL State Marching Band competition where it, once again, secured a second-place finish, this time behind the previously mentioned Vandegrift High School. Third place was awarded to Hebron High School. The back-and-forth nature of many of these programs, Marcus included, should play out in an interesting way. Fans should look forward to a stellar display of pageantry from these ensembles as they go toe-to-toe in the Alamodome on Friday and Saturday.
Marcus High School's 2023 program is titled 'Above the Noise' and features music by Peter Gabriel, Viet Cuong, Clif Walker, Maxwell and Sigman, and Peter Graham.
5. From San Antonio to Indianapolis
A handful of programs that are competing at the BOA San Antonio Super Regional will also be making the voyage to Indianapolis next weekend for the 2023 Bands of America Grand National Championships at Lucas Oil Stadium. Here's the list of programs you'll want to pay close attention to:
Round Rock High School
Claudia Taylor Johnson High School
James Bowie High School
The Woodlands High School