BOA
Bands of America Recap: Carmel, Tarpon Springs Nab Huge Home-State Wins
Bands of America Recap: Carmel, Tarpon Springs Nab Huge Home-State Wins
Here's your 2023 Bands of America weekend recap for October 20-21, which included the BOA Indianapolis Super Regional, Orlando Regional, and more
Oct 24, 2023
by Natalie Shelton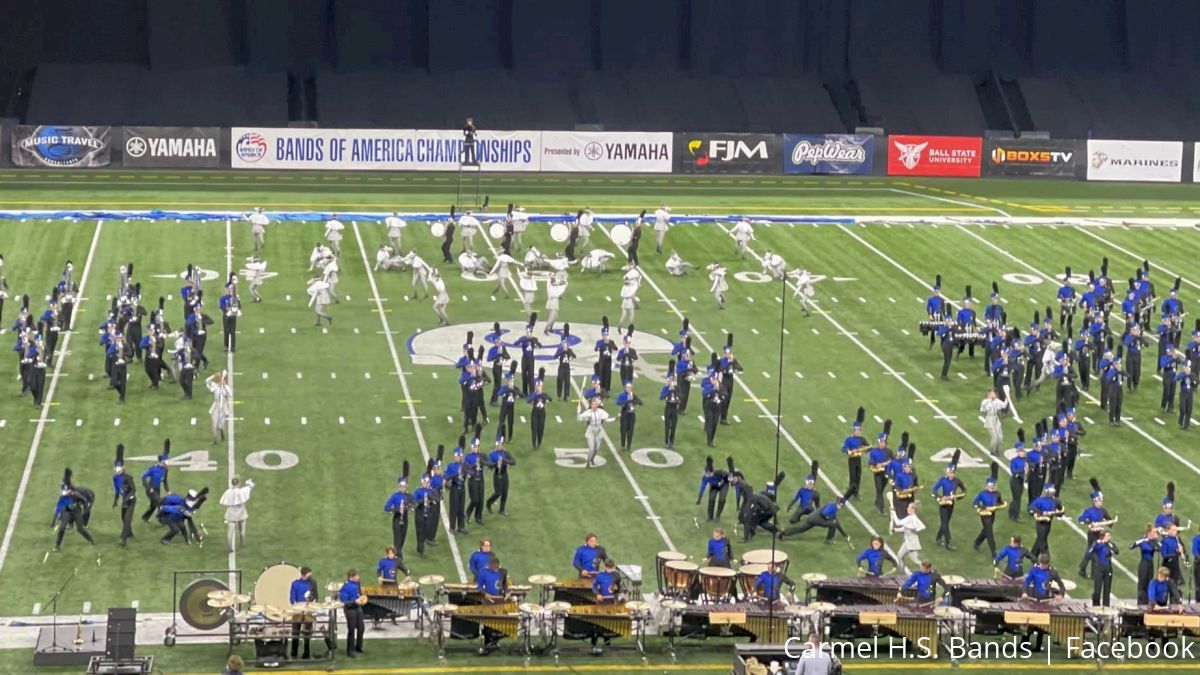 We'll cut to the chase — here's a whole lot to break down from a jam-packed day of Bands of America action on October 21.
As the season ramps up through Super Regional season and into the BOA Grand Nationals, November 9-11 in Indianapolis, here's the latest from around the country:
Carmel keeps it rolling at Lucas Oil
In one of the busiest possible days of Indiana marching band — one that featured both the "semi-state" round of in-state competition, as well as the popular BOA Indianapolis Super Regional — the defending BOA Grand National champions continued their winning ways.
Carmel, which won last year's title — and also defeated Avon head-to-head at an early-season 2023 BOA event — earned the top BOA score to date with a tally of 92.275, fending off Avon (2nd, 91.650) — which took silver a year ago — by 0.625 points. Carmel won all captions, as well as a Class AAAA title.
William Mason (OH), 2022's fourth-place finisher at BOA Grand Nationals, posted an impressive third place, nearing the 90-point mark and fending off Brownsburg (4th, 88.000) and O'Fallon Township (5th, 87.150) for a top-three slot.
Union (6th, 85.15), Fishers (7th, 84.275), Castle (8th, 82.750), and several more helped a highlight and absolutely loaded Indianapolis lineup.
It's worth noting, though, that Carmel did not win last year's Indianapolis Super Regional; it took second to Avon by 0.6 points, before turning the script around and winning a Grand National title. Carmel appears to be in control, but the race toward November is far from over.
Tarpon Springs makes massive home state-ment
Two of the top five finishers at last year's BOA Grand Nationals had a mid-October head-to-head matchup Saturday, both taking to Tarpon Springs' (5th in 2022) home state of Florida.
Up against 2021 Grand National champion — and all-time record score holder — and 2022 bronze medalist Broken Arrow, Tarpon Springs earned an eye-opening victory. The Florida band earned the second-highest score to date on the 2023 BOA season, second only to Carmel's on the same day in Indianapolis, and outscored Broken Arrow by nearly a full point while sweeping all caption awards.
Tarpon Springs also won Class AA, while Broken Arrow topped the charts in Class AAAA, sixth-overall finisher Harrison (GA) won Class AAA, and Archbishop Alter took Class A.
Behind the headliner top two, the race for third was airtight between several strong-scoring bands. About 2.5 points separated third and seventh, as Oklahoma-based Owasso (3rd, 86.750) fended off Florida bands Stoneman Douglas (4th, 86.025) and Timber Creek (5th, 85.800) for a top-three ranking.
National power tops East Tennessee leaderboard
A well-known name to many plugged into the national marching band conversation, Dobyns-Bennett kept up its winning ways with a first-place finish Saturday in Johnson City, Tennessee.
The home-state band, which earned sixth overall at last year's Grand Nationals, earned a top score of 88.150. Several southeastern bands made noise, though, as Lafayette (KY), Franklin (TN), and Cass (GA) were all within three points of Dobyns-Bennett's first-place mark.
While Lafayette's score of 86.700 earned it a solid second place, Franklin and Cass — the day's Class AA champion — shared third with a tied score of 85.250. Dobyns-Bennett won Class AAA, Arkansas' Fayetteville earned a Class AAAA title, and Bath County (VA) represented Class A.
Kiski wins big at meeting of Mid-Atlantic bands
Bands from several East Coast states converged on the campus of the University of Maryland on Saturday, with Kiski Area (PA) taking home a resounding win. The Class AA winner took first place overall with a score of 85.800, outscoring its closest competition by more than three and a half points.
Virginia-based Independence (2nd, 82.250) took a Class AAA title ahead of Green Level (NC), which took third overall with a score of 80.950.
A pair of other Virginia bands finished within one-tenth of each other for fourth place overall, as Class AAAA winner W.T. Woodson (4th, 76.450) edged out James Madison (76.350).