BOA
What you missed during the 2022 BOA regular season
What you missed during the 2022 BOA regular season
So, while you were busy blinking, here's what you might have missed from the 2022 Bands of America regular season.
Nov 7, 2022
by Jeff Griffith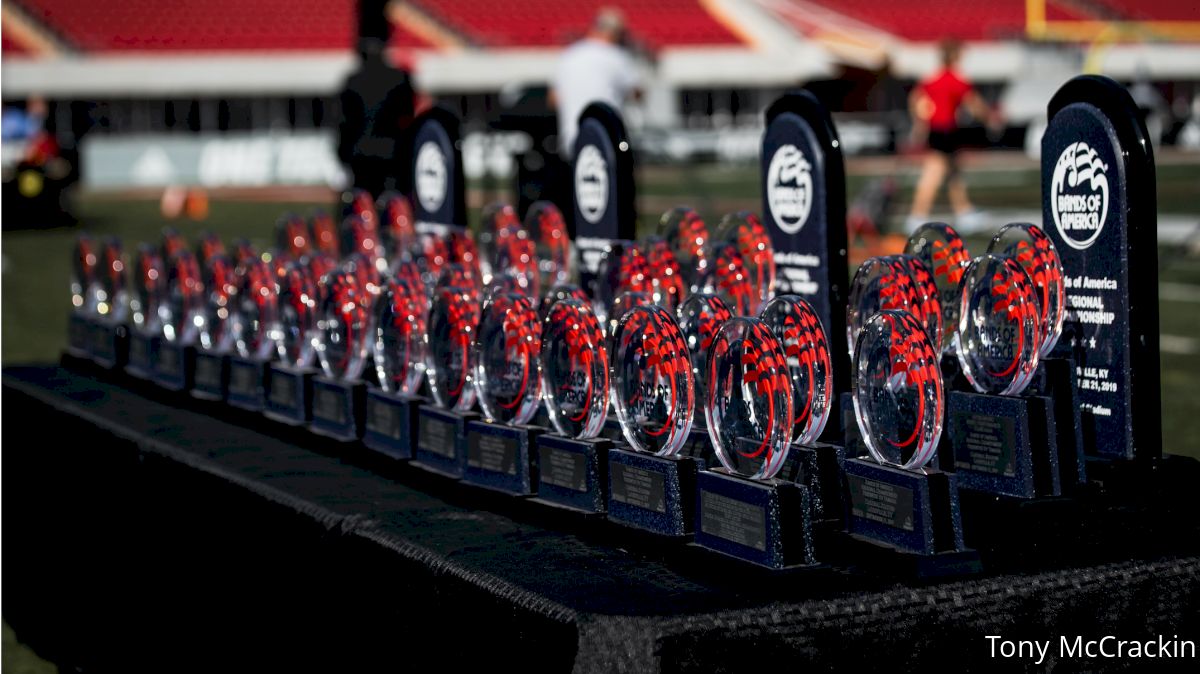 Did you happen to blink a couple of times just now?
You might have missed it. The entire Bands of America regular season went by while you were doing so. It was awesome.
It's hyperbole, but this season has flown — as most marching seasons often seem to do. Seemingly two or three weeks ago, BOA events were picking up in Ohio, Texas and more in early-mid September.
And now it's November, and there's just one event left — one giant event, featuring approximately one billion performances over the course of 700 hours in one stadium.
So, while you were busy blinking, here's what you might have missed, and may want to know if you're planning to follow along with the Grand Nationals:
1. A lot of really good bands are still really good
Let's check in on last year's Grand Nationals top four, shall we?
Broken Arrow (1st) - Won the BOA St. Louis Super Regional back on October 15, scoring an eye-catching midseason number of 92.425, its second highest St. Louis score in the last decade.
Carmel (2nd) - Finished second at the Indianapolis Super Regional with a score of 92.200, and just won ISSMA State Finals.
Avon (3rd) - Won the Indianapolis Super Regional with a score of 92.800, and just finished second at ISSMA State Finals.
The Woodlands (4th) - Earned a nearly-three-point victory in Shenandoah, Texas on September 24, and took a close second at the San Antonio Super Regional, scoring an impressive 96.500.
These four aren't necessarily the "Top Four" once again, but generally-speaking, if you remember someone being strong competitively in 2021, they likely are doing so again in 2022.
There's also Hebron, who was the band to beat in many Texas events a year ago but didn't compete at Grand Nationals. Things are closer in 2022, but — at least when it's come to BOA events — Hebron's kept its top standing, recently winning the BOA San Antonio Super Regional by a slim margin of 0.250.
2. There are a lot of really good bands you won't see at Grand Nationals
And three of them were mentioned above! Due to rotating schedules, 2022 is a year that won't feature many Texas bands at BOA Grand Nationals. All three aforementioned Texas bands — The Woodlands, Flower Mound and Hebron — scored among the top seven at the recent San Antonio Super Regional.
The San Antonio super saw some stunning numbers, with three bands breaking 96 points and a fourth finishing just two tenths shy. That list included Hebron, The Woodlands, Ronald Reagan and Vandegrift.
Blue Springs was another one — a band based out of Missouri that, in its most recent Grand Nationals trip, 2018, earned a bronze medal — put together a successful string of events, finishing right behind Broken Arrow, Carmel and Avon at the top of the St. Louis and Indianapolis Super Regional leaderboards.
Ultimately, so many bands deserve a moment in the spotlight — really, all of them do — but these are just a few that have made competitive waves that won't be appearing on the Grand Nationals lineup.
3. Indiana is deep, but it's not alone
Generally speaking, numbers in the high 80s and low 90s have been good enough to win most BOA regionals this year. There are outliers, but other than the San Antonio super, there hasn't been a 93-or-higher recorded yet this season.
That's not a commentary on scores being low or something — that's pretty normal, pretty standard.
What it is, however, a commentary on, is how crazy deep the Indianapolis Super Regional was. Further, when cross-referencing it to the Grand Nationals lineup, mathematically speaking, a lot of its participants will likely be in the conversation when it comes time to pick 12 finalists.
At the Indy super, seven bands scored 87 points or more, with an eighth breaking 85; five of those eight were from Indiana — Carmel, Avon, Fishers, Brownsburg and Castle. For reference — at 2021's Grand Nationals, multiple weeks later in the season, 87 was good for right around 17th place, and 85 was good for right around 19th or 20th.
That being said, there are plenty of prominent names from around the country who plan to attend Grand Nationals that don't fit into a specific "geographic hotbed" of the marching arts world. I'll rattle off three:
Dobyns-Bennett (TN) - Eighth at Grand Nationals last year, last seen on the BOA circuit scoring a 89.600 on October 29 in Jacksonville, Alabama.
Tarpon Springs (FL) - Hasn't been to Grand Nationals since 2018, when it took fifth. Most recently won the October 22 event in Orlando with a score of 89.550.
William Mason (OH) - Competed at the Indy super and took fourth, scoring 90.050. Took 11th at last year's Grand Nationals.
American Fork (UT) - Did not attend Grand Nationals in 2021; put up a score of 89.300 November 5 in Utah.
~~~
That's just a snippet of the many exciting and memorable competitive moments that comprised the 2022 BOA competitive season.
Surely, though, there are dozens more to come.