2019 BOA Grand National Championships, pres. by Yamaha
6 Texas Powerhouses Set Sights On Lucas Oil Stadium For Grand Nats
6 Texas Powerhouses Set Sights On Lucas Oil Stadium For Grand Nats
Read up on each of the six Texas bands heading up to Indianapolis for the 2019 BOA Grand National Championship.
Nov 7, 2019
by Jeff Griffith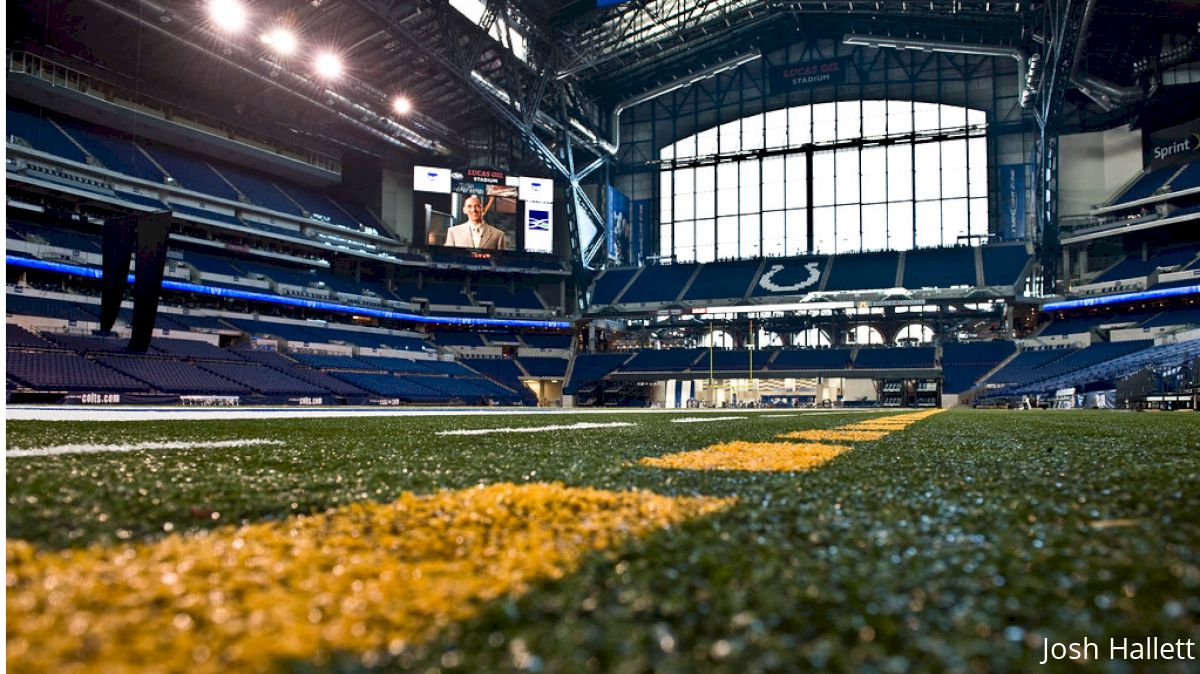 Unlock this article, live events, and more with a subscription!
Get Started
Already a subscriber? Log In
It's time for the 2019 BOA Grand National Championships and the conclusion of the fall marching band season.
Last year, due in part by 6A UIL State Finals happening, this time of year meant the end of Texas bands' involvement in the BOA scene. This year, however, things are different. Six bands have the opportunity to represent the Lone Star state in Indianapolis in the 2019 BOA Grand National Championships, and odds are, we'll be seeing them perform more than once, maybe even three times.
Here's everything you need to know:
Vandegrift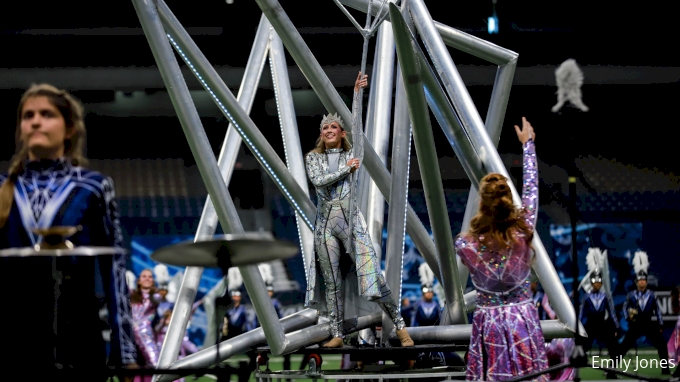 What they've been up to: Out of the six Texas bands heading to Indianapolis, Vandegrift has shown the most competitive prowess this year and is probably one of the best contenders to take home a championship. While they didn't win the San Antonio Super Regional, Vandegrift's second-place 96.400 is the highest BOA score to date of any band set to compete at Grand Nationals.
What they've done before: The answer to this question, surprisingly, is nothing. Vandegrift has never been to the BOA Grand Nationals before, which makes it all the more intriguing that there's a truly legitimate chance that they win all the marbles.
What to watch for: "Aria, Queen of the Night" is a musically-enticing show that features plenty of beautiful pieces, including selections from Mozart's "Requiem in D Minor." The only non-Mozart piece is another great one, "Vienna Nights" by Philip Wilby.
What they're saying: "This is our first time to travel there as a program. After going last year and taking it all in and seeing the experience that BOA provides for students, I mean, they feel like rockstars at that event. I went to Grand Nationals feeling cynical and I left thinking, 'Our kids have to experience this. We have to take our kids to Grand Nationals.'" -- Mike Howard, Director
Leander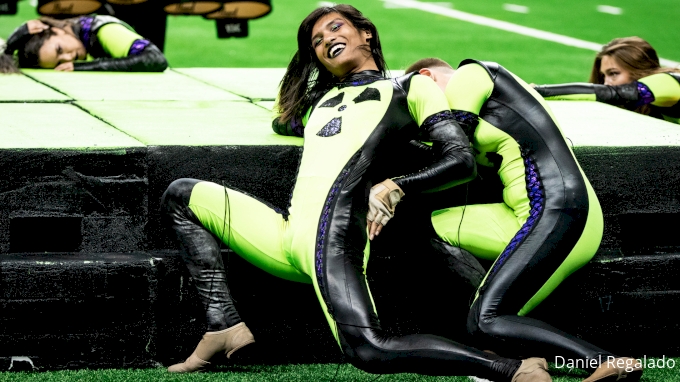 What they've been up to: Leander was just under a point and a half behind Vandegrift in San Antonio. Vandegrift's score, as was previously mentioned, is the highest score to date of any BOA Grand Nationals-bound band. Last year, just over a point and a half separated the Grand National Champion and bronze medalist.
What they've done before: Like Claudia Taylor Johnson, Leander's most recent trip to BOA Grand Nationals came in 2016. That season, Leander cracked the top half of the finalist pool, earning sixth overall with a score of 94.65. 2016 featured close competition at the top; despite taking sixth, Leander was less than three points behind that year's Grand National Champion, Carmel (IN).
What to watch for: "Radioactive" sure is a fun one, and it's not hard to get a grasp for what's being portrayed. There are plenty of visual cues to radiation and toxic chemicals, but the repertoire for this one is littered with exciting pieces; Leander even goes so far as to play "Toxic" by Britney Spears.
What they're saying: "For us, nothing has changed. It's exactly the same as it was… This year, we're excited about the trip, it's going to be an absolute blast. We're looking forward to taking our kids on that experience as far as the educational value of it goes." --Robert Selaiden, Director
Hebron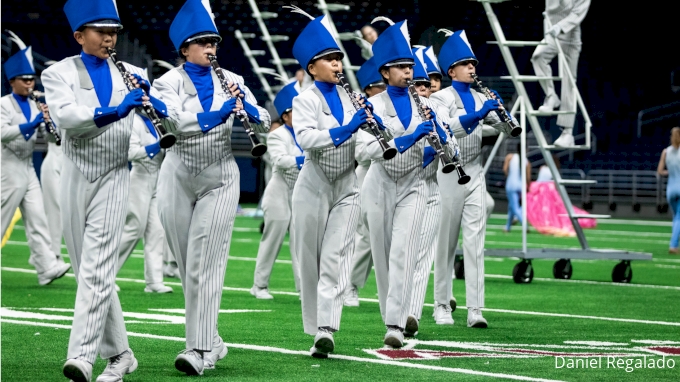 What they've been up to: Hebron's fifth-place finish and score of 94.900 in San Antonio puts the band in position to contend for the top five or even top three in Indianapolis depending on how things shake out. While Hebron was the third-highest scorer on this list at this weekend's show, its score was less than two tenths behind Leander's.
What they've done before: Hebron's lone Grand Nationals trip of the last five years is now four years ago, but it was certainly a memorable one, as the band went down as 2015's bronze medalist with a score of 96.250. Just 1.25 points separated Hebron from a gold medal -- which instead went to Broken Arrow (OK) -- that season.
What to watch for: "Among the Stars" is a very pretty and ethereal show, as you'd expect from the title, and it has plenty of beautiful musical moments that really sell the overall aesthetic, including "Rewrite the Stars" from The Greatest Showman. Their musicians are among the best in the country.
We were unable to interview anyone from Hebron High School at this past weekend's BOA San Antonio Super Regional.
Claudia Taylor Johnson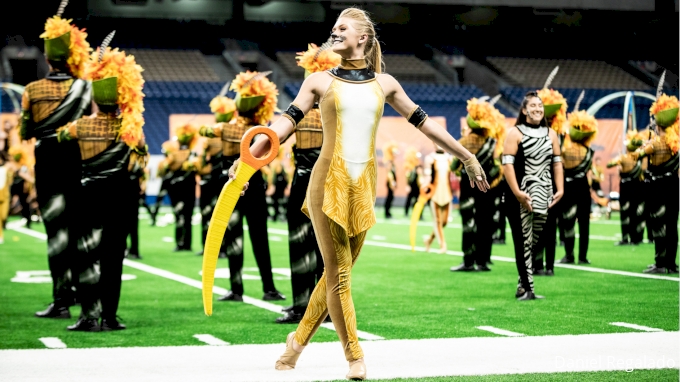 What they've been up to: Claudia Taylor Johnson took seventh in San Antonio, but its score of 94.100 is still an impressive number in and of itself. A point or two of improvement on a number like that in two weeks' time would, theoretically, have CTJ in contention for a top-five spot in Indianapolis. Of the six bands on this list, Johnson was the fourth-highest finisher, scoring less than a point behind both Hebron and Leander.
What they've done before: Claudia Taylor Johnson's band has just one Grand Nationals appearance in the last five years, and that came in 2016. In that trip, they took ninth overall with a mark of 91.300.
What to watch for: "Circle of Life" carries its fair share of obvious characteristics -- the initial instinct is to conflate it with "The Lion King," which is plenty accurate -- but the show isn't just a smattering of songs from the soundtrack. CTJ features a couple of recognizable Lion King tunes, including "Just Can't Wait to Be King" and "This Land," but also includes John Lennon's "Imagine" and Pat Matheny's "First Circle," among others.
What they're saying: "We try to go every three or four years… The rotation makes it really special for the kids when they get to make the trip. It never gets mundane, and they never take it for granted knowing how special the experience is." -- Jarrett Lipman, Director
The Woodlands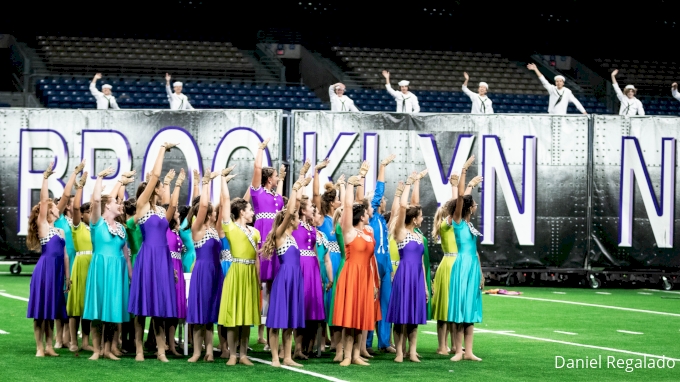 What they've been up to: In San Antonio this past weekend, The Woodlands put up an impressive showing, with a top-eight finish and a score of 92.550. For reference, that score is on par with the 6th-8th range from 2018's Grand National Finals.
What they've done before: Like Round Rock, The Woodlands made appearances at the Grand Nationals -- and was a finalist, as well -- in the 2013, 2015 and 2017 seasons. The band is actually just six years removed from earning a Grand National Championship, having scored a first-place tally of 96.800 in 2013. In the band's most recent trip, The Woodlands took seventh in 2017.
What to watch for: The Woodlands' show, "On the Town," features a nice small sample of Leonard Bernstein works, including "On the Town" and "Fancy Free." The show brings out a fun, jazzy, New York-style atmosphere, which, as would be expected, provides plenty of energetic moments.
What they're saying: "We are typically a group that peaks at the very end and that's the way that you want it to go. We're excited to be able to perform up at Grand Nationals, I know the kids can't wait." -- Joni Perez, Director
Round Rock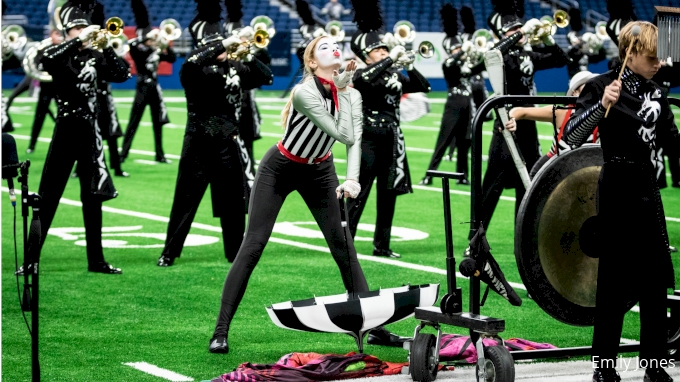 What they've been up to: Round Rock is in an interesting position headed into Grand Nationals after making huge improvements throughout the season. The band is the sixth-highest San Antonio score on this list, but was a good three points behind the next lowest. For reference, Round Rock's San Antonio tally of 89.100 is comparable to last year's 12th place finisher, O'Fallon Township, which scored 89.300 in Finals competition.
What they've done before: Round Rock has generally been going to Grand Nationals on an every-other-year basis in recent history, and has earned a finalist finish in each of the last three tips (2013, 2015, 2017). Most recently, the band earned 12th overall with a score of 89.625 in 2017, but finished as high as fourth back in 2013.
What to watch for: Round Rock's show is titled "A Simple Gesture," and uses pops of color well to develop its visual design, with a largely neutral aesthetic painting a very simplistic backdrop. Beautiful musical moments highlight the show, featuring a strong, diverse list of works by the likes of Ruggero Leoncavallo and Edith Piaf.
What they're saying: "The parents in the community and the kids support it, they want to do it, they want to make it something our band focuses on and really does well, and so we try to find the design team and the group that can make that happen." -- David Mobley, Director