Unlock this article, live events, and more with a subscription!
Get Started
Already a subscriber? Log In
With such intense competition at the Austin Regional, it's no surprise to see some big names finishing just below the finals cut off. Round Rock and Hendrickson earned 11th and 12th place, with both groups being ranked in finals by at least one judge. Here's a look at each of the finalist bands.
Check out photos from all preliminary bands HERE!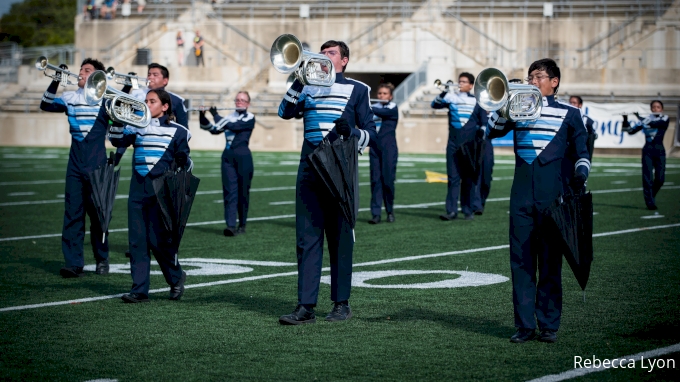 Class AA Exhibition: Veterans Memorial H.S., TX
Veterans Memorial, from San Antonio, was named AA class champion. That's a really exciting accomplishment, considering the school is only three years old and added its first senior class just last year. The band's jazzy show was a great way to kick off the finals competition.
10. Westwood H.S., TX — 77.00
Westwood gave us the chills several times Saturday night, both through the winter-themed show design, and the excellent performance they gave! While it's not the band's first finals appearance at a BOA event, it is their first finals appearance in Texas. The band's previous finals appearance were at the Atlanta and St. Louis super regionals in 2015 and 2017. It may seem odd, but it's not uncommon to see Austin-area bands take big trips to other regionals and place better than the one in their own backyard. Just one more sign of the incomparable excellence at this regional.
9. Rouse H.S., TX — 77.50
This was the Rouse Band's first appearance in finals at a BOA regional, a huge milestone in the growth of a program. It's an especially huge accomplishment given the strength of program at the Austin Regional compared to any other regional in Texas and beyond. Their 2019 program "Midnight City" was a blast to watch, and will only get better as the season progresses.
Unlock this video, live events, and more with a subscription!
Get Started
Already a subscriber? Log In
Due to copyright law, audio is unavailable.
8. James Bowie H.S., TX — 78.70
Bowie took us all the way up to the "Apotheosis" with their 2019 production. Featuring stunning uniforms that really glowed under the stadium lights and an awesome dark sound, especially from that low brass, this was one show that was meant to be seen at night. Also kudos to their trumpets for playing with one hand while hanging on to those props! Amazing!
7. Lake Travis H.S., TX — 79.50
In their first Austin finals appearance, Lake Travis made sure they would not be forgotten. The group had an impressive amount of control, with excellent visual execution and stunning articulations. Forget about the wind that night, Lake Travis produced a huge brass sound that will blow you away.
6. Cedar Ridge H.S., TX — 80.025
In chess, checkmate is the end, but for Cedar Ridge it's just the beginning of a strong performance. Through the use of large chess piece props, the band blocks off sections of the field and directs your attention.
5. Cedar Park H.S., TX — 81.05
Cedar Park does a great job telling the story of Icarus, including an elaborate set of wings. Those wings may look familiar if you happened to follow a certain texas-based drum corps during the summer. The color guard does an excellent job portraying the character of Icarus, and don't forget about that trombone choir!
4. Vista Ridge H.S., TX — 83.35
"Turning the Tables" was a pristine piece of visual achievement with top-notch drill execution and a beautiful color guard. This show also featured one of the coolest effects all night in the spinning tables on the props. One of the best moments was hearing the mellophone sound fade down and then rebound off every corner of the stadium, then fade right back up as they spun right back around to the front. Another awesome moment was the percussion feature on the big spinning table. You always hear percussion instructors talking about listening — listening back, listening in, listening up, down, diagonally!? But what do you listen to when the player behind you is now beside you then in front of you? We're not sure what the right answer is, but Vista Ridge clearly does, because they nailed that percussion feature.
3. Claudia Taylor Johnson H.S., TX — 84.15
To an untrained spectator, it may have seemed like something was little bit off about CTJ's finalist performance, and you would be right. During set up, the big circle stage on the left side of the field was set up five yards off. They didn't realize the mistake until after the front ensemble had set up inside of it, and it would have been too late to change. But then the band pulled off something incredibly impressive: essentially rewriting that whole half of the field's drill on the fly. It's like sight reading but with marching band drill. There were a couple blips at the beginning of the show, but by the end, these students had miraculously been able to shift over huge forms like circles five yards keeping it fully in tact. You can watch it for yourself right here: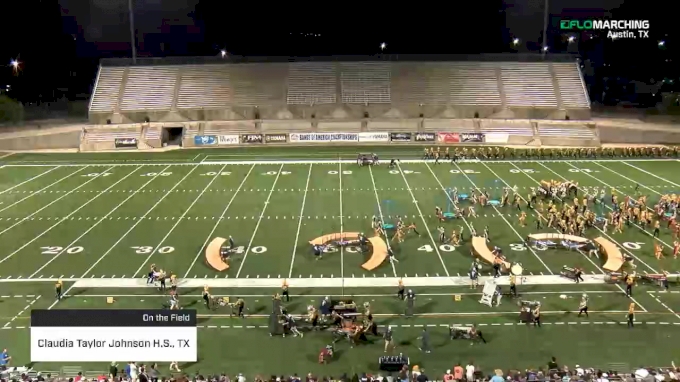 Unlock this video, live events, and more with a subscription!
Get Started
Already a subscriber? Log In
Due to copyright law, audio is unavailable.
Oh, and despite the visual disruptions, Claudia Taylor still managed to be a clear crowd favorite, receiving a standing ovation before the show was even over!
2. Leander H.S., TX — 84.85
Leander's "Radioactive" was an elaborate and exciting display of artistic achievement. From the start, the concept of a world post radioactive disaster is quite intriguing. The band uses all aspects of their show to keep the audience's attention, including an incredible trumpet soloist who nails a performance of "Toxic."
1. Vandegrift H.S., TX — 86.30
When you think of Vandegrift, you think of poise, dignity, gracefulness, and excellence, and this year's show is no different. These students are performing some very challenging visual maneuvers while playing professional-level works by Mozart, but make it look completely effortless. With the quality and volume of sound put out, you can tell that every single member is contributing all the time, even during the hard parts. It was a well-deserved third regional champion title for Vandegrift.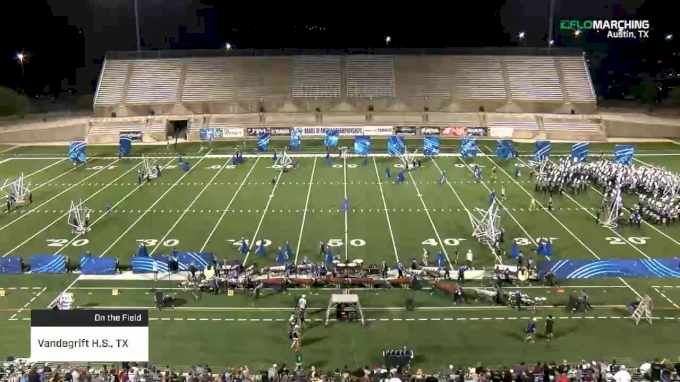 Unlock this video, live events, and more with a subscription!
Get Started
Already a subscriber? Log In
Due to copyright law, audio is unavailable.
Class A Exhibition: Johnson H.S., TX
The second Johnson H.S. to perform tonight, Buda's Johnson won their class in the first year of the school's existence. Expect great things to come from this school as it continues to grow in year two and beyond!
Sights Set on Grand Nationals
It was another outstanding Austin Regional, but this year, the regional has some national implications. Each of the top three finalists will be going to Grand Nationals this November, setting the stage for a possible Texas champion. But, of course, early season success is no guarantee of November medals, so only time will tell how these programs will change and grow over the next six weeks as they prepare for the national stage.
TOP DOWN: BOA Austin Drill Moves
Check out the coolest moves from each of BOA Austin's preliminary performances!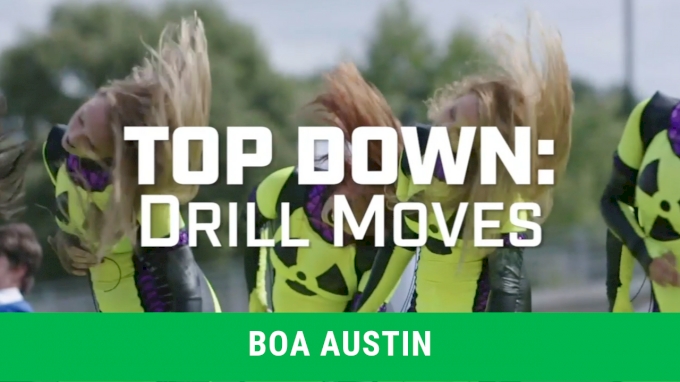 Unlock this video, live events, and more with a subscription!
Get Started
Already a subscriber? Log In