2022 East Coast Classic
LIVE BLOG: DCI 2022 East Coast Classic
LIVE BLOG: DCI 2022 East Coast Classic
Follow along as Natalie commentates on the DCI 2022 East Coast Classic! Stream the show LIVE on FloMarching on July 2nd at 7pm ET
Jul 2, 2022
by Natalie Shelton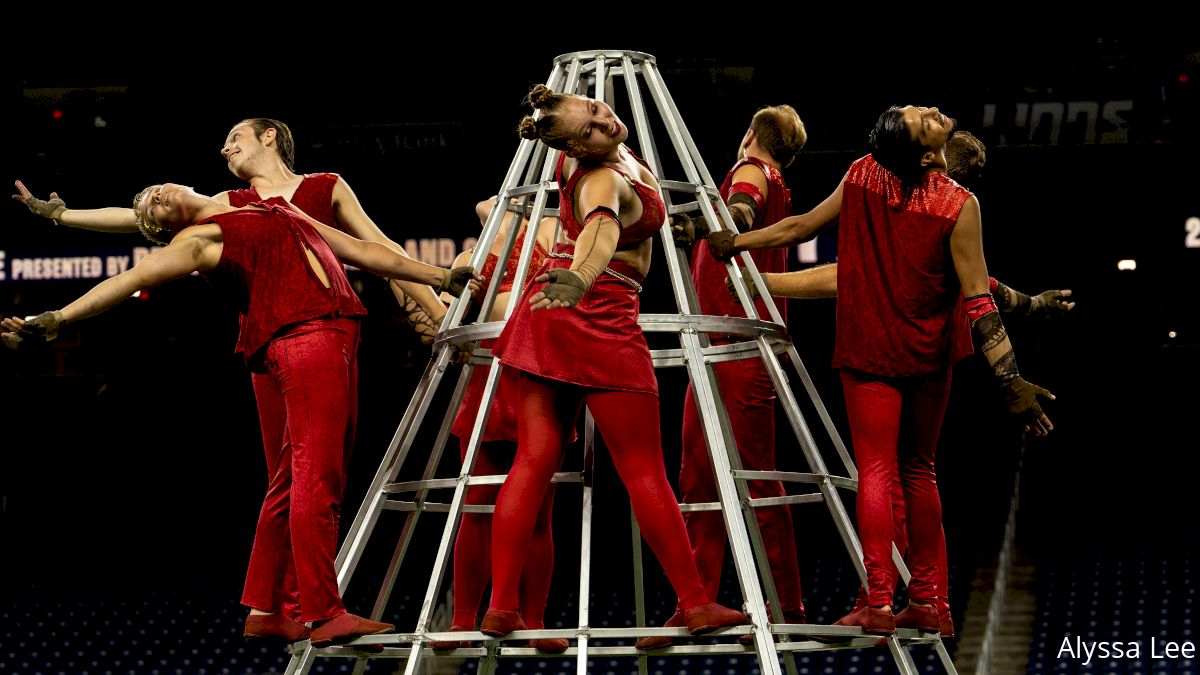 Follow along as Natalie commentates on the DCI 2022 East Coast Classic! Stream the show LIVE on FloMarching on July 2nd at 7pm ET
Everything You Need To Know About DCI 2022
2022 Streaming Schedule | DCI 2022 At A Glance | 2022 Production Improvements
We're less than 24 hours away from the DCI 2022 East Coast Classic show, so here's everything you need to know ahead of the start of the show (and the live blog experience): The show kicks off on July 2nd at 7pm ET, and you can stream it LIVE on FloMarching here. Be sure to refresh this page once every few minutes for up-to-the-moment updates from the field.
July 1 - 7:30pm ET
Before we get started tomorrow evening, here's some information about the 2022 DCI season that you may want to know ahead of this week's busy schedule.
Rebroadcasts: EVERY show stream this season will have a rebroadcast with sound the following day! So whether you're watching in real-time or the day after, Flo's got you covered. Rebroadcasts will start at 12pm ET/11pm CT the day after the original stream day for all shows, aside from the San Antonio, Atlanta, Allentown, and World Championships streams which will begin at 10am ET/9am CT to accommodate the long list of participants. Check out the infographic below for all the relevant info about rebroadcasts for the season.
We're in the process of securing more music rights than ever, which means that our audience can look forward to more archives with sound than ever before!
You'll want to check out our streaming schedule here, so you know what's streaming throughout the season, and when you can tune in on FloMarching.
Peruse our production improvements for the season here, and get excited for overall higher quality streams all season long.
That's all for now! Be sure to keep checking FloMarching for the most up-to-date news, photo galleries, and behind-the-scenes videos all leading up to the start of the East Coast Classic!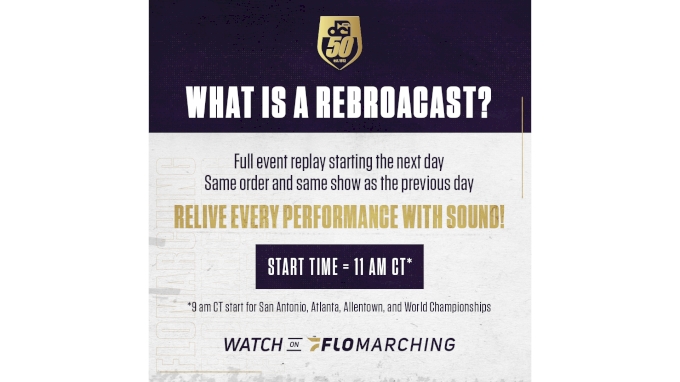 July 1 - 8pm ET
We're less than 24 hours away from the start of the East Coast Classic! In case you need a refresher, here's the lineup for tomorrow night's showdown in Quincy:
7:00 PM Welcome & National Anthem
7:10 PM The Muchachos - Manchester, NH
7:27 PM 7th Regiment - New London, CT
7:44 PM Spartans - Nashua, NH
8:01 PM Intermission
8:21 PM Jersey Surf - Camden County, NJ
8:38 PM The Cadets - Allentown, PA
8:55 PM Boston Crusaders - Boston, MA
9:12 PM Encore- Boston Crusaders - Boston, MA
9:25 PM Scores Announced
July 2 - 5:30pm ET
We're a little more than an hour from step-off in Quincy, MA! As a reminder, tonight's East Coast Classic stream begins at 7pm ET and can be streamed LIVE on FloMarching. In the meantime, who are you most excited to see perform tonight? For me, I'm really excited for The Cadets to debut their 2022 show 'Rear View Mirror.' No matter who you're hoping to come out on top, it should be an exciting night of competition.
6:45pm ET
The East Coast Classic stream starts in just FIFTEEN MINUTES! Tune in on FloMarching here!
7pm ET - Weather Delay
It looks like we're going to have to hang tight, drum corps fans - we've got a weather delay in Quincy which has pushed back the start time of the show until 8pm. Taking into consideration a one hour delay (and assuming the show starts at 8pm), here's what the new lineup times will look like:
8:00 PM Welcome & National Anthem
8:10 PM The Muchachos - Manchester, NH
8:27 PM 7th Regiment - New London, CT
8:44 PM Spartans - Nashua, NH
9:01 PM Intermission
9:21 PM Jersey Surf - Camden County, NJ
9:38 PM The Cadets - Allentown, PA
9:55 PM Boston Crusaders - Boston, MA
10:12 PM Encore- Boston Crusaders - Boston, MA
10:25 PM Scores Announced
8pm ET - Weather Delay (prolonged)
We've now got a tentative start time of 9pm in Quincy, MA.
8:15pm ET - What To Do In The Meantime
While we wait for competition to get underway in Quincy, may I suggest a few other things to fill your time?
8:56pm ET - The Muchachos
We're kicking off the evening's performances with The Muchachos from Manchester, NH.
This small but mighty corps started their set with the upbeat song of Havanna by Camila Cabello. Super fun tune to play, and the performers clearly had a blast playing it
Love seeing that the guard is spinning different kinds of flags in addition to batons! As someone who does a lot of work in the college marching band space, I always appreciate a solid baton twirling moment.
OH MAN, The Muchachos really are bringing out the big guns with Sweet Caroline! What a crowd-pleaser; I'm sure this helped bring some levity to the audience amidst the rain delay. And we even got some crowd participation in the chorus - you love to see it. Great job, y'all!
9:10pm ET - 7th Regiment
Show title: Prevailing Winds
I haven't seen a 7th Regiment show in a hot minute, so I'm excited to catch a performance of theirs tonight!
Throughout this first movement, shoutout to the battery and front ensemble! Y'all really brought the intensity tonight.
Yeah, guard! Loved how the drill and choreography had them interact with the ensemble in a unique way. How they were asked to interact with the brass and those rope props to create new shapes was super interesting.
Awesome show, y'all! The loud crowd reaction you got was well deserved. I'm excited to see how this show keeps developing!
9:24pm ET - Spartans
Show title: On the Edge
I'm SUPER excited for this performance from The Spartans! I know one of the guard members (hi, Mikey!) which always makes the viewing experience more enjoyable, in my humble opinion.
First take: love this opening set and how there are a bunch of small groups throughout the field surrounding their props. Also, WOW, these uniforms are spectacular.
That ambient noise lead-in into the first hit was awesome. This hornline sounds so good!
Okay battery/pit moment! Go off. The crowd loved this extended feature, and so did I.
These trumpet soloists absolutely nailed it - great job, y'all
This. Show. Is. So. Fun. To. Watch. Absolutely loved the high-energy of what we saw tonight, and I am so excited to see what the show becomes after they add to/refine it a bit more.
9:52pm ET - Jersey Surf
Show title: Meet Me In Atlantic City
Jersey Surf released their show title and repertoire just a few days ago, and I'm incredibly excited to hear them play some of these tunes on the field! Stand-outs for me include Can't Take My Eyes Off You, Livin' On A Prayer, and Pure Imagination.
🤙🤙🤙
We're only 20 seconds into this show and I already know the whole thing is going to be one big vibe. Yeah battery feature!
Gotta give a shoutout to the guard at the end of this first movement because that flag feature was so in sync.
Another crowd-pleaser of a tune - Hey Baby. I really love how the props were utilized in two small stage setups for this portion of the show. What an incredibly creative use of what looked like basic screens on the field.
The Can't Take My Eyes Off You right into Who Loves You was such a fun musical moment. This is exactly why I love watching Jersey Surf shows - the pure entertainment value! What a fun show to both watch and (I'm sure) perform! Great job, folks.
I can't get over how fun the last ~2 minutes of this show is. I could watch this on repeat for a week and wouldn't get bored of it.
9:52pm ET - The Cadets
Show title: Rear View Mirror
Alright, so these bomber jackets... how are we feeling about them, y'all? I think it's cool to see a uniform piece that's "modern" but with a throwback to the OG cream Cadets jackets. I'm always partial to a uniform where you can immediately tell who you're looking at.
Alright voiceovers! I'm excited to see how they help move the storyline along throughout the show.
WOW, the snare section really sounds good in their features so far.
This drill at the end of segment one is HARD. I can't wait to experience it when it's nails during finals week. That's going to be such a larger-than-life moment between the tough drill and the music that's SO impactful.
This jazzy section is super fun. The trumpet soloist absolutely crushed it, and I really enjoyed seeing the lower body/dance responsibilities from the corps members throughout the section. This just looks like a fun section of the show to perform.
The color change that happens when the marching members gradually take off their jackets is such a good effect. I absolutely love the modernized version of the OG Cadets uniforms!
And now we're into a swing section! What a cool section of the show between those last two tunes. I'm having a great time experiencing this show so far.
The guard looks beautiful during this section of the show. The back-field flags are looking fantastic and the saber section in the center of the field looks absolutely magical with their high level of dance responsibilities paired with their spinning. And then the hornline moves backfield while sounding so delicate yet powerful? Chills moment!
Another trombone moment! That small ensemble sounds SO clean. Great job, y'all!
COMPANY FRONT FROM THE CADETS. YES, PLEASE. What a way to end a show.
10:30pm ET - Boston Crusaders
Show title: Paradise Lost
I've seen this show live a few times already, but I haven't seen a high-cam version of it before, so I'm excited to see the drill and all the layers the props create!
I'm a big fan of these different uniform colors for each section - I'm sure the colors will mean that the sections are playing different "roles" throughout the show, so I'm interested to see how that happens.
This hornline! SHEESH, y'all sound unreal.
Oh man, this version of Wonderful World is so cool. This ballad is definitely in the top of my favorites of the season at the current moment.
This percussion break paired with the dissonant bariton solo is such a cool effect musically and tonally. And I really like how the guard and hornline have their own feature moments throughout this section as well. There are so many things going on all at once!
I think this sassy section of the show is going to be a fan favorite. Between the cajon line in the front ensemble, the HUGE trombone line, and the insane work that the guard is doing, it's an incredibly fun section of the show. Those trombone glisses have my whole heart.
Another company front! I'll say that this moment live sounds absolutely unreal - they're absolutely playing their faces off and you can truly feel the amount of air and energy that's getting conveyed to the audience. So good.
Well, that's it, folks! Now it's time to wait for scores and that'll wrap up the DCI East Coast Classic show.
Scores
World Class
1. Boston Crusaders - 72.90
2. The Cadets - 69.25
3. Jersey Surf - 57.55
Open Class
1. Spartans - 58.30
2. 7th Regiment - 46.75
---
It's been a blast live blogging tonight! You can catch a rebroadcast of tonight's show starting tomorrow afternoon at 12pm ET/11am CT.