Completed

,

Apr 10-11, 2021
Welcome to the 2021 WGI Virtual Event Group Semifinals B event hub! Performance videos will be published to this page starting at 9 AM ET on April 10. Tune in LIVE to the WGI Virtual Season Awards Ceremony on April 11 at 5 PM ET. Click 'Read More' below to find more information on the schedule, the entire 2021 season, and some of the other virtual events coming to FloMarching this winter!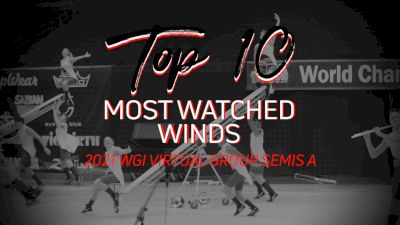 TOP 10: Most Watched Winds WGI Virtual Group Semis A
Apr 7, 2021
See highlights from the most watched performances in the 2021 WGI Virtual Group Semis A. Vote on your favorite performance from the weekend by clicking here!
TOP 10: Percussion | TOP 10: Guard
1. Lake Hamilton HS - "A Retro Replay"
2. Avon HS - "Dimensions In Time"
3. Miamisburg HS - "Wired"
4. Hillgrove HS - "Machine Age"
5. Bellevue West HS
6. South Jones HS - "Telephone"
7. Anderson County HS - "Blank Canvas"
8. Hardin Valley Academy - "Bend"
9. Joshua HS - "The Matador"
10. Campbell County HS - "Full Circle"