2022 DCI Southeastern Championship Presented By Ultimate Drill Book
Recap: 2022 Southeastern Championship Presented by Ultimate Drill Book
Recap: 2022 Southeastern Championship Presented by Ultimate Drill Book
A corps by corps recap of their performances at the 2022 DCI Southeastern Championship in Atlanta, GA
Jul 29, 2022
by Benjamin Gonzalez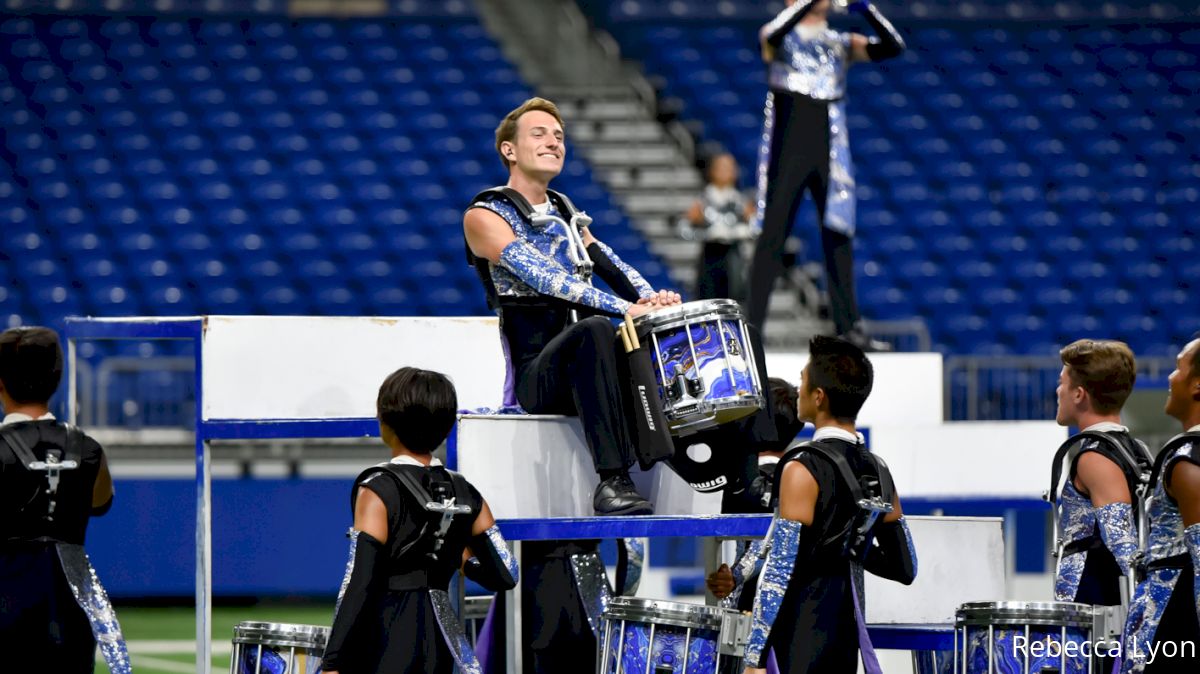 Everything You Need To Know About DCI 2022
2022 Streaming Schedule | DCI 2022 At A Glance | 2022 Production Improvements
We're one day away from the DCI Southeastern Championship, so here's everything you need to know ahead of the start of the show (and the live blog experience): The show kicks off on July 30th at 4:55pm ET, and you can stream it LIVE on FloMarching here. Be sure to refresh this page once every few minutes for up-to-the-moment updates from the field.
July 29 - 1PM PT
Before we head into Saturday's BIG DAY, here's some information about the 2022 DCI season that you may want to know ahead of next week's busy schedule.
Rebroadcasts: EVERY show stream this season will have a rebroadcast with sound the following day! So whether you're watching in real-time or the day after, Flo's got you covered. Rebroadcasts will start at 12pm ET/11pm CT the day after the original stream day for all shows, aside from the San Antonio, Atlanta, Allentown, and World Championships streams which will begin at 10am ET/9am CT to accommodate the long list of participants. Check out the infographic below for all the relevant info about rebroadcasts for the season.
We're in the process of securing more music rights than ever, which means that our audience can look forward to more archives with sound than ever before!
You'll want to check out our streaming schedule here, so you know what's streaming throughout the season, and when you can tune in on FloMarching.
Peruse our production improvements for the season here, and get excited for overall higher quality streams all season long.
That's all for now! Be sure to keep checking FloMarching for the most up-to-date news, photo galleries, and behind-the-scenes videos all leading up to the start of DCI Southeastern Championship!
Tomorrow is expected to be the day for rain - see you back here then! Hopefully with the schedule still intact 🙌
July 30 - 12:30PM PT
It's that time again! Before things get underway today, let's recap the last week of competitions - see you all back here soon!
Top 3
Boston surged ahead to take the second place spot over Carolina Crown at last weekend's Southwestern Championship by a margin of about 0.3 points - you'll want to keep your eye on that head-to-head both on Saturday and Sunday
The only captions that Blue Devils did not get straight 1s in at San Antonio are the Color Guard and Percussion captions; Boston continues to stay strong in the Color Guard caption, while a scrappy battle between BD, SCV, and Boston has been taking place in Percussion over the last few weeks
Blue Devils are still sitting with a nice buffer of about a point and a half between them and the next highest-scoring corps
4-6
One thing that seems apparent in this grouping is that the Cadets are relatively on an island in scores. In San Antonio, they bested the Blue Stars by 1.412 points, but still have a margin of almost 3 points between them and 5th place SCV
Historically, this has been the weekend where we get a new Bluecoats ending. Can audiences look forward to any more show changes from them?
7-9
Blue Stars are sitting ahead of the next closest scoring corps by almost a full point
It's been a back-and-forth battle between Mandarins and Cavaliers ever since the Green Machine made it back to competition after COVID protocol took them out of a handful of pre-Texas Tour competitions. Currently, Mandarins are sitting ahead of the Cavaliers by a margin of more than half a point
10-12
When looking at the scores from the Southwestern Championship, the three corps in this bracket are sitting pretty securely in their placements, with Phantom Regiment ahead of 11th place Blue Knights by just about three full points, and 12th place Colts a half point behind BK
Will this be the weekend we see Colts continue to charge ahead in the rankings? While we won't see them in Atlanta, they face off against Blue Knights on Sunday at NightBEAT.
July 30 - 2PM PT Weather Delay
Well, looks like we're on an indefinite weather delay. Some streets are half flooded, lightning here, lightning there...okay you get the point. Guess it's not the time to be singing in the rain. I'll check back in as soon as I get any form of word from the field - for now, we shall all wait.
July 30 - 2:45PM PT - Delay Continues
Most recent news from DCI shows them in a holding pattern for the next 20 or so minutes. Stay tuned!
The DCI Southeastern Championship is in a holding pattern as we continue to monitor the local weather in an effort to prioritize fan and participant safety.

We will publish revised lineup and times as soon as that information is available. Thank you for your patience! #DCI2022 pic.twitter.com/KSeWu3H9ud

— Drum Corps International (@DCI) July 30, 2022
2:50PM PT - We have a SHOW!
New lineup is up! We're movin on!
We've received the all-clear in Atlanta! Tonight's revised schedule is listed below. For those in attendance, gates are open!

📺https://t.co/q6fqXNBKKT pic.twitter.com/CYsxXWaUUT

— Drum Corps International (@DCI) July 30, 2022
3:10PM - Atlanta CV
And we're off!
Now that's some brass! And look at that crowd reaction - that's the ultimate payoff
Quick shoutout to the battery and those features in the closer, really putting a spotlight on the amount of talent they have in this group. Great job to all of you!
3:25PM - Heat Wave
Enjoying the vibe of this show, it's great to hear and see just how much power some smaller corps have
Every one in a while we see a Tuba feature....so glad they have one of these, great job y'all!
Love the ending by percussion there, totally adds to the intensity of the show
3:45PM - Gold
I spy a bike and some clean looking uniforms - must be Gold!
That impact for the "first assignment" gets me every time with the 'chaos' chord of it
Outfit change! Now that's VIBRANT, goes along with the theme superbly - great job folks!
4:00PM - Genesis
How about those trumpets!
The big hits in this show are indeed BIG, get it brass!
How about that ending? Just running off into the distance, as you would expect from the drill. Excellent job friends!
4:20PM - Music City
Here's a small effect that somewhat goes overlooked - right before the horns begin playing the narration talks about the night...as he does the corps turn around to show off the blue of their costumes right as the horns begin to play a bright piece of music
Totally digging the backdrop made by the guard flags behind the soloist, very aesthetically pleasing
Guard toss! Very nicely done!
4:36PM - The Academy
That jam section of the opener is an absolute HYPE - nice catch there Mr. Wonka 👌
Nice work by the front ensemble here! That's not an easy lick y'all
New effect I didn't notice before - love the addition of the 'W' on the prop at the end of the show, onward and upwards Academy!
4:54PM - Madison Scouts
Here comes Madison! And here go the guard tosses! 💯
3 trumpet soloists - harmonic classic, nicely done guys!
Visually speaking I really enjoy this last set ~ brass going full forte and the field being used to the fullest - well done!
Quick shout-out to our sponsors for the evening: Ultimate Drill Book!
5:10PM - Phantom Regiment
Oh yeah, trombone soloist let's goooooooo 🙌
Love the upbeat tempo this just changed to, totally 'vibin' to it - while that happens, the drill for these few sits is pretty cool if you haven't paid attention to it!
Look at THAT response - WOW. Amazing run Phantom!
5:28PM - The Cavaliers
CAVIES! How about that opening for the front ensemble? That's one heck of a challenge, very well done!
Got some screaming trumpets in there, absolutely nailed 🎺🎺🎺
Final chord & company front = crispy
5:45PM - Mandarins
Mandies guard out here killin' it as usual! 💯🙌
Wait a sec...percussionists are on the move - literally - nice usage of the props for that one
Vocalists never ever disappoint and that's no surprise here - absolutely incredible
6:05PM - Blue Stars
Currently in awe of these triplets within the music that the trumpets have NO problem getting over, whatsoever - now that's art! (Anyone get that reference?)
That HIT!
The amount of sophisticated body choreo in this show is amazing to watch - great job folks!
6:22PM - Santa Clara Vanguard
Finding Nirvana time!
First hit goes hard, get it SCV!
What a show, especially for the guard here - the amount of movement in this one, absolutely INSANE - great job folks!
6:40PM - Bluecoats
BLOOOOOOO
The choreo to go under the wheels and the moves that follow are so on point. It's not as easy at it looks y'all👌
That reception for our favorite keytar soloist - that guy seems pretty cool 😎
6:58PM - Blue Devils
BLOOOOOOO Part 2 :)
It's interesting to watch the Top 3 groups from Southwestern perform in reversed order - BD taking it alllll in right here
Nice to see some notable uniform changes here - reminiscent of 2019
7:15PM - Carolina Crown
Cheers for all these guard catches - ON. POINT. Tonight.
Tarp + Instant Hit = HUUGE crowd reaction for the Crown tonight!
Quoted from the crowd...and my mind: "Look at all those ribbons!"
WOAH - Crown logo appearance! What an ending
7:40PM - Boston Crusaders
Last group of the night folks! You still awake out there in band land? Get ready for BOSTON
Tuba circle pog moment - no seriously, shout-out to those tuba player feature
Front ensemble taking the word 'difficult' and tossing it out the door like it's nothing, that's some serious skill and musicianship...and oh my, not to mention that screaming high trumpet - very solid run Boston!
Noise ordinance is in effect and an incoming storm is on the way in Atlanta - stay tuned for scores....online! Not to worry though, Flo's got you covered! Check back here in a few minutes for scores RIGHT HERE! (Right now...haha see what I did there? Ok never mind) :)