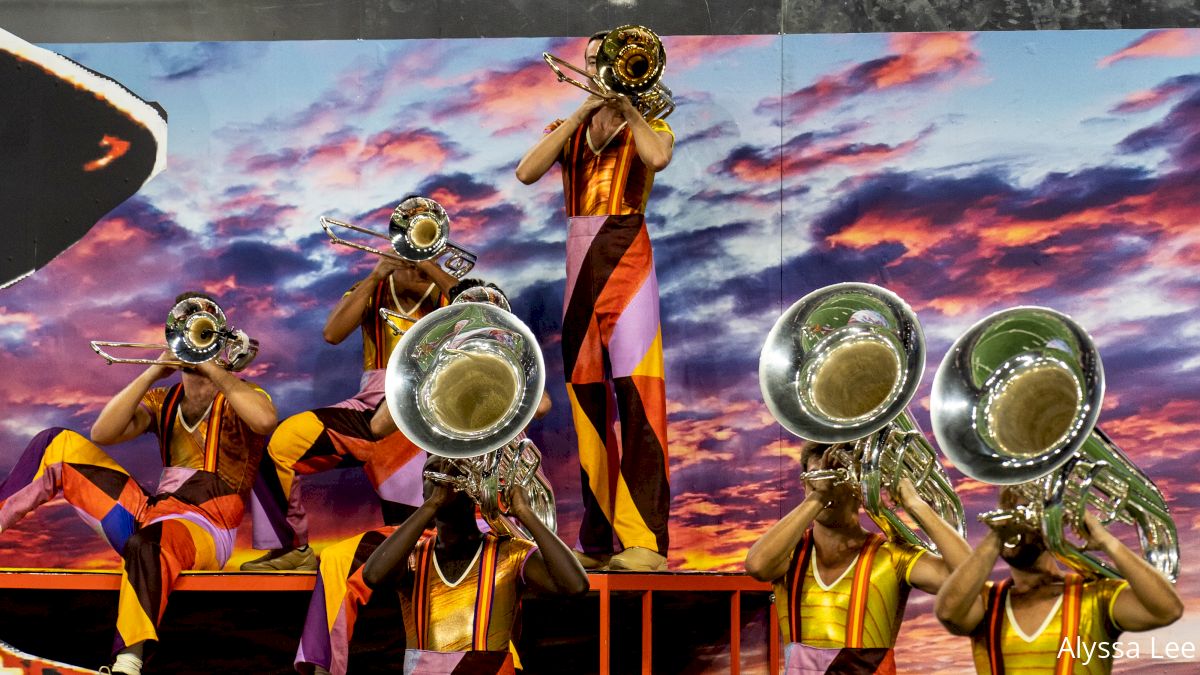 Poised to give audiences a taste of the action ahead of the big showdown at the DCI Southwestern Championship this Saturday, DCI Broken Arrow brings some of the top competitors under the same stadium lights for the first time this season. Get excited to see Bluecoats, Blue Devils, Carolina Crown, Boston Crusaders, Santa Clara Vanguard, and more face-off in Broken Arrow, Oklahoma. Before the show kicks off at 8:35pm CT tonight, let's take a look at the competitive field and preview some of the things audiences should watch for at tonight's competition.
Everything You Need To Know About DCI 2022
2022 Streaming Schedule | DCI 2022 At A Glance | 2022 Production Improvements
1. Competing Corps
East meets West as Carolina Crown, Bluecoats, and Boston Crusaders see Blue Devils and Santa Clara Vanguard for the first time in competition during the 2022 season. Crown and Bluecoats have met just once this season so far, with Crown coming out on top in Kent, OH earlier this month. Bluecoats and Boston have also only met once, way back at the DCI Tour Premiere with Bluecoats besting all of the competing corps that evening. All five of these corps are solidly in the 80s club, with Crown and Blue Devils in particular inching closer toward that coveted 90-point threshold. With many of these corps implementing some changes into their shows recently, it should be interesting to see where the chips land at the end of the night.
We're also going to be seeing the Cavaliers take the field for just the second time since the first week of July, due to the corps having to pull out of competitions because of COVID protocol. The Green Machine did manage, however, to make an impressive comeback to the competitive playing field last night at Brass Impact in Olathe, Kansas by earning an 80.450, resulting in a tie with Phantom Regiment. The two Illinois-based corps secured a joined second-place finish behind the Blue Stars by a less than 2-point margin.
Finally, the Blue Knights and the Blue Stars are rounding out the competitors for tonight's show in Broken Arrow. The Blue Stars are placed solidly into the 80s club - most recently scoring an 82.200 at Brass Impact, putting up the highest score of the evening, while the Blue Knights are inching ever-closer to that 80-point mark. The two "Blue" corps have yet to meet on the competition field, so it's another first-time head-to-head battle of the evening that fans can look forward to.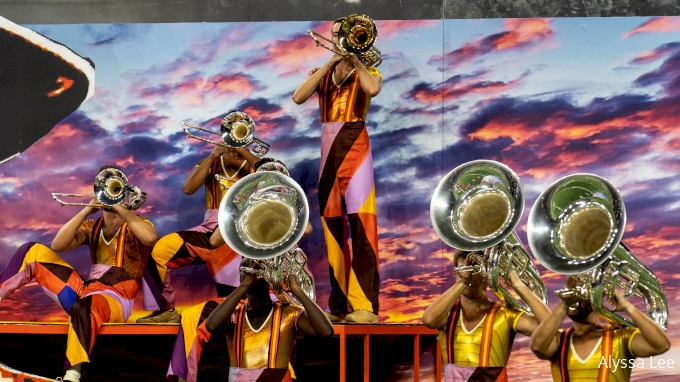 2. Caption Breakdown
The corps really are making DCI's 50th anniversary one to remember, partly because there hasn't been one clear-cut leader so far in scores or in captions. When looking at caption awards and scores up to this point, things are shifting and sliding (arguably) way more often than we've seen in previous years.
Take a look at the full breakdown for DCI Memphis, for example: Crown and Boston were about as evenly matched as two corps could have been. They tied in General Effect, each earning a 35.1 total score, but Crown ended up taking the Visual and Music categories by a margin of 0.4 points combined. Boston did, however, edge out Crown in the Color Guard caption by less than half of a point. If these scores are any indication of how tonight's show is going to go, we're in for an exciting ride.
When it comes to overall caption leaders and high scores so far this season, here's a look into the current standings:
General Effect
Carolina Crown/Boston Crusaders - 35.1, DCI Memphis
Percussion
Bluecoats - 16.8, Whitewater Classic
Visual
Blue Devils - 17.8, Drums Along the Rockies
Color Guard
Blue Devils - 17.2, Drums Along the Rockies
Brass
Blue Devils - 17.1, Drums Along the Rockies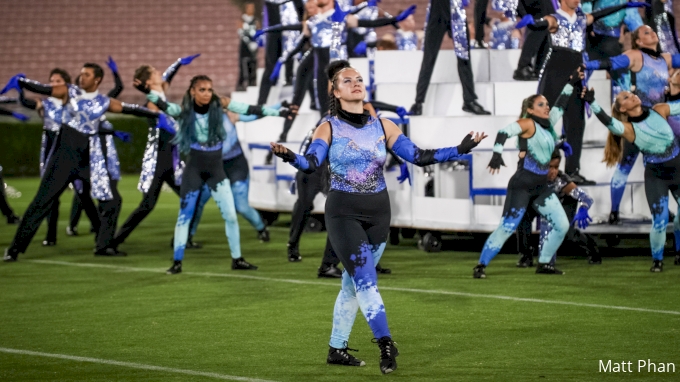 3. Moments To Watch For
It seems kind of cheesy to say, but I've genuinely enjoyed every show I've seen this season. It may be because it's a big year for DCI or because we have scores back after a few irregular seasons. It may also be because every corps is going all out in every way they can, making for an exciting fan experience all-around. Whatever the reason may be, there are moments in every show that you won't want to miss. Here are a few of my personal favorite moments from each of the competing corps tonight:
Bluecoats
The Bluecoats show this year has so many jaw-dropping moments, but if I had to pick one, it'd be their first use of their metal wheel props that starts around the 2:50 mark. The Bloo hornline manages to blend intricate choreography, interacting with a moving prop, and playing delicately while moving down the field in a visual moment that stands out amongst the crowd. For this particular instance, I also suggest the high-cam angle.
Blue Devils
If you're into music that you can't help tapping your foot to on top of unreal color guard work, you gotta check out BD's TANK! section of their show, which you can find starting around the 10-minute mark. May I suggest, however, tuning into the high-cam version of their show around 9 minutes to see a mind-blowing rotating straight line drill move? This section of the show (9:00-11:00) is a must-see and is absolutely going to bring the house down at these bigger shows.
Santa Clara Vanguard
Another easy pick - the second movement of SCV's show is absolutely breathtaking. Their soloist and small ensembles this year are on a whole other level, and I love being able to experience this jaw-dropping moment of their show over and over again. I suggest starting around the 4:30 mark for some unreal drill, brass solos, percussion moments, and color guard work.
The Cavaliers
It's been a while since we've seen The Cavaliers take the field, so audiences should be even more psyched to see their show after they had to pause performances due to COVID protocol. One of my favorite moments that makes me want to jump out of my seat and clap starts around the 3:30 mark and goes until the 4:30 mark. They essentially "speed ramp" their music and choreography to slow down and then suddenly speed back up, and between how technical the music and drill are and the guard work, it's a really stunning effect.
Boston Crusaders
The "tango" section of Boston's show is definitely among my top moments this season. Let me paint you a picture of why I love this section: we start off slow with some fun choreography from the brass and color guard, while we start getting into a trombone and tuba feature to start the section off. The pace eventually picks up and we bring the trombones to the font sideline to not only play their faces off, but we then add in the "trombone suicide" section that never fails to get a giant crowd reaction. All the while, we've got an unreal trumpet soloist bringing the house down paired with the front ensemble and battery absolutely going off with the crazy rhythms and crash cymbals. What more could you want?
Carolina Crown
We can't talk about a moment from Crown's show without talking about the brass line. A part of the show that always makes me absolutely lose my mind is the section of their show that follows the "announcer" saying, "Now, let's put those hands together in time. Right here, right now" that's around the 3-minute mark. Every section takes turns handing off these unreal brass runs to other sections and it's truly stunning to listen to. My jaw is just on the floor for a full minute and fifteen seconds.
Blue Stars
When it comes to the Blue Stars, I have to pick the last two minutes of their show as a must-see. The segment starts off with a duet playing back and forth to each other across the field, all leading into a huge brass hit. The color guard is both in front of and behind the brass line, which adds the cherry on top to a really cool moment.
Blue Knights
The ballad gets an honorable mention here, but for me, the must-see moment of BK's show is actually the chunk right before the ballad. The brass, percussion, and guard are spread all around the field until a sustained mellophone note. From there, the hornline pushes to the front of the field and plays an incredibly fun segment of music (which happens to be a rendition of 'Don't Worry, Be Happy) backed by the battery and front ensemble. It's a crowd-pleasing moment that's sure to get people on their feet. You can find this piece of the show from around the 7-minute mark and goes for about 60 seconds.
If you want to check out these particular show moments, head over to our Archives section, where you can find full replays with sound from these corps and more!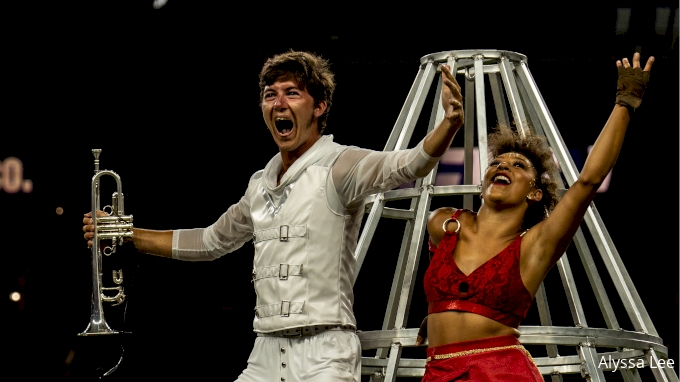 4. Performance Schedule
All the action in Broken Arrow kicks off tonight at 8:35pm CT. Below is the full schedule of the evening's events:
Keep in mind that all times CT and subject to change
| | |
| --- | --- |
| Performance Time | Corps |
| 8:35pm | Welcome & National Anthem |
| 8:45pm | Zephyrus Drum & Bugle Corps |
| 8:57pm | Blue Knights |
| 9:14pm | Blue Stars |
| 9:31pm | Carolina Crown |
| 9:48pm | Boston Crusaders |
| 10:05pm | The Cavaliers |
| 10:22pm | Santa Clara Vanguard |
| 10:39pm | Blue Devils |
| 10:56pm | Bluecoats |
| 11:20pm | Scores Announced |