2022 DCI West
LIVE BLOG: 2022 DCI West
LIVE BLOG: 2022 DCI West
Follow along as Benji commentates on the DCI West! Stream the show LIVE on FloMarching on July 10th at 6pm PT
Jul 10, 2022
by Benjamin Gonzalez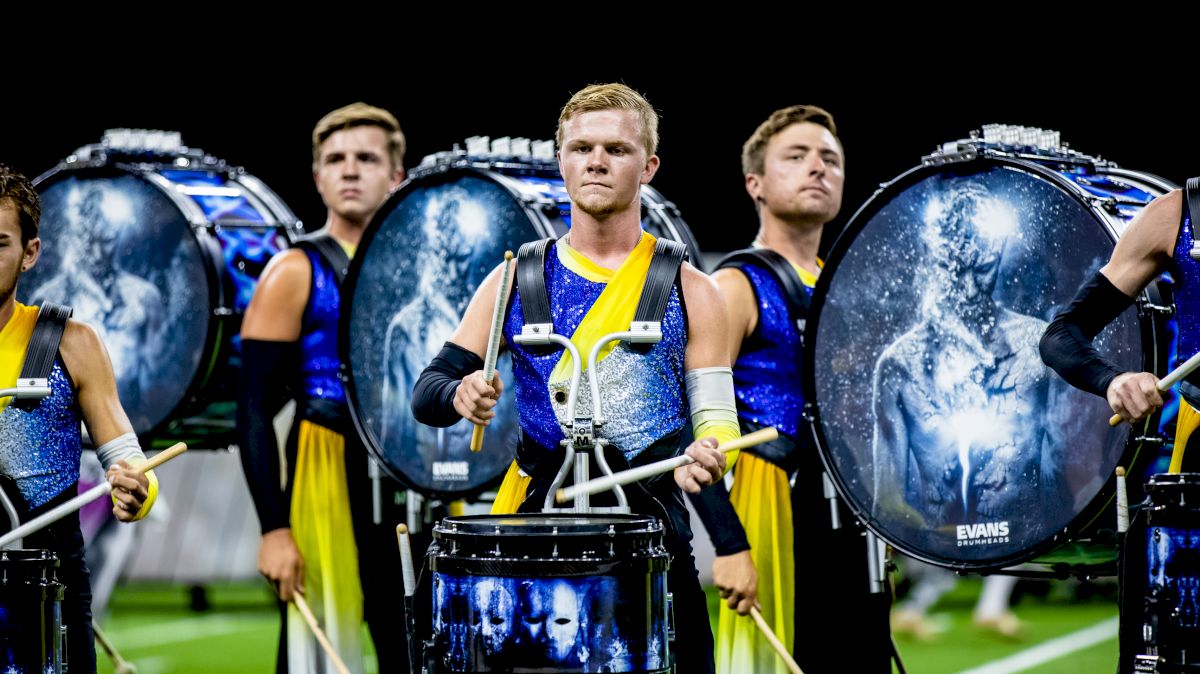 Follow along as Benji commentates on the 2022 DCI West Show! Stream the show LIVE on FloMarching on July 10th at 6pm PT
Everything You Need To Know About DCI 2022
2022 Streaming Schedule | DCI 2022 At A Glance | 2022 Production Improvements
We're less than 24 hours away from the 2022 edition of DCI West, so here's everything you need to know ahead of the start of the show (and the live blog experience): The show kicks off on July 10th at 6pm PT, and you can stream it LIVE on FloMarching here. Be sure to refresh this page once every few minutes for up-to-the-moment updates from the field.
July 9 - 6PM PT
Before we get started tomorrow evening, here's some information about the 2022 DCI season that you may want to know ahead of this week's busy schedule.
Rebroadcasts: EVERY show stream this season will have a rebroadcast with sound the following day! So whether you're watching in real-time or the day after, Flo's got you covered. Rebroadcasts will start at 12pm ET/11pm CT the day after the original stream day for all shows, aside from the San Antonio, Atlanta, Allentown, and World Championships streams which will begin at 10am ET/9am CT to accommodate the long list of participants. Check out the infographic below for all the relevant info about rebroadcasts for the season.
We're in the process of securing more music rights than ever, which means that our audience can look forward to more archives with sound than ever before!
You'll want to check out our streaming schedule here, so you know what's streaming throughout the season, and when you can tune in on FloMarching.
Peruse our production improvements for the season here, and get excited for overall higher quality streams all season long.
That's all for now! Be sure to keep checking FloMarching for the most up-to-date news, photo galleries, and behind-the-scenes videos all leading up to the start of DCI West!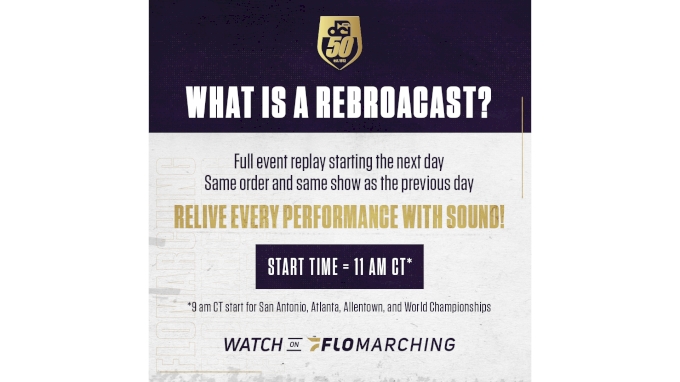 July 10 - 11AM PT
We're around 6 hours away from the start of the DCI West! In case you need a refresher, here's the lineup for tonight's showdown in Stanford:
6:00 PM Welcome & National Anthem
6:15 PM Alisal CAN Marching Band - Salinas, CA
6:30 PM Alisal Union School District All-Star Academy - Salinas, CA
6:45 PM Freelancers Alumni Corps - Escondido, CA
7:00 PM Gold - San Diego, CA
7:17 PM Vanguard Cadets - Santa Clara, CA
7:34 PM Blue Devils "B" - Concord, CA
7:51 PM Blue Devils "C" - Concord, CA
8:08 PM Intermission
8:53 PM Pacific Crest - Diamond Bar, CA
9:10 PM Mandarins - Sacramento, CA
9:27 PM Santa Clara Vanguard - Santa Clara, CA
9:44 PM Blue Devils - Concord, CA
10:09 PM Scores Announced
July 10 - 5PM PT
We're so close to start time! Looking around online it's great to see so many friends up in Stanford enjoying themselves, prepping for one heck of a lineup. I do have to admit, it's nice to see local community groups being able to perform before the 'big guys'. Two groups that come to mind of course are the Alisal CAN Marching Band and the Alisal Union School District All-Star Academy Bands from Salinas, California. See you all back in an hour or so!
July 10 - 5:45PM PT
Looks like the weather is hitting the upper eighties today in Stanford...yikes. Good thing for me and you we're on this live blog and hopefully watching from some air conditioning in the comfort of your own home. That's all for now, see you back in 15! Tune into the show right here on Flo.
July 10 6:03PM PT - National Anthem
I always love this part of any show, especially when it's an in-person duo like tonight. One of those two fine trumpet players knows how to reach the high notes - effortlessly. Great job to both of them for overcoming nerves (you know we would all get them) and getting out on that field, in the middle of a gigantic stadium!
July 10 6:03PM PT - Alisal CAN Marching Band
We're off with the Alisal CAN Marching Band! Community groups like these, especially in the summer, are always great to watch.
That snare line 👀
While they might have two tubas, the old saying stays true: never underestimate a tuba player
Great performance y'all! And majorrrrrr props to the small, but mighty guard members!
July 10 6:23PM PT - Alisal USD All-Star Academy
Even being at such a young age, I would keep my eye on these talented percussionists - they might be back on the field in years to come with one of the many corps performing later tonight!
OMG!!!
And now I wish I were in Stanford - the dancers are FANTASTIC! ¡Felicidades!
July 10 6:40PM PT - Freelancers Alumni Corps
Oh yeah, time to rock out with the Freelancers
Being from SoCal, I've been able to meet a few of these great performers - (Hi Al!)
Drummer appreciation 🙌
Feel-good music before a show makes the DCI experience all that much better - LOVED it!
July 10 7:00PM PT - Gold
Show Title: The Gift
This is definitely a group to keep your eyes on this season!
Being able to start a corps in a gigantic cube around the entire field is just visually appealing on so many different avenues, showing off the size of the group is great
The audio in the beginning really paves the way to see how they utilize the theme of the show
I'm still in shock - FIFTEEN tubas - and they're absolutely ripping this field apart today -GO LOWWWW BRASS!
In terms of a visual movement aspect, the uniforms definitely help pull it off
The color guard all in white, along with the rest of the ensemble, just make the entire show visually appealing for me. Especially being based on The Giver, a society all in one color
July 10 7:00PM PT - Vanguard Cadets
Show Title: Somewhere New
A little appreciation for Brandt Crocker! Our fabulous announcer for the evening in Stanford
This first brass hit is pretty impactful - especially with the added choreography, breaking down every what seems to be 5 seconds - very nice visual!
oh yeah, TRUMPET soloist! Smooth little line of a solo, nicely done
The small little buildup into a minor cord, absolutely priceless reaction from the audience - and myself :)
For being small in size, the unison portions of the closer are absolutely incredible - goosebumps!
July 10 7:31PM PT - Blue Devils "B"
Show Title: I Am
This opening drill is incredible - THAT'S how you use you're entire corps to quite literally fill up a field
My reaction to this opening hit: DANG
The inclusion of the circle props on the field help add some balance to the rest of the ensemble from a visual standpoint - the drill for the group goes along perfectly
Drumline currently popping off - hang on! 👀👀
GUARD! Prop spins are on point tonight - solid performance!
Mello duet - chef's kiss - talk about being in complete harmony with each other
The front ensemble and drumline for B is sincerely incredible, that music isn't easy folks
July 10 7:50PM PT - Blue Devils "C"
Show Title: It's About Time
And we're off with BDC!
Small, but mighty groups always have shows you just seem to 'vibe' to - no BK pun intended
Enjoying the color contrast of the flags and backdrops quite a bit
Oh yeah, the mello knows the type of mood to get the crowd into - hit it!
"Having a good time... having a good time..." 🎶 Love any show with a mention or hint of Queen in it
Those fellas with the snare drum and tenors are rockin' it - great solos y'all!
The slow, momentum building turn right there - icing on the cake!
July 10 7:58PM PT - Intermission
I'll be right back after this small intermission, but as Brandt Crocker just mentioned, don't go anywhere! Small presentations to the Blue Devils and Santa Clara Vanguard will take place on the field in the meantime!
July 10 8:53PM PT - Pacific Crest
Show Title: Welcome To The Void
And we're back! Here comes PC!
Off to bat, I love seeing relics of past shows on the field - can you name all of them?
GET IT MELLOS!
The bigger neon chair is the centerpiece for a good portion of the drill and the show overall - it just reminds me of the aliens from Toy Story saying, "The Clawwww", but in this case, it's "The Chairrr"
Absolutely a fan of the ending pose midway through the show - a huge applause to the color guard, they're really the centerpiece for this particular portion
The reprise on a specific set of notes by the full ensemble just draws me closer into the detail of their show this year - ultimately reminds of something out of a good sci-fi movie, eerie almost, but perfect for the overall theme - great job PC!
July 10 9:10PM PT - Mandarins
Show Title: The Other Side
Can definitely see that a handful of the crowd are their fans - can't wait!
This opening set is incredible to watch - both in-person and online - the corps, along with their props approach the front sideline together in one gigantic block, breaking off into almost a snake shaped line. Love it!
WOAH - the similar intro to THX is absolutely brilliant. That leadup into one huge punch of a first hit, rocking it
Mandarins' guard is nailing it tonight, there's no stopping them
And here comes the guitar - my favorite part of the show and no doubt the crowd's tonight
These vocals and this show...are just AMAZING
July 10 9:27PM PT - Santa Clara Vanguard
Show Title: Finding Nirvana
SCV!!
First of all, these PROPS are so eye-grabbing. I just remember not being able to stop looking at them and imagining how they'd be utilized during the show
This set with the trumpets in the forefront is just remarkable - such specific detail and precise staggered breathing, it's just perfect
GO BRASS - it's so amazing to see SCV's brass each year. INSANE levels of greatness
👀👀
💯
July 10 9:46PM PT - Blue Devils
Show Title: Tempus Blue
Last group of the night! Here come the Blue Devils!
Like many other people, I'm a big fan of the uniform design this year - very sophisticated, but complementing to the show nevertheless
The crowd: "They're always ready!!"
The trumpet solo plus the lower brass = 👌
Ahhh yes, Moon River 🌑💧~ makes me appreciate the show overall a little bit more (fantastic choice of music)
I totally didn't forget about Cowboy Bebop - WOOOO!
Solid lines, all facing back field, visually stunning
WOW. Absolutely incredible performances tonight from EVERYONE. It's amazing what the State of California has in terms of musically talented human beings. Great job, all of you!
Scores
World Class
1. Blue Devils - 82.50
2. Santa Clara Vanguard - 79.95
3. Mandarins - 76.95
4. Pacific Crest - 63.60
Open Class
1. Blue Devils B - 62.55
2. Gold - 62.40
3. Vanguard Cadets - 60.70
4. Blue Devils C - 44.65