2022 Drum Corps at the Rose Bowl
2022 Drum Corps at the Rose Bowl: Show Preview & What To Look Forward To
2022 Drum Corps at the Rose Bowl: Show Preview & What To Look Forward To
The first week of DCI 2022 competition shows off the West Coast's finest at Drum Corps at the Rose Bowl. Here's what you can look forward to Saturday night
Jun 8, 2022
by Natalie Shelton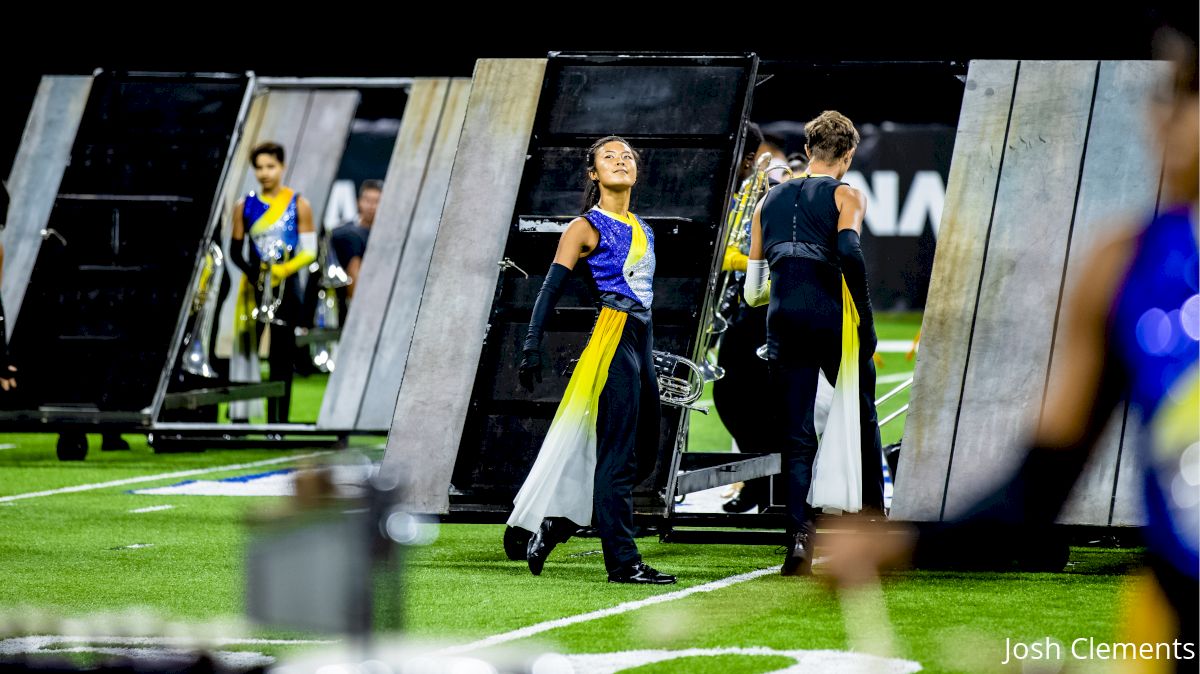 Always a fan favorite, Drum Corps at the Rose Bowl is the second of three competitions taking place in the first week of DCI 2022's competitive season, taking place on Saturday, June 25th. The lineup features four of last season's World Class finalists, including 2019's gold medalist the Blue Devils. Pasadena will also see the first competitive performances from Blue Devils and Santa Clara Vanguard since the 2019 season, and you can guarantee that crowds will be excited to see the two corps go head-to-head for the first time in three years. Here's what else you can expect to see on Saturday night:
Everything You Need To Know About DCI 2022
2022 Streaming Schedule | DCI 2022 At A Glance | 2022 Production Improvements | 2021 Archives WITH SOUND
Open Class Spotlight - Impulse, Golden Empire, and Gold
Three SoCal Open Class corps are on the competition slate for Saturday's showdown in Pasadena - Impulse, Golden Empire, and Gold. Out of the three, Gold is the only corps that we'll see again at DCI Open Class Championships in August, while Golden Empire and Impulse will be touring only in the Golden State. Luckily for fans, you'll be able to catch more performances from these three corps and more of your Open Class favorites throughout the July and August competition season - check out our schedule lineup for the summer here!
Two Consecutive Days of Competition Between The Academy, Mandarins, and Pacific Crest
It'll be the second day of a three-day competition stand for The Academy, Mandarins, and Pacific Crest. After their 2022 debut at Corps at the Crest the previous night, crowds should get excited for a second look at the shows these corps are putting on the field. As a brief reminder, the Mandarins 2022 program is called 'The Otherworld,' Pacific Crest will take us on a journey 'into the void,' and The Academy is taking the field with 'A World Of My Creation.' Keep your eyes peeled for any changes in rankings throughout week one of competition because early on in the season, anything can happen!
SCV Goes Head-To-Head with BD
For the first time since the 2019 DCI season, audiences will see Santa Clara Vanguard go up against the Blue Devils in scored competition. Due to the 2020 DCI season being canceled and neither corps touring in the 2021 DCI Celebration season, there's a lot of anticipation surrounding seeing two of DCI's best corps going toe-to-toe, with the added bonus of the throwdown being in their home state. While BD took the past two years off, audiences did see SCV participate virtually in the Celebration season, releasing a 10-minute visual experience called 'Wait For Me' that is akin to the WGI's 2022 virtual season showcase. No matter who comes out on top after Saturday, it's great to see these competitors return to the field after a hiatus.
2022 Drum Corps at the Rose Bowl Show Info
Lineup
* All times are PT and subject to change *
6:00pm - Welcome & National Anthem
6:10pm - Freelancers Alumni Corps
6:22pm - Impulse
6:37pm - Golden Empire
6:52pm - Gold
7:07pm - Intermission
7:37pm - The Academy
7:55pm - Mandarins
8:13pm - Pacific Crest
8:31pm - Santa Clara Vanguard
8:49pm - Blue Devils
9:07pm - Encore, Pacific Crest
9:14pm - Scores Announced