2023 DCI World Championships
2023 DCI Finals Results: Semifinal DCI Scores From The World Championships
2023 DCI Finals Results: Semifinal DCI Scores From The World Championships
The 2023 DCI World Championship Semifinals took over Lucas Oil Stadium on Aug. 11. Here's who advanced to the DCI Finals.
Aug 12, 2023
by Joe Harrington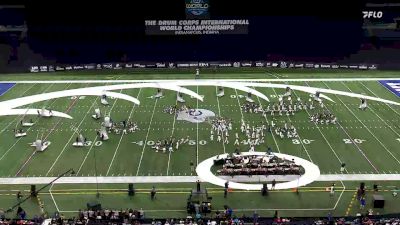 Unlock this video, live events, and more with a subscription!
Get Started
Already a subscriber? Log In
The DCI World Championship Finals are set.
The sports' pinnacle moment each year has its finalist that will compete for the Founder's Trophy on Saturday, Aug. 12 at Lucas Oil Stadium in Indianapolis after Friday's semifinals eliminated more teams from the field.
The final 12 will perform in Saturday's DCI Finals starting at 6:20 p.m..
Subscribe To FloMarching To Watch The 2023 DCI Finals

2023 DCI Championships Results: Prelim Scores
DCI Finals schedule 2023: What To Know This Week
The Blue Devils will head into the final showdown with momentum after scoring a semifinal high-score of 98.275. While the Blue Devils led the day, the Bluecoats followed behind them with a score of 96.988.
The DCI Finals will stream live on FloMarching and the FloSports app as the summer-long DCI season comes to an end.
Here are the DCI scores from the semifinals.
2023 DCI World Championships Semifinals Results
Here the Friday scores:
Blue Devils, 98.275
Bluecoats, 96.988
Carolina Crown, 96.950
Boston Crusaders, 96.738
The Cadets, 93.613
Mandarins, 93.350
Phantom Regiment, 93.163
The Cavaliers, 92.038
Colts, 90.038
Troopers, 88.725
Blue Stars, 88.550
Blue Knights, 87.088
Crossmen, 86.138
Pacific Crest, 85.050
Spirit of Atlanta, 83.625
Madison Scouts, 82.988
Music City, 82.875
The Academy, 82.500
Spartans, 81.275
Gold, 79.913
Genesis, 78.775
Southwind, 77.450
Jersey Surf, 75.488
Columbians, 74.600
Seattle Cascades, 73.925
A whole mood 😎 | @TheAcademyDBC pic.twitter.com/n9vDVWhGYh

— FloMarching (@FloMarching) August 11, 2023
Where Is The DCI World Championships?
Instead of whistles and screams from the crowd, Lucas Oil Stadium in Indianapolis will be filled with the euphonic sounds of drum corps.
The home of the Indianapolis Colts, the NFL Combine and the site of Super Bowl XLVI will once again host the annual DCI World Championships for the 13th straight competition.
How To Watch The DCI World Championships?
All the action from the DCI World Championships will stream live on FloMarching and the FloSports app.