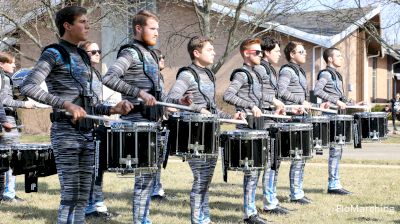 Tates Creek Powers Through Sound Ordinance
Feb 21, 2017
Tates Creek Indoor Percussion showed their adaptability to change at the WGI Sport of the Arts Dayton Regional. To get a little extra practice time, most groups warm up in parking lots outside the venue before their designated warm-up times inside. However, Sunday morning, groups were not allowed to warm-up in the parking lot until 12:00 pm due to a sound ordinance enforced by a nearby church. This did not stop Tates Creek from practicing in the lot. The group grabbed their practice pads and set up shop inside their empty travel trailer. We spoke with the Cymbal instructor and visual tech, PJ Wagner, about what compelled them to do this, similar situations, and the concept behind their 2017 show.


Join The Conversation On Social
• Follow us on Twitter @FloMarching
• Follow us on Instagram @FloMarching
• Follow us on Facebook



FloMarching's hottest content, delivered to your inbox
Don't miss breaking news, feature stories, event updates, and more. Sign up for the FloMarching mailing list today.