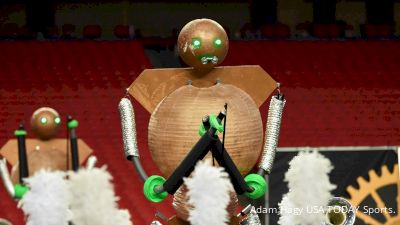 A Closer Look at Franklin's Show: Mastermind
Oct 31, 2016
It's not every day you see a 3-foot diameter lantern repurposed to become the body of giant mythical creature, but that's exactly what we saw from Franklin (TN) High School band's show called "Mastermind." At the Bands of America Atlanta Super Regional, we were standing at the band exit tunnel underneath the Georgia Dome stands when these 10- to 12-foot tall figures slowly emerged from the field. Then we noticed how they were being operated by these band members, who had them strapped on their backs, legs, and were holding broom handles to manipulate the arms.





FloMarching's hottest content, delivered to your inbox
Don't miss breaking news, feature stories, event updates, and more. Sign up for the FloMarching mailing list today.