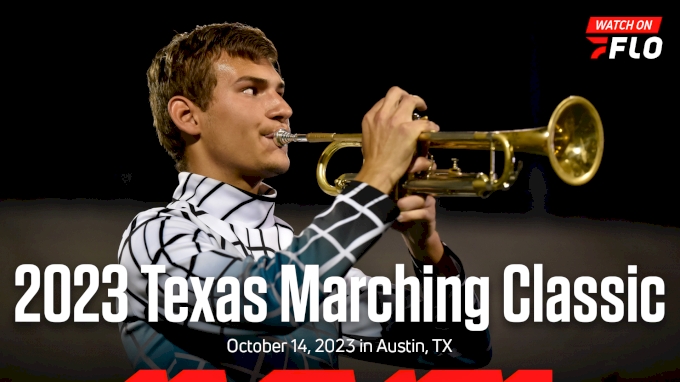 Your one-stop-shop for everything relating to the 2023 edition of the Texas Marching Classic! The 2023 Texas Marching Classic will take place on Saturday, October 14th in Austin, TX. Stream all of the action LIVE exclusively on FloMarching!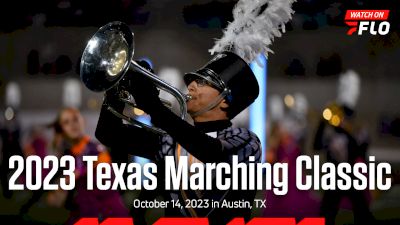 The 2023 Texas Marching Classic: LIVE on FloMarching on October 14
Oct 9, 2023
The Cedar Ridge High School Band & Color Guard Program from the Round Rock Independent School District is proud to sponsor the Texas Marching Classic (TMC), a premier marching band competition in Central Texas.
The 2023 TMC competition will be held on Saturday, October 14, 2023 at Kelly Reeves Athletic Complex in Austin, TX. An optional Judges clinic will be held on Sunday, October 15, 2023.
TMC is organized by educators with vast experience as contest participants as well as hosts. The nationally renowned judging staff have experience as Bands of America (BOA) and Drum Corps International (DCI) adjudicators with a wealth of experience and knowledge that make TMC one of the competitions you won't want to miss.
The TMC competition includes high school bands from across the state who compete during both Preliminary and Finals competitions. Divided into three classifications (1A-4A, 5A, 6A), bands will compete to win the title of Grand Champion. Bands will also compete in the captions of Individual & Ensemble Music, Individual & Ensemble Visual, General Effect, Percussion and Auxiliary. TMC offers state-of-the-art facilities, world-class adjudicators, and a unique scoring rubric to provide timely feedback with insight into all aspects of your performance.
Also be sure to follow the Texas Marching Classic on Facebook, Instagram, Twitter, and YouTube for the most up-to-date information concerning the Texas Marching Classic!