DCI
Guess Who's Back? The Academy Announce the Return of a Cymbal Line for 2023
Guess Who's Back? The Academy Announce the Return of a Cymbal Line for 2023
The Tempe-based corps announced earlier this week that it will be fielding a 4 to 5 person cymbal line for the 2023 DCI season.
Nov 17, 2022
by Natalie Shelton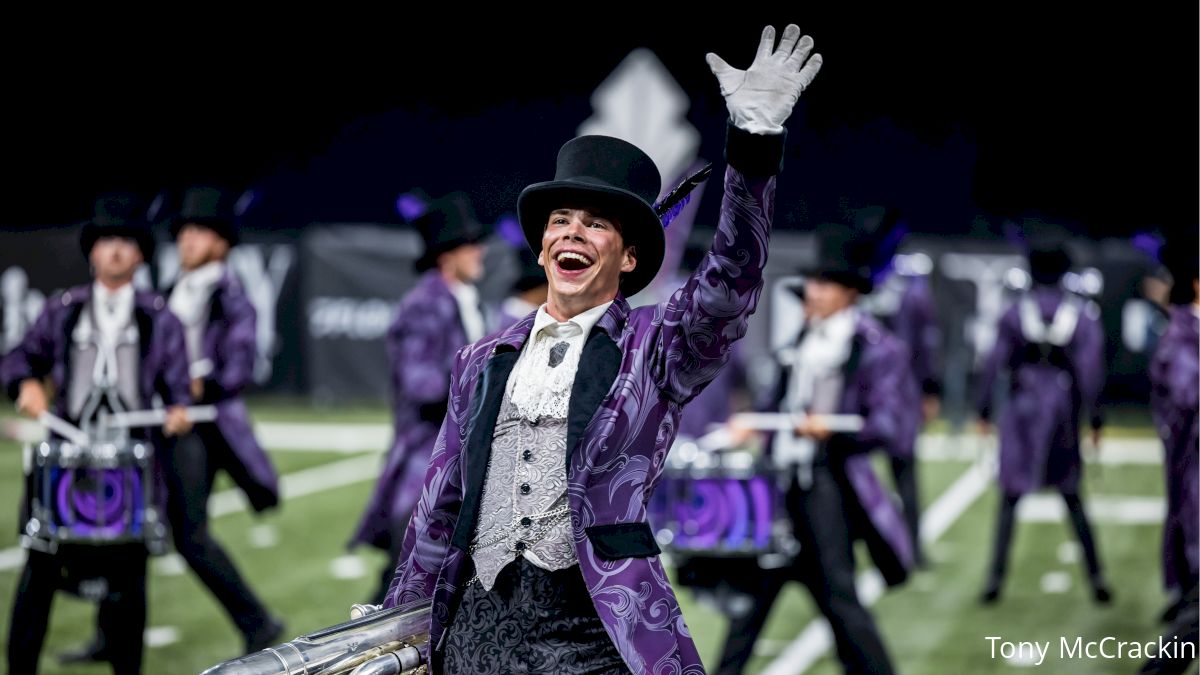 Guess who's back? Cymbal lines are back.
Earlier this week, The Academy Drum and Bugle Corps announced on social media that it would be fielding a cymbal line for the 2023 season. According to the press release put out by the Tempe-based corps, the cymbal line would be made up of 4 to 5 people and auditions would take place at its upcoming December camp.
We caught up with a few folks instrumental in the 2023 season for The Academy, including Executive Director Mark Richardson. This season in particular, we've seen a few World Class corps opt to bring back their cymbal lines for the 2023 season. We asked Mark why The Academy decided to take the plunge as well. "For us, it began with a design choice, in that the team working with the visual and music design thought that it would be appropriate to include a marching cymbal section for the particular concepts that they are putting together for the 2023 production. In addition, Fred Smith, our designer (who has ties to the early years at The Academy), often prefers to design with a sound color palette that includes marching cymbals. With the recent expansion of the size of the corps for DCI rules, there isn't a conflict for having enough numbers on the field to work with and it all just made sense to make the move."
Corps Director Dan Adams also chimed in, saying "From a musical perspective it was a clear choice! The new addition of the Academy cymbal line offers an expanded palate of sound color to explore, as well as greater dynamic capability unmatched in any other area of our music ensemble. For us at The Academy, we have full trust in our percussion designer Fred Emory Smith who is a charter member of The Academy and a professional film composer to bring those colors to life in our 2023 production! Cymbal lines are a unique combination of musical artistry and visual expression, and we are happy to be able to provide further opportunities for all those involved in our community to be able to participate!"
Percussion Caption Manager Cole Williams also stated that this move is all about giving as many performers as possible the opportunity to march a World Class Corps, saying, "I think it's important to the percussion community to have that voice in any marching ensemble. In the winter season, we see cymbal lines flourish, and I believe that voice can be just as important in the drum corps world... At The Academy, member experience is paramount, and being able to provide this additional role in our ensemble will help us provide that to more individuals."
It has been six years since The Academy fielded a cymbal line, and it's apparent that the staff, prospective members, alumni, and fans are overjoyed with the decision to resurrect its cymbal line. Dan said, "The outpouring of love and support we have seen from the community since our announcement has been very special to see. I received so many kind messages from people ECSTATIC about our decision to bring back this section. I am so very excited to be on such a fantastic team that is bringing back The Academy cymbal line."
When asked if they could give the marching arts community any teases about the upcoming season, Cole stated, "We will have an official staff announcement in the coming weeks, but I can assure you that we are putting together one of the most diverse and talented staffs in the activity. Our cymbal line will have an incredible impact on our overall music package, and will be a fantastic section to watch throughout the season!
Interested in finding out more information about The Academy's 2023 auditions? Check out this link here to check out the audition dates, how to get audition packets, and more.
Well, if that doesn't get you excited about the 2023 DCI season, I don't know what will.
Keep checking back on FloMarching for more DCI updates as information gets released throughout the winter and spring seasons!