2022 Texas Marching Classic
Texas Marching Classic Brings Texas Powerhouses To FloMarching
Texas Marching Classic Brings Texas Powerhouses To FloMarching
Watch 2022 Texas Marching Classic live on FloMarching including some of the top marching bands from Texas (and the country!) compete in Round Rock, TX.
Aug 16, 2022
by Andy Schamma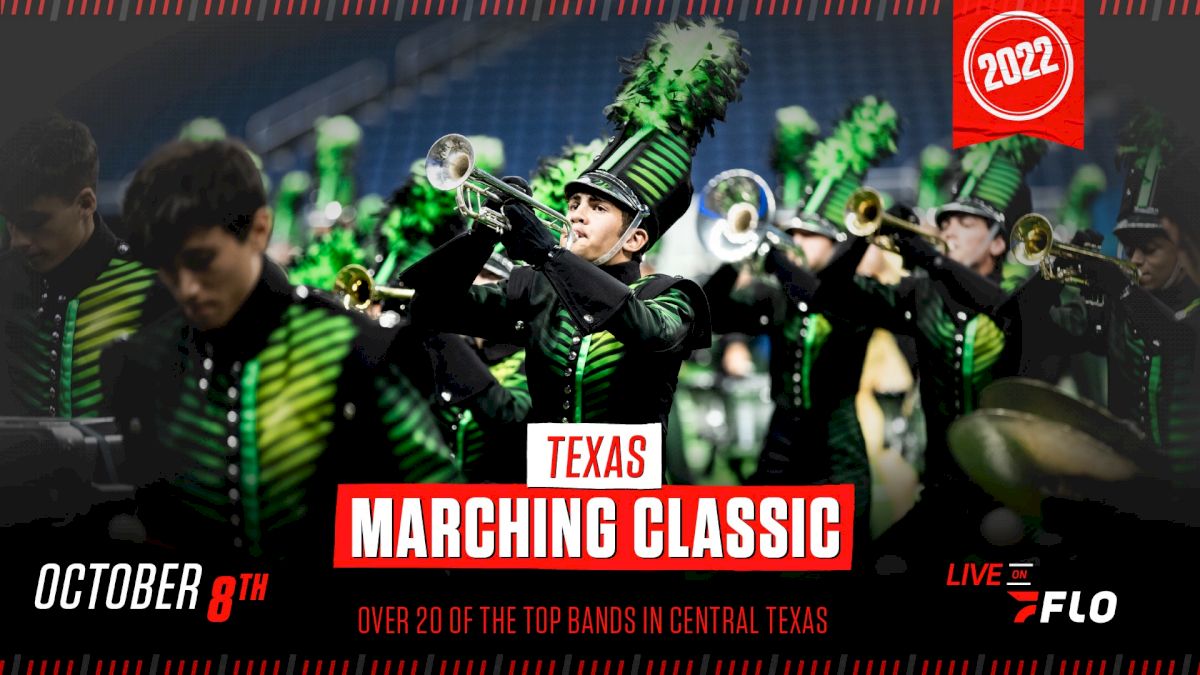 In a new addition to our fall marching band event schedule on FloMarching, you can now catch the 2022 Texas Marching Classic LIVE coming this October featuring 21 of the best high school marching bands in Texas! The Texas Marching Classic joins our packed event schedule of USBands and WBA events and will feature a number of former BOA Grand National finalists, Semifinalists, and the 2019 BOA Grand Nationals Champion, Vandegrift HS!
About Texas Marching Classic
Click here to register for the 2022 Texas Marching Classic!
The Cedar Ridge High School Band & Color Guard Program from the Round Rock Independent School District is proud to sponsor the Texas Marching Classic (TMC), a premier marching band competition in Central Texas.
The 2022 TMC competition will be held on Saturday, October 8, 2022 at Kelly Reeves Athletic Complex in Austin, TX. An optional Judges clinic will be held on Sunday, October 9, 2022.
TMC is organized by educators with vast experience as contest participants as well as hosts. The nationally renowned judging staff have experience as Bands of America (BOA) and Drum Corps International (DCI) adjudicators with a wealth of experience and knowledge that make TMC one of the competitions you won't want to miss.
The TMC competition includes high school bands from across the state who compete during both preliminary and finals competitions. Divided into three classifications (1A-4A, 5A, 6A), bands will compete to win the title of Grand Champion. Bands will also compete in the captions of Individual & Ensemble Music, Individual & Ensemble Visual, General Effect, Percussion and Auxiliary. TMC offers state of the art facilities, world class adjudicators, and a unique scoring rubric to provide timely feedback with insight into all aspects of your performance.
Click here to see last year's Preliminary Results and Final Results.
Current Entries (As of 8/16)
Cedar Park HS
Dripping Springs HS
Hendrickson HS
Hutto HS
James Madison HS
John B. Alexander HS
Leander HS
Louis D. Brandeis HS
McNeil HS
Midway HS
Ronald Reagan HS
Round Rock HS
Rouse HS
Sandra Day O'Connor HS
Stony Point HS
Tom C. Clark HS
Vandegrift HS
Vista Ridge HS
Weiss HS
Winston Churchill HS
Cedar Ridge HS (Exhibition)