2022 DCI World Championships
Taking A Deep Dive Into The Major Storylines From DCI 2022 Semifinals
Taking A Deep Dive Into The Major Storylines From DCI 2022 Semifinals
As we head into the 2022 DCI World Championship Finals competition tonight, let's take a bit of a deep dive into some of those stand-out storylines.
Aug 13, 2022
by Natalie Shelton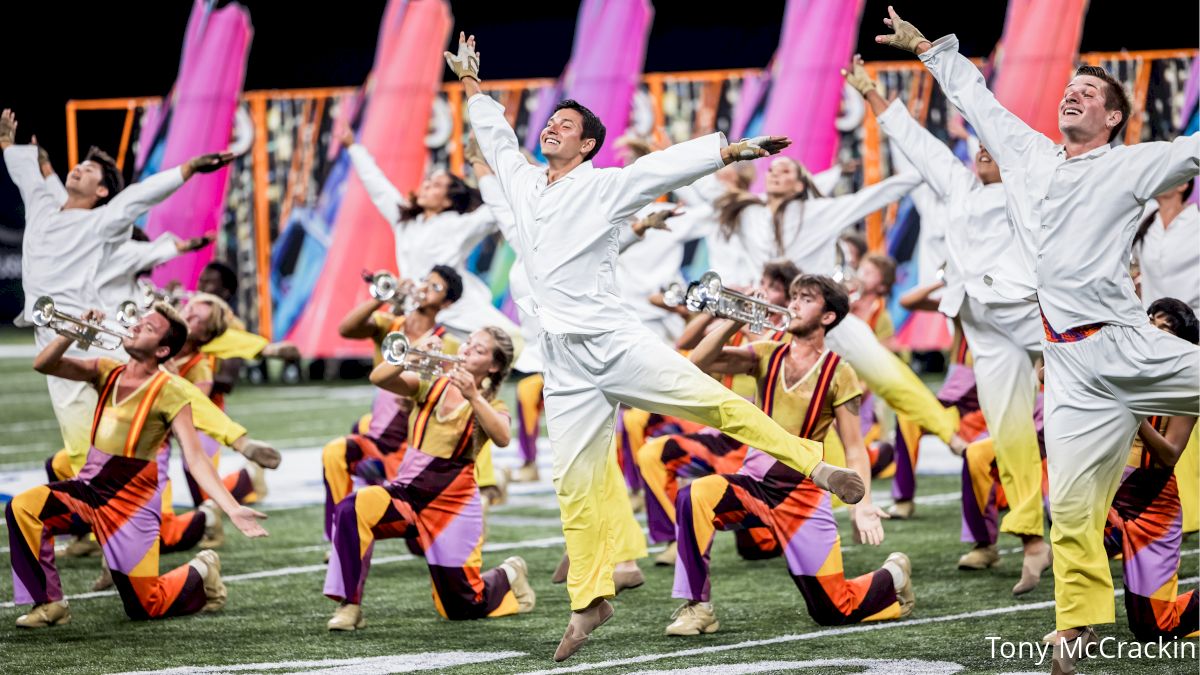 DCI's 50th anniversary season has had no shortage of jaw-dropping moments. Drum corps fans have been treated to a season full of tight races, historic seasons, and outstanding on-field pageantry, making this a season to remember for a multitude of reasons. As we head into the 2022 DCI World Championship Finals competition tonight, let's take a bit of a deep dive into some of those stand-out storylines.
Colts Make History
It's been fifteen years since a DCI crowd has seen the Colts on the field on Finals night, with their 2007 show 'Equinox' being the last time the corps has finished within the top-12. But the Dubuque-based corps didn't stop there; Semifinals night marked their highest score in the history of the corps when they earned an 87.450. Since their debut on July 1st in Muncie, the corps has consistently put up impressive scores and improved on their previous performance score at almost every competition. Their 2022 program titled, 'The Silk Road' explores "the highly lucrative trade of silk textiles that were produced almost exclusively in China and transported west to the Roman Empire." Colts take the field tonight at Finals at Lucas Oil Stadium at 6:47pm ET.
2-Way Tie For Second
The head-to-head battle between Bluecoats and the Boston Crusaders has been one of the more exciting storylines to come out of DCI's 50th anniversary season. The two corps have met on the field many times throughout the 2022 season and have consistently gone back and forth in who comes out on top. Here's a quick recap of who was victorious throughout the season during their matchups:
DCI Tour Premiere

Bluecoats, 71.700
Boston, 69.450

DCI Broken Arrow

Bluecoats, 87.175
Boston, 86.800

DCI Denton

Boston, 88.250
Bluecoats, 87.750

DCI Southwestern Championship

Boston, 90.700
Bluecoats, 89.900

The Masters of the Summer Music Games

Boston, 92.350
Bluecoats, 91.725

DCI Southeastern Championship

Boston, 93.875
Bluecoats, 92.225

NightBEAT

Boston, 93.550
Bluecoats, 92.725

DCI Glassboro

Boston, 95.200
Bluecoats, 93.800

DCI Eastern Classic

Boston, 94.500
Bluecoats, 94.375

DCI World Championship Prelims

Boston, 96.500
Bluecoats, 95.700

DCI World Championship Semifinals

Boston & Bluecoats tie with a 96.975
Bluecoats have been experiencing a late-season surge in scores - will it be enough to push them into 2nd place at tonight's Finals competition? Tune in at 6:30pm ET to see all the action unfold! Bluecoats take the field tonight in Finals competition at 9:23pm ET, and Boston Crusaders will go on directly after at 9:40pm ET.
Troopers Digging In
In a similar vein to Colts, the Troopers are riding high into Finals, as it's been 13 years since the Casper-based corps has made it onto the field at Lucas Oil Stadium on Saturday night. Their 2009 program titled 'Western Side Story' was the last time the corps broke into the top-12, and just one of a handful of times in the program's history that they made finals. Hoping to build off of their current momentum, the corps is looking to finish strong this season and achieve one of the highest scores in corps history. Their program this year titled 'VorAcious' explores the greed of money and oil through imagery reminiscent of the 2007 film 'There Will Be Blood,' meshed with classic Troopers flair. The Troopers take the field in Finals competition tonight at 6:30pm.
We Gotta Talk About the Blue Devils
If it wasn't clear already based on their undefeated 2022 season and their caption sweep in yesterday's Semifinals competition, the Blue Devils are absolutely on fire. Most recently scoring a season-high 98.300, the Blue Devils are on their way to another historic season, as it's a possibility that the corps could seal the deal tonight at Finals and win their 20th DCI World Championship title. Their 2022 program is titled 'Tempus Blue,' and the corps takes the field tonight at 9:57pm ET.
Raising The Bar, Even Outside the Top-12
Though they just missed this year's Finals cutoff, it's worth noting that the Blue Knights and Crossmen have officially tallied the highest ever scores for a 13th and 14th place corps. These two prove that no matter the placement, at the end of the day, you can still make history and push the activity forward.
One Reason To Watch Each Finalist Corps
Troopers - 6:30pm ET
I'm just going to leave this here.
Colts - 6:47pm ET
Colts have a shot at making history for the second night in a row if the corps can improve upon last night's score. What better reason to watch than to experience history in the making?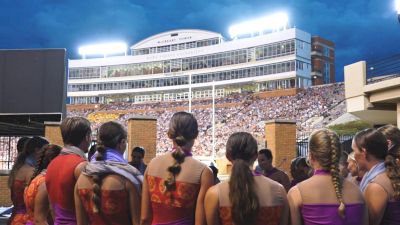 Mandarins - 7:04pm ET
I love the use of trombones in the Mandarins show - the intro goes hard.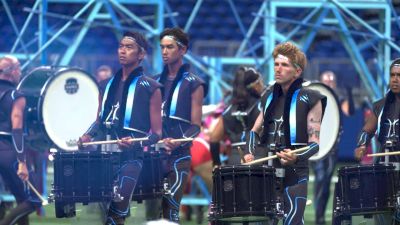 Phantom Regiment - 7:21pm ET
The Rockford-based corps recently put in a new ending to their show - if you haven't seen it yet, you're not going to want to miss it!
The Cavaliers - 7:38pm ET
Two chunks I love in the Cavaliers show this year: the ending segment of the show and their "time warp" section that happens in the first movement.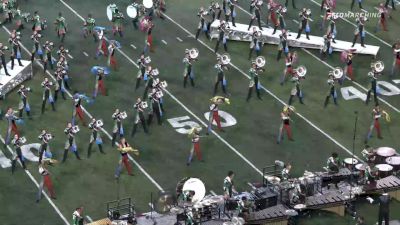 Unlock this video, live events, and more with a subscription!
Get Started
Already a subscriber? Log In
Blue Stars - 7:55pm ET
You're going to want to stay for the end of the Blue Stars show because the flag feature that happens with the guard spread from endzone to endzone is absolutely bananas.
The Cadets - 8:32pm ET
Two words: Company. Front. The ending of their 2022 program titled 'Rearview Mirror' is a season favorite for me!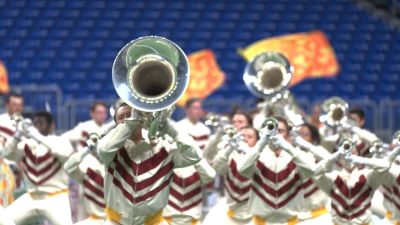 Santa Clara Vanguard - 8:49pm ET
Always the innovator, SCV added a new element to the end of their show that I've heard called "the floating chair." You're definitely going to want to see this effect happen in real-time!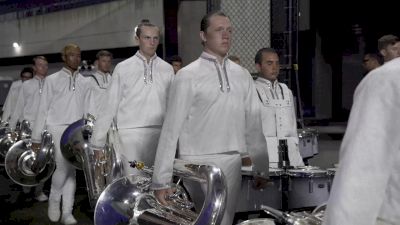 Carolina Crown - 9:06pm ET
It may be one of my favorite musical moments of the 2022 season - Carolina Crown's ballad is absolutely beautiful.
Bluecoats - 9:23pm ET
It's the Bluecoats wheel props for me. The way they're utilized throughout the show creates such a jaw-dropping fan experience!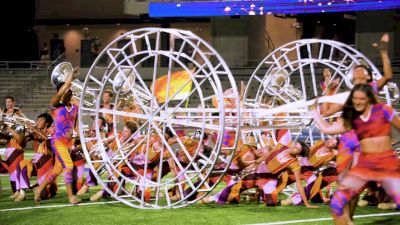 Boston Crusaders - 9:40pm ET
One of my favorite movements from this year's Boston show is the 'tango' movement - it's a MUST-see!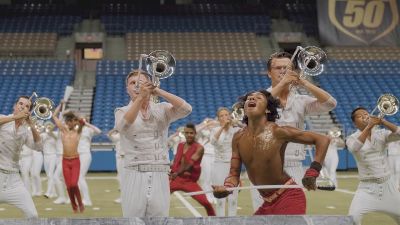 Blue Devils - 9:57pm ET
Last but certainly not least, the Blue Devils rotating line drill is NUTS.
2022 Finals Schedule - Saturday, August 13
* Note that all times are ET and subject to change
| | |
| --- | --- |
| Performance Time | Corps |
| 5:30pm | Welcome |
| 5:40pm | INpact Band |
| 6:00pm | U.S. Marine Drum & Bugle Corps |
| 6:20pm | National Anthem |
| 6:30pm | Troopers |
| 6:47pm | Colts |
| 7:04pm | Mandarins |
| 7:21pm | Phantom Regiment |
| 7:38pm | The Cavaliers |
| 7:55pm | Blue Stars |
| 8:12pm | Intermission |
| 8:32pm | The Cadets |
| 8:49pm | Santa Clara Vanguard |
| 9:06pm | Carolina Crown |
| 9:23pm | Bluecoats |
| 9:40pm | Boston Crusaders |
| 9:57pm | Blue Devils |
| 10:22pm | Retreat |