2022 DCI World Championships
2022 DCI Semifinals Comes To A Dramatic Close
2022 DCI Semifinals Comes To A Dramatic Close
If tonight's Semifinals competition was any indication of what tomorrow's Finals show will be like... we're in for a treat. Here's a recap of the night.
Aug 13, 2022
by Natalie Shelton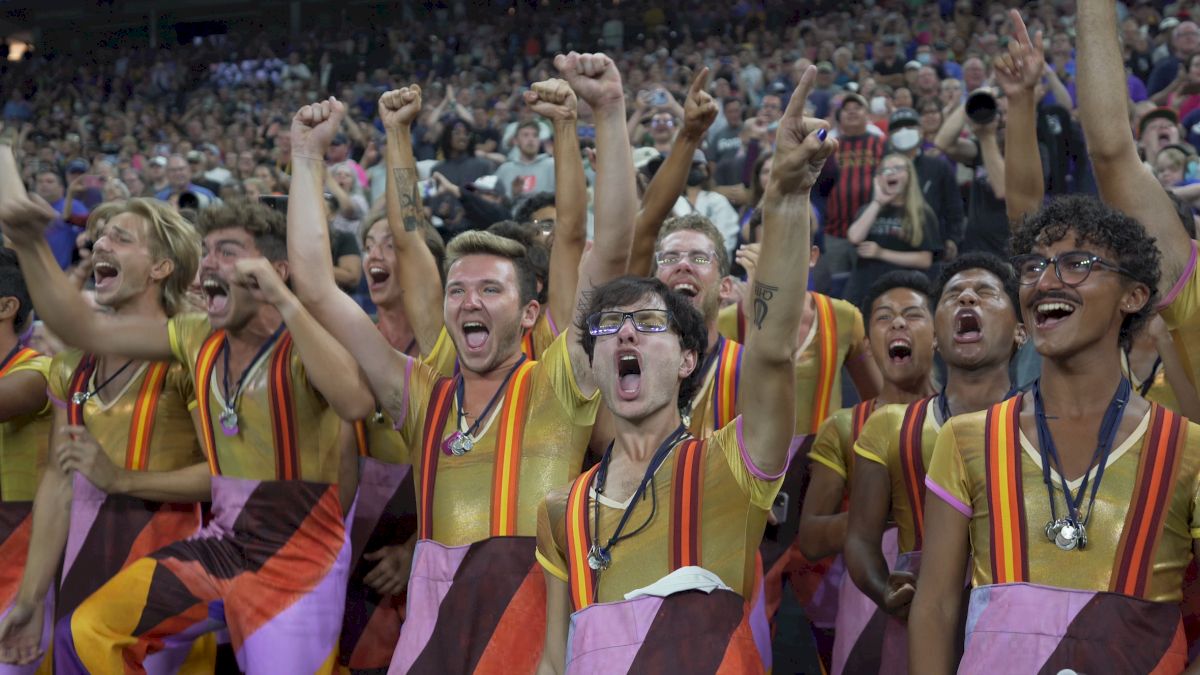 If tonight's 2022 DCI World Championship Semifinals competition was any indication of what tomorrow's Finals show will be like... we're in for a treat, folks. Here are some key takeaways from the night's action at Lucas Oil Stadium:
2022 DCI World Championship Content
Watch Live | Saturday Finals Schedule | Welcome Back to Lucas Oil | Post-Show Circle With Madison Scouts | DCI's 50th Anniversary Exhibit
1. Colts & Troopers In, Crossmen & Blue Knights Out
This year marks DCI's 50th anniversary, but it also marks the first time that Colts and Troopers have advanced to Finals in a number of years. Audiences haven't seen either corps take the field at finals since the late 2000s.
2. Bluecoats & Boston Tie for Second Place
To make things even more dramatic, Bluecoats and Boston Crusaders managed to tie for 2nd place after the two corps both managed to earn a 96.975. Boston bested Bluecoats in the GE and Guard captions, while Bluecoats beat out Boston in the Music caption. Stay tuned to see how this showdown shakes out!
3. Caption Clean Sweep for Blue Devils
Not only are the Blue Devils still undefeated in the 2022 season, but they also managed to get straight 1s in every caption, including Color Guard. BD managed to edge out Boston Crusaders to finish first in Color Guard by a margin of 0.3 points. To see a full breakdown of the Semis scores, click here.
4. Who's Taking the Field On Saturday?
Here are the 12 corps you'll see in tomorrow's 2022 DCI World Championship Finals competition:
Blue Devils
Bluecoats
Boston Crusaders
Carolina Crown
Santa Clara Vanguard
The Cadets
Blue Stars
The Cavaliers
Phantom Regiment
Mandarins
Colts
Troopers
2022 Finals Schedule - Saturday, August 13
* Note that all times are ET and subject to change
| | |
| --- | --- |
| Performance Time | Corps |
| 5:30pm | Welcome |
| 5:40pm | INpact Band |
| 6:00pm | U.S. Marine Drum & Bugle Corps |
| 6:20pm | National Anthem |
| 6:30pm | Troopers |
| 6:47pm | Colts |
| 7:04pm | Mandarins |
| 7:21pm | Phantom Regiment |
| 7:38pm | The Cavaliers |
| 7:55pm | Blue Stars |
| 8:12pm | Intermission |
| 8:32pm | The Cadets |
| 8:49pm | Santa Clara Vanguard |
| 9:06pm | Carolina Crown |
| 9:23pm | Bluecoats |
| 9:40pm | Boston Crusaders |
| 9:57pm | Blue Devils |
| 10:22pm | Retreat |
5. The Bluecoats Alumni Corps Was AWESOME
If you weren't able to catch the Bluecoats Alumni Corps performance at the end of the Semifinals competition, you're going to want to check out the Semis Rebroadcast tomorrow because there truly wasn't a dry eye in the building at the end of their 15-minute set.