DCI
5 Takeaways from the 2022 DCI World Championship Prelims
5 Takeaways from the 2022 DCI World Championship Prelims
Thursday was a jam-packed day of utterly electric DCI action at the 2022 DCI World Championship Prelims competition. Here are 5 key takeaways from the night
Aug 12, 2022
by Natalie Shelton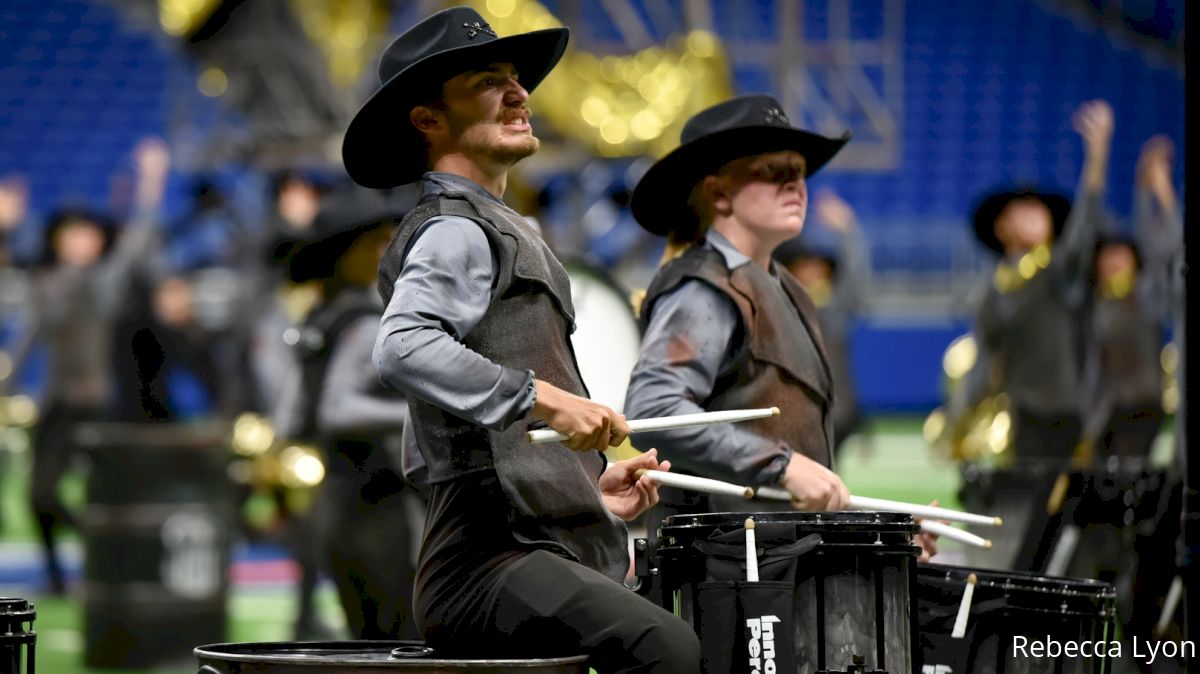 Thursday was a jam-packed day of utterly electric DCI action at the 2022 DCI World Championship Prelims competition. Here are 5 key takeaways from the night.
2022 DCI World Championship Content
Watch Live | Friday Semifinals Schedule | Welcome Back to Lucas Oil | Take the Field With Blue Knights | Interview: Is That A WOODWIND?
1. TROOPERS!
Hold onto your (cowboy) hats because the Troopers made some BIG moves tonight. Not only did they sneak into 12th place ahead of Crossmen, but they also achieved one of the highest scores in their history: 86.675.
2. Bluecoats Jump Crown
The two corps have been in a back-and-forth battle for 3rd over the last two weeks, but tonight Bluecoats topped Crown by a margin of only 0.15 points.
3. Caption Madness?!
I don't really have much to say here aside from the title speaks for itself: the race for caption winners is going to be bonkers this year. Take a look at the full breakdown for yourself here because it's a tight race in almost every category.
4. Colts Locking It In
It's been a heck of a season for the Dubuque, Iowa corps! As of tonight, the corps is sitting in 11th place
5. Jersey Surf Squeaks Into Semis
Even after a shortened touring season, Jersey Surf makes waves by earning a spot in Friday's Semis competition. The corps earned a 74.825, which slotted them into the 25th position, just making it past the Semis cutoff.
2022 Semifinals Schedule - Friday, August 12
* Note that all times are ET and subject to change
| | |
| --- | --- |
| Performance Time | Corps |
| 1:00pm | Jersey Surf |
| 1:17pm | Guardians |
| 1:34pm | Spartans |
| 1:51pm | Blue Devils B |
| 2:08pm | Gold |
| 2:25pm | Pacific Crest |
| 2:42pm | Genesis |
| 2:59pm | Video Presentation - Identity |
| 3:03pm | Video Presentation - Genius of George |
| 3:08pm | Intermission |
| 3:23pm | Vanguard Cadets |
| 3:40pm | Music City |
| 3:57pm | The Academy |
| 4:14pm | Madison Scouts |
| 4:31pm | Blue Knights |
| 4:48pm | Crossmen |
| 5:05pm | Troopers |
| 5:22pm | Colts |
| 5:39pm | Mandarins |
| 5:56pm | Video Presentation - Change |
| 6:07pm | Calgary Stampede Showband |
| 6:19pm | Intermission |
| 6:49pm | Phantom Regiment |
| 7:06pm | The Cavaliers |
| 7:23pm | Blue Stars |
| 7:40pm | DrumLine Battle |
| 7:57pm | The Cadets |
| 8:14pm | Santa Clara Vanguard |
| 8:31pm | Carolina Crown |
| 8:48pm | Ultimate Drill Book Presentation |
| 8:56pm | Special Recognitions |
| 9:03pm | Bluecoats |
| 9:20pm | Boston Crusaders |
| 9:37pm | Blue Devils |
| 9:54pm | Vanguard Cadets |
| 10:11pm | Special Recognitions |
| 10:26pm | Bluecoats Alumni Corps |
| 10:51pm | Age-Out Ceremony |
| 11:14pm | Last Two Scores Announced |