2022 DCI Tour Premiere presented by DeMoulin Brothers & Co.
A Running List of DCI 2022 Show Announcements
A Running List of DCI 2022 Show Announcements
A list of the show announcements that have been published for the 2022 DCI season. Continue to check back to this article as more show announcements come in
May 10, 2022
by Natalie Shelton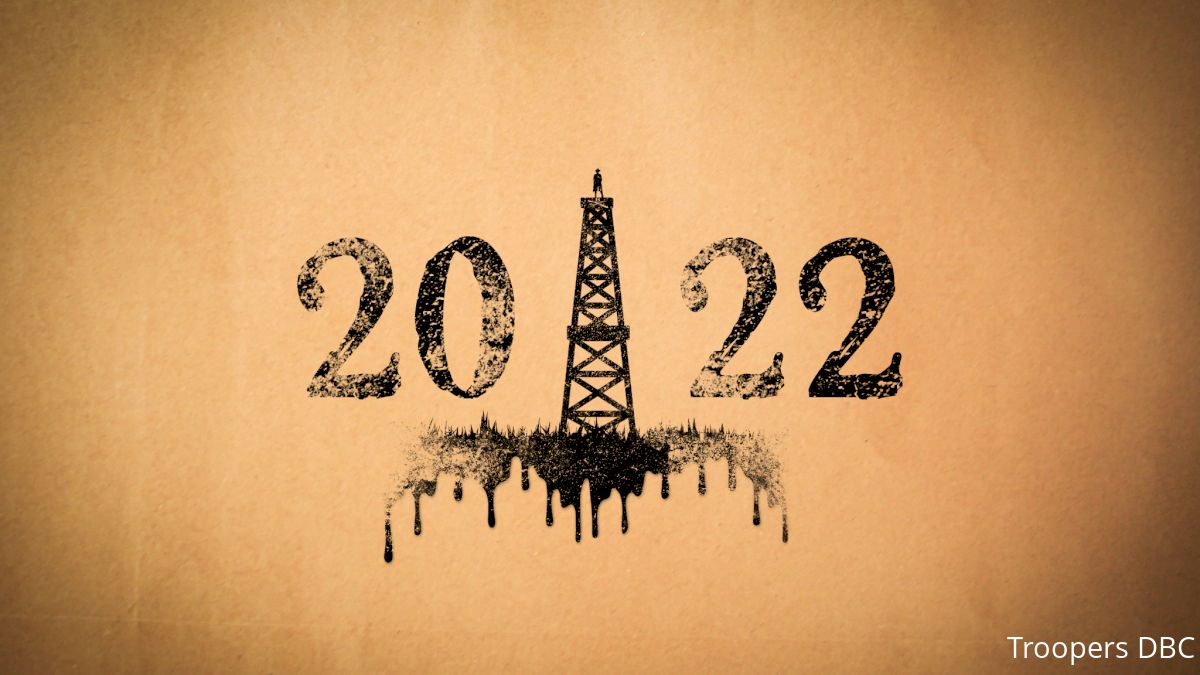 The 2022 DCI season is upon us, which means that fans can expect a lot of show announcements over the next couple of weeks! Below, you'll find a running list of show titles, program information, music repertoires, and show graphics from corps as they get released. Continue to check back in on this page for updates!
---
World Class
The Academy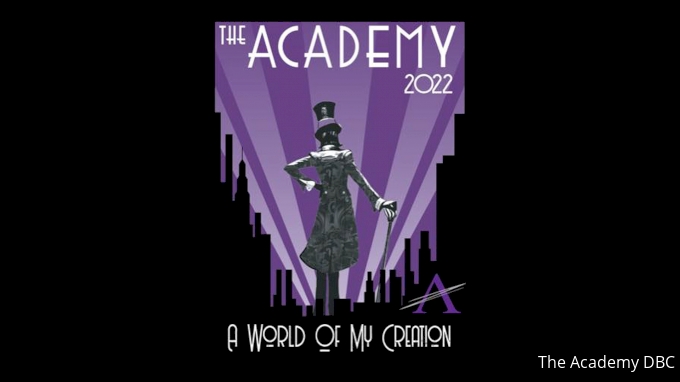 Show Title: A World Of My Creation
Repertoire: TBD
Program Information: "Before Charlie, Before Chocolate, There was just…. pure imagination."
Blue Devils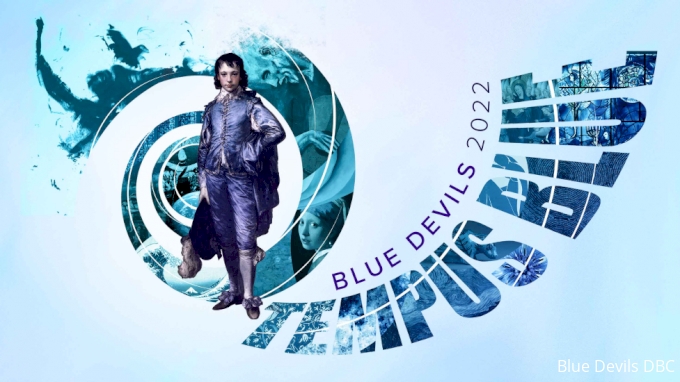 Show Title: Tempus Blue
Repertoire:
Lapis Lazuli by Dave Glyde (original composition)
Divine Blue by Dave Glyde (original composition)
Carnival of Venice (Titian) by Niccolo Paganini
Moon River (Blue Flower) by Henry Mancini, arranged by Jacob Collier
Hands and Feet (Picasso) by Michel Camilo
Silk Sonic Intro (Yves Klein) by Bruno Mars
Tank! (Yves Klein) by Yoko Kanno
Home of the Brave (Blue Earth) by Thomas Bergersen
Program Information: "Dancing on the historical timeline of this mysterious, dynamic color, the 2022 Blue Devils celebrate their 65th Anniversary with TEMPUS BLUE."
Blue Knights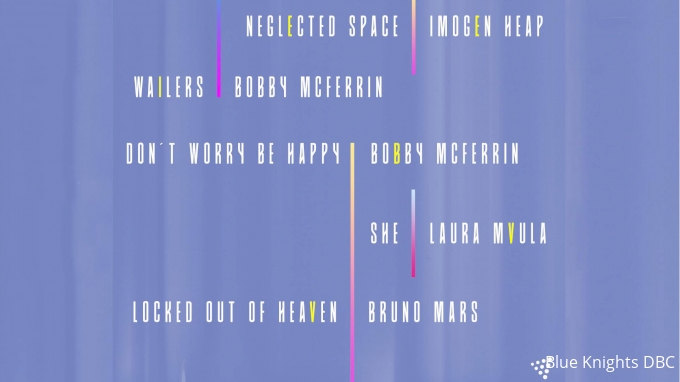 Show Title: VIBE
Repertoire:
Neglected Space by Imogen Heap
Wailers by Bobby McFerrin
Don't Worry Be Happy by Bobby McFerrin
She by Laura Mvula
Locked Out Of Heaven by Bruno Mars
Program Information: "The vibrancy of colors, the vibration of textures and sounds, and a vibe that can only be described as uniquely Blue Knights will represent the diversity of our members' self-exploration and personal identification as we encourage the spectator to experience the musical, visual, and marching arts in a new way."
Blue Stars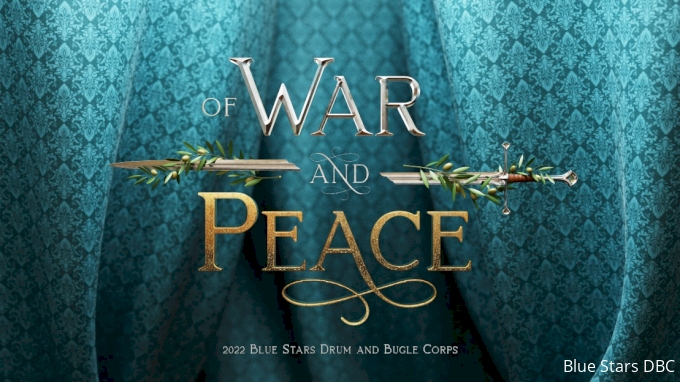 Show Title: War and Peace
Repertoire:
War and Peace Symphonic Suite by Serge Prokofiev
Ballad of an Unknown Boy by Serve Prokofiev
Variations for Oboe and Military Band by Nicolai Rimsky-Korsakov
No One Else by Dave Malloy
Confrontation on Eadu by Michael Giacchino
Dust and Ashes by Dave Malloy
Bluecoats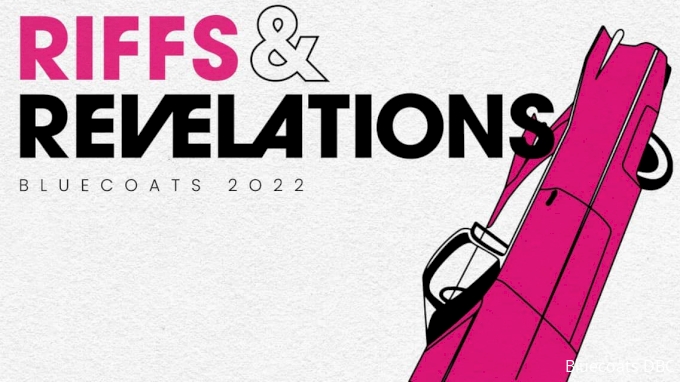 Show Title: Riffs and Revelations
Repertoire:
Taming the Dragon by Brad Mehldau and Mark Guiliana
Taizo by FORQ
Nautilus by Anna Meredith
Momento Magico by Youn Sun Nah
moonmoons by Anna Meredith
The Garden by Brad Mehldan
Program Information: "Wander with us as we travel through our minds and over the road on a journey to reveal who we really are."
Boston Crusaders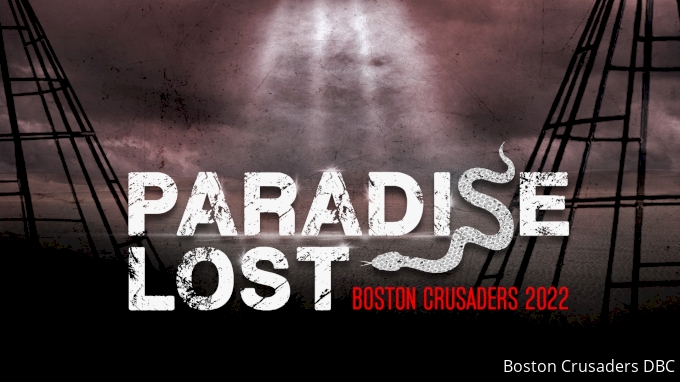 Show Title: Paradise Lost
Repertoire:
A Child's Garden of Dreams by David Maslanka
What A Wonderful World by Bob Thiele / George Weiss
Bad Hombres (Y Mujeres) by Antonio Sanchez
Can't Take My Eyes Off Of You by Bob Crewe / Bob Gaudio
Symphony No. 7: Movement 3 by David Maslanka
Requiem in D Minor, K. 626: VII. Lacrimosa by Wolfgang Amadeus Mozart
The Cadets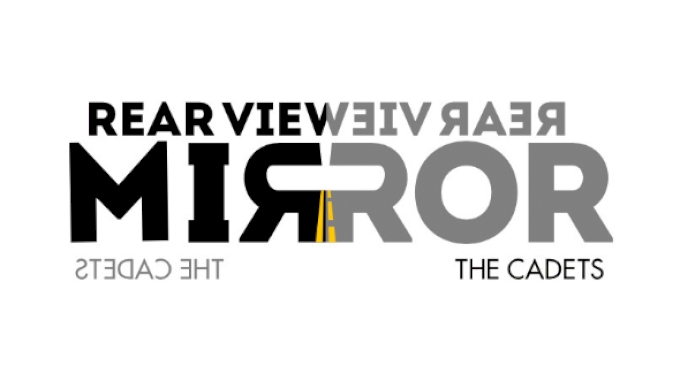 Show Title: Rear View Mirror
Repertoire:
Adrenaline City by Adam Gorb
St. Louis Blues by WC Handy
To Kill A Mockingbird by Elmer Bernstein
American Gothic: III. Pitchfork by Michael Daugherty
Carolina Crown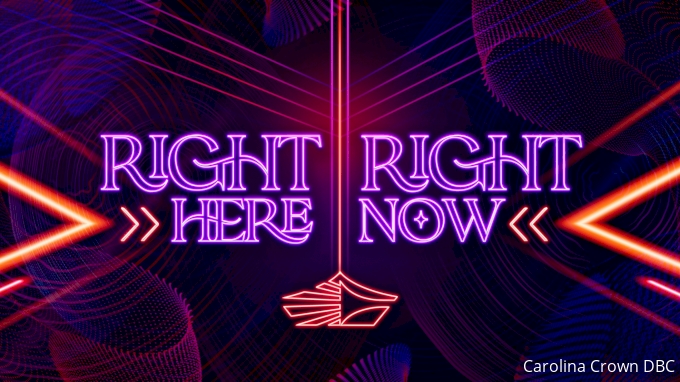 Show Title: Right Here, Right Now
Repertoire:
With All The Love In My Heart by Jacob Collier
Chandelier by Sia and Jesse Shatkin
Chasing the Moment by Michael Klesch, Thom Hannum, Andrew Monteiro, Jim Ancona, and Travis Peterman (original composition)
Benedictus by Karl Jenkins
Own the Moment by Andrew Monteiro and Travis Peterman (original composition)
Toccata Andromeda by Paul Halley
Program Information: "Our 2022 program, "Right Here Right Now" explores the concept of living in, creating, and sharing these moments with the audience. Our program is designed to engage the audience in unique ways, allowing them to feel present and immersed, creating a shared experience and bond, turning fleeting moments into infinite memories."
The Cavaliers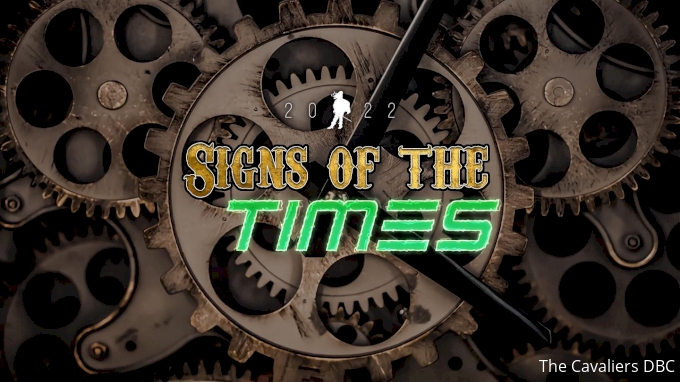 Show Title: Signs of the Times
Repertoire:
Fugue in G Minor BWV 578 by Johann Sebastian Bach
Fly Like An Eagle by Steve Miller Band
Way Too Long by Bent Knee
Tarkus by Emerson, Lake, and Palmer
The Floor Is Lava by Bent Knee
Concerto No. 10 for Brass Band by Ludovic Neurohr
Queer Gods by Bent Knee
Being Human by Bent Knee
Sign of the Times by Harry Styles
Program Information: "The Cavaliers' 2022 production "Signs of the Times" will take you on a journey from the early days of the printing press to the modern age of social media, all the while showing how time is endless and repeats itself in mystifying ways."
Colts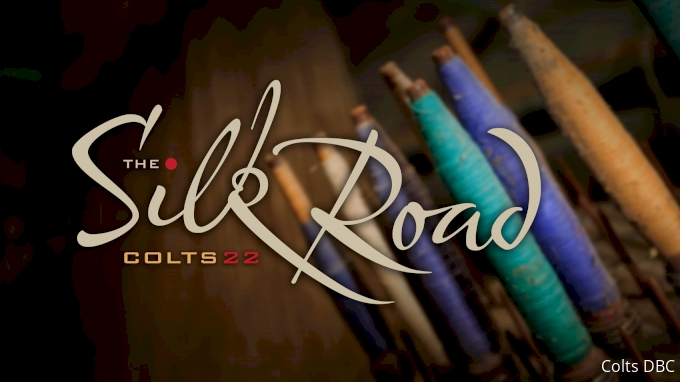 Show Title: The Silk Road
Repertoire:
Meetings Along the Edge by Ravi Shankar & Philip Glass
Arabian Waltz by The Silk Road Ensemble
The Dragon Boy by Joe Hisaishi
José / beFore John 5 by Aurel Hollo
Divas & Dunes by Aaron Zigman
Kashmir by Led Zeppelin
Program Information: "Take a journey through this ancient time with the 2022 Colts production of... The Silk Road."
Crossmen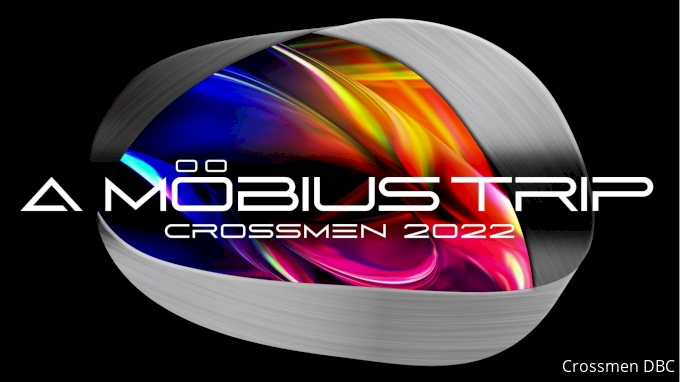 Show Title: A Möbius Trip
Repertoire:
Symphony No. 2, Movement 4 by Gustav Mahler
Equus by Eric Whitacre
Addis Ababa by Guillermo Lago
Alfonso Muskedunder by Todd Terje
Re-Entry by Philip Sheppard
Program Information: "The beginning is the end..."
Genesis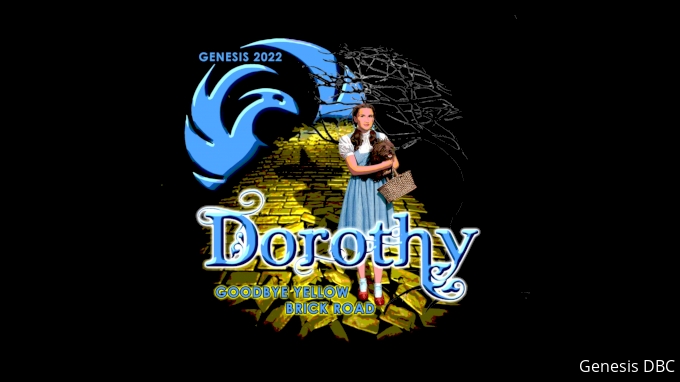 Show Title: Dorothy
Repertoire: Featuring musical selections by:
Jethro Tull
Benjamin Britten
Elton John
Sara Bareilles
Britney Spears
And original works by Key Poulan and Mike Huestis
Program Information: "A completely original story, exploring the question of what exists Beyond the Yellow Brick Road... a fresh take and a twist on the fate of our beloved Dorothy."
Jersey Surf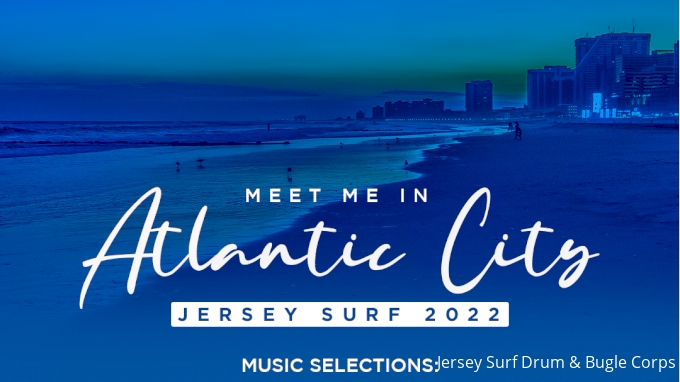 Show Title: Meet Me In Atlantic City
Repertoire:
Pure Imagination by Leslie Bricusse & Anthony Newley
Wayside Festival by Rick DeJonge
Big Girls Don't Cry by Bob Crewe & Bob Gaudio
Sherry by Bob Gaudio
Walk Like A Man by Bob Crewe & Bob Gaudio
Can't Take My Eyes Off You by Bob Crewe & Bob Gaudio
Who Loves You by Bob Crewe & Judy Parker
Livin' On A Prayer by Jon Bon Jovi, Richie Sambora, and Desmond Child
December 1963 (Oh, What A Night) by Bob Gaudio & Judy Parker
Madison Scouts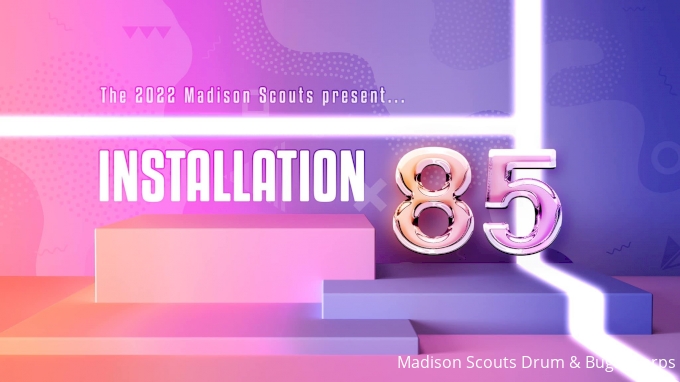 Show Title: Installation 85
Repertoire:
Rubric by Phillip Glass andTyondai Braxton
Love on a Real Train by Tangerine Dream
Bangkok by Steve Vai
Star-Crossed by Dolan Sipes
As the World Caves by Sarah Cothran
34 Klezma by Snarky Puppy
And featuring an original composition by Daniel Montoya Jr.
Program Information: "Installation 85 draws its inspiration from the modern art installation movement, which has been characterized by immersive, larger-than-life works of art and design. The Scouts field installation captures a mid-'80s/'90s aesthetic, which is seen revived in today's popular culture. The 2022 Madison Scouts, the titular 85th edition of the corps, explore the exhibit and eventually become a part of the installation."
Mandarins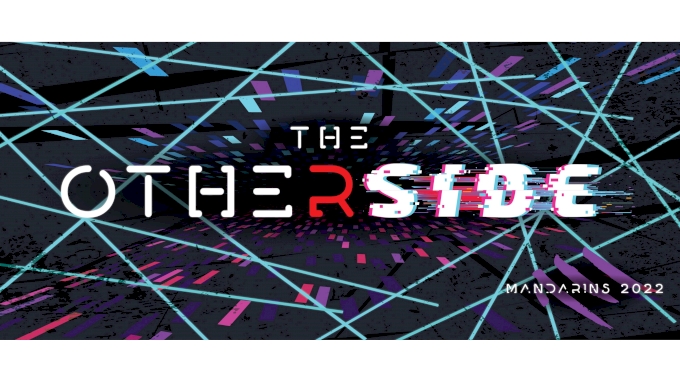 Show Title: THE OTHERSIDE
Repertoire: Featuring music inspired from:
Pink Floyd
Stranger Things (the television show)
Avi Kaplan
Music City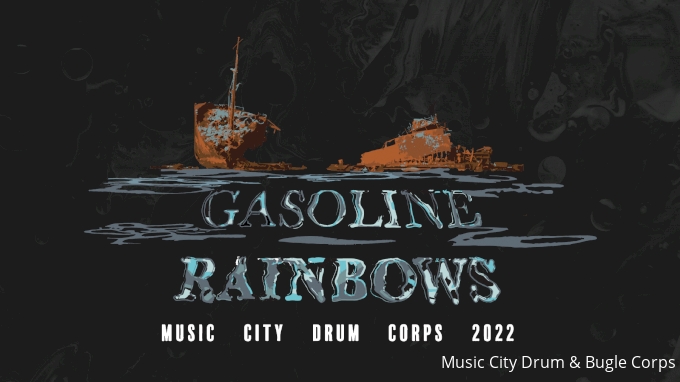 Show Title: Gasoline Rainbows
Program Information: " . . . - - - . . . "
Pacific Crest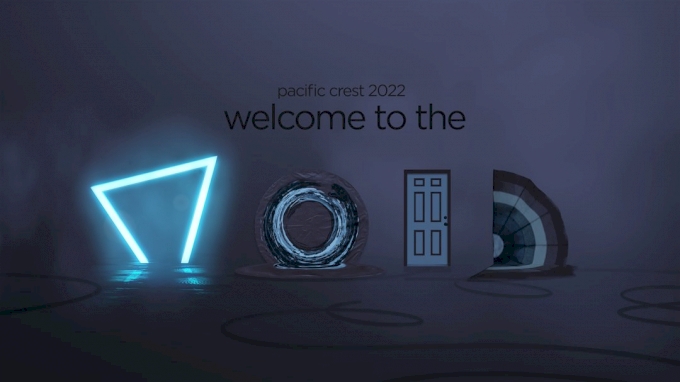 Show Title: welcome to the void
Repertoire:
Finale by Andy Hull & Robert McDowell
The Void (original composition) by Bradley Kerr Green, Ezekiel Lanser, and Jonathan Zuniga
Enjoy the Silence by Depeche Mode
Intruder by Peter Gabriel (from "New Blood")
Where Is My Mind by Safari Riot feat. Grayson Sanders
Phantom Regiment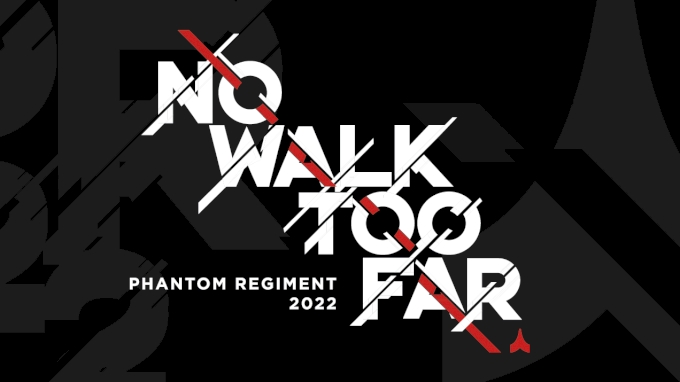 Show Title: No Walk Too Far
Repertoire:
Before Time by Thomas Bergersen
The Chosen by Stephen Melillo
Godspeed! by Stephen Melillo
Eli's Theme by Johan Söderqvist
Symphony No. 5 by Gustav Mahler
Santa Clara Vanguard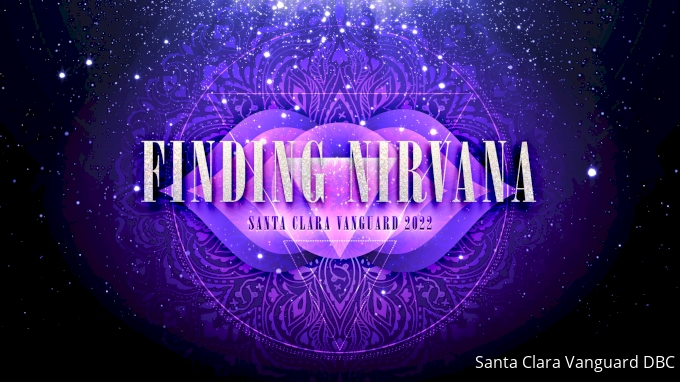 Show Title: Finding Nirvana
Repertoire: Featuring musical selections by Gyorgy Ligeti, Ulf Wakenius, and more. With original compositions by Paul Rennick, Sandi Rennick, and Evan VanDoren
Program Information: "Through the chaos and confusion, we seek a transcendent state of clarity and enlightenment in the hopes of…

Finding Nirvana"
Troopers
Show Title: Voracious
Repertoire:
When Johnny Comes Marching Home by Louis Lambert
Without Warning by Stephen Melillo
Ecstasy of Gold by Ennio Morricone
Nothing Else Matters by James Hetfield and Lars Ulrich
Dance of the Earth by Igor Stravinsky
Original music by Tim Snyder and Paul Rennick
Open Class
7th Regiment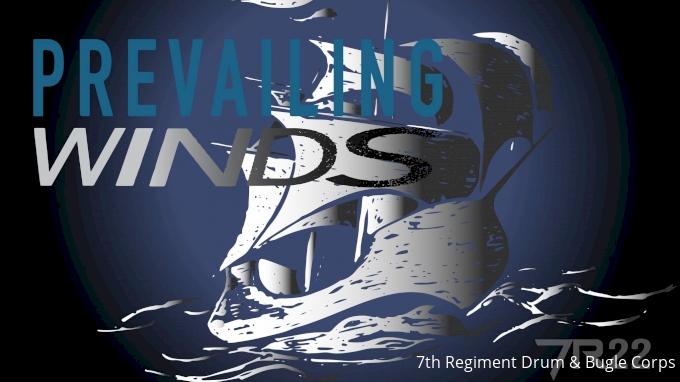 Show Title: Prevailing Winds
Repertoire:
A Zillion Nickels by Samuel Hazo
My Spanish Ladies - Traditional British Naval Song
Satellite by Dave Matthews Band
And featuring original music by Jack Tully, Alex Beltran, and Mike Bishop
Program Information: "Life's roughest storms prove the strength of our anchors."
The Battalion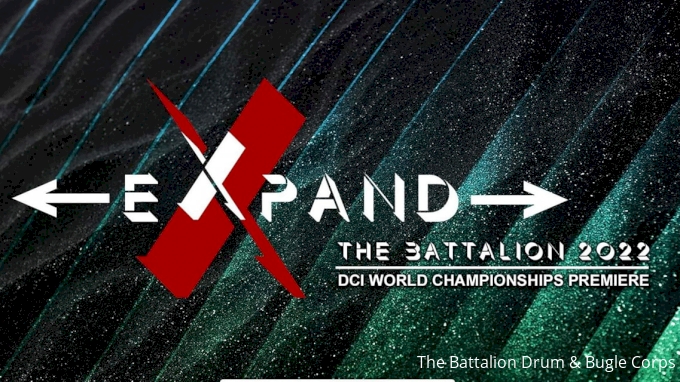 Show Title: Expand
Repertoire:
Also Sprach Zarathustra by Richard Strauss
I'm Always Chasing Rainbows by Harry Carrol
Program Information: "Growth and change are indelible parts of the human experience. Over the millennia, we have expanded our knowledge, explored our creativity, deepened our connections, and enhanced our ability to perceive and understand the world around us."
Blue Devils B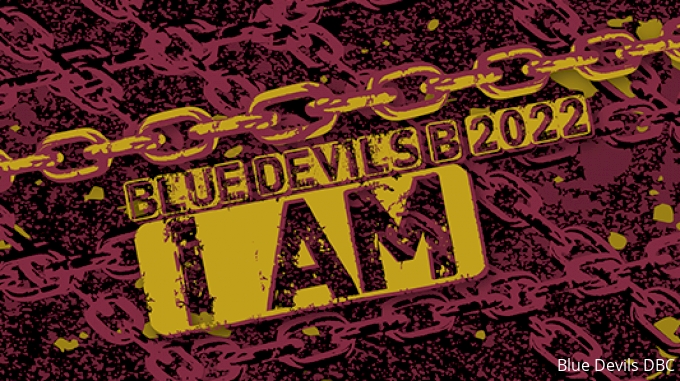 Show Title: I AM
Repertoire: Featuring original music by John Meehan (brass), Sean Clark (battery), and Chavadith Tantavirojn (front ensemble)
Program Information: "One person can make a difference. A single vote matters. Never underestimate the strength of the individual. This year's show celebrates the nuance of individuality through 4 distinct movements that explore the way we express ourselves and connect with others."
Blue Devils C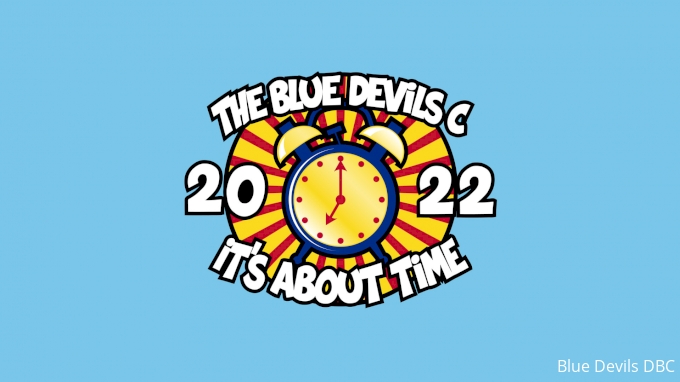 Show Title: It's About Time
Repertoire:
Theme from Doctor Who
What Time Is It? from High School Musical 2
Don't Stop Me Now by Queen
My Life Would Suck Without You by Kelly Clarkson
Program Information: "At its heart, this year's program is literally about exploring the concept of time and how we experience it in our daily lives. However, the title is also a play on words to acknowledge that after so long without drum corps, "It's About Time" we're back together again!"
Colt Cadets
Show Title: To the Stars
Repertoire:
Rewrite the Stars by Benj Pasek and Justin Paul (From 'The Greatest Showman')
Rocket Man by Elton John
Enterprising Young Men by Michael Giacchino (From the 2009 film, 'Star Trek')
Program Information: "The show takes place as humans count down to the first rocket launching beyond the confines of Planet Earth. What thoughts were going through the minds of the astronauts, or the engineers at Mission Control? What were the citizens of Earth feeling as they watched the drama unfold on their television?"
Columbians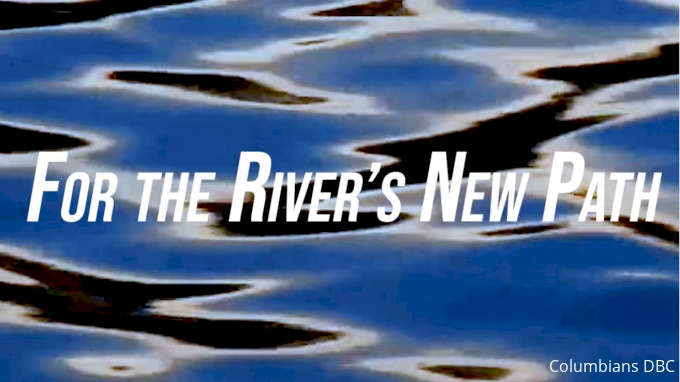 Show Title: For the River's New Path
Repertoire: Featuring music by John Mackey, Steven Bryant, Hillsong United, Jeff Chambers, Emmanuel Olaiya, Luke DeDominces, and Tim Mitchell
Program Information: "A passionate moment of performance, a memoir, and a compelling allegory. For the past, for the present, For the River's New Path."
Gold
Show Title: The Gift
Program Information: "Based on the novel "The Giver" by Lois Lowry, experience a world where society has adapted the concept of "sameness" to prevent anyone from experiencing physical or emotional pain."
Golden Empire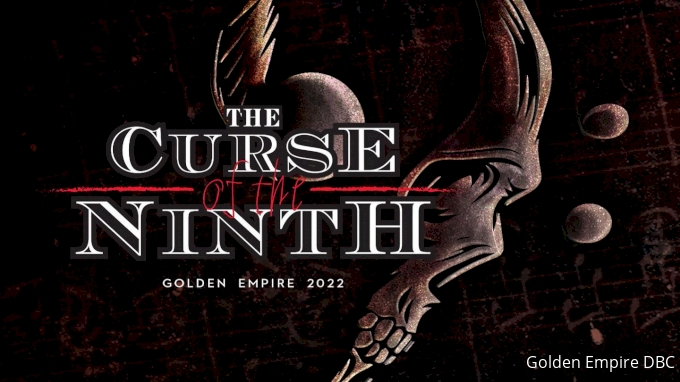 Show Title: The Curse of the Ninth
Repertoire: Musical selections by Beethoven, Sibelius, Amy Winehouse, and Jimi Hendrix.
Program Information: "Combining works from composers that passed just before, during, or shortly after completing their 9th Symphonies, with contemporary works from famous 20th Century artists whose untimely deaths all occurred at age 27, Golden Empire brings you the experience of The Artist."
Heat Wave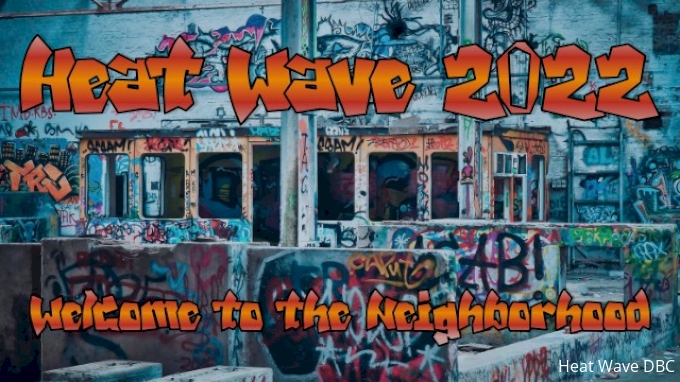 Show Title: Welcome to the Neighborhood
Repertoire: TBD
Impulse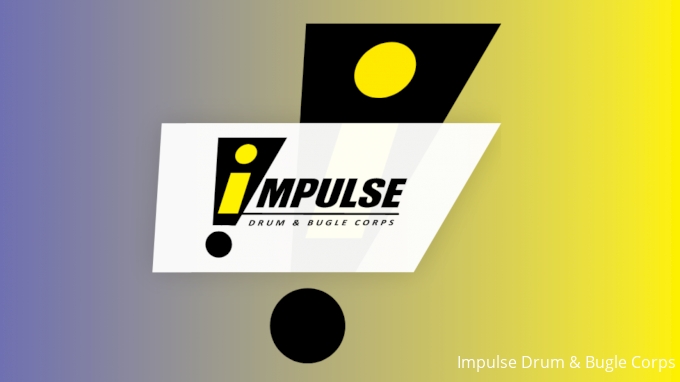 Show Title: Anew
Repertoire: TBD
Louisiana Stars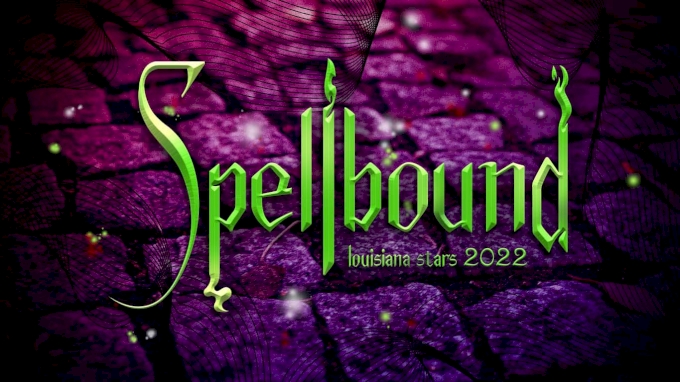 Show Title: Spellbound
Repertoire:
I Put A Spell On You by Nina Simone
House of the Rising Sun
Incantation and Dance by John Barnes Chance
Bad Guy by Billie Eilish
Black Magic Woman by Carlos Santana
Danse Macabre by Camille Saint-Saëns
Program Information: "Spellbound is inspired by the captivating mystery set within the culture of our home. Deep in the heart of New Orleans, you can feel drawn in by the enchanting energy — almost as if you lose control.
Raiders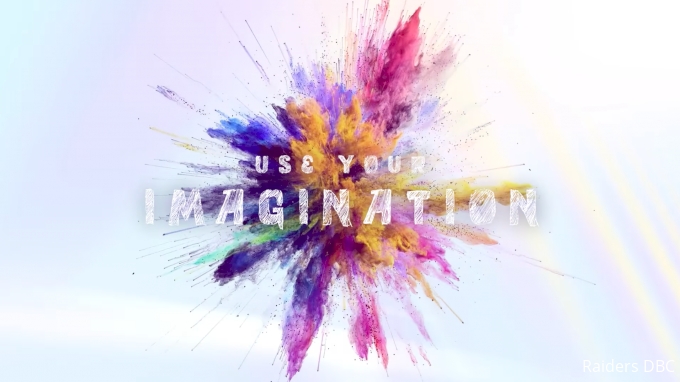 Show Title: Use Your Imagination
Repertoire: TBD
River City Rhythm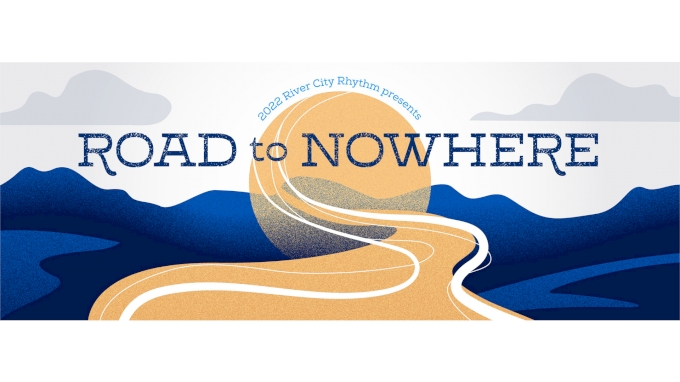 Show Title: Road To Nowhere
Repertoire:
Udacrep Akubrad by Avner Dorman
Road to Nowhere by Ward Miller, Craig Myers, and Paul Weber
Putza by Jan Van der Roost
Southwind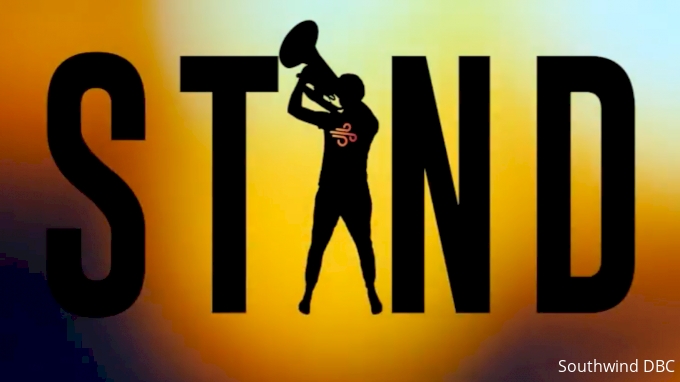 Show Title: STAND
Repertoire:
Stand Up by Cynthia Erivo
Level Up by Vienna Teng
Man in the Mirror by Michael Jackson
Elevate by Elanders Frazier and Ryan Reed
Program Information: "STAND gives us hope to improve, reflect, and overcome all hurdles that come our way in life. It reminds us to stand tall, achieve our best, self-reflect, and elevate our game to the next level."
Spartans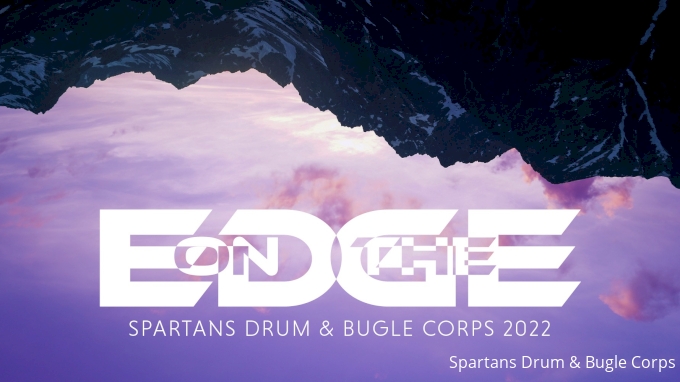 Show Title: On the Edge
Repertoire: TBD
Program Information: "Going to the edge can be different for everyone. Some people push themselves to the edge and thrive on the adrenaline, while others arrive at their psychological edge and can't take anymore. Some people are outwardly expressive of their desire to exist on the edge of society, while others hide themselves away only to come out when they feel the most comfortable. We all experience the edge uniquely."
Vanguard Cadets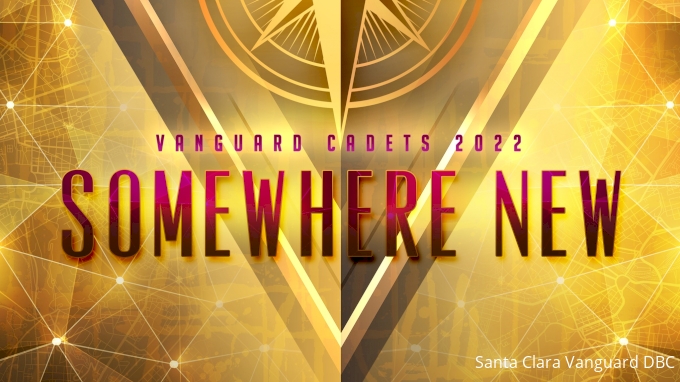 Show Title: Somewhere New
Repertoire: TBD
Program Information: "Change is one of life's few inevitabilities. We're always growing, always evolving. We've all been changed by the extraordinary events of the past two years and are coming out the other end different than when we began.
With that shared experience as our starting point, we wanted to take the audience on an adventure that taps into the curiosity of our minds and resilience of our hearts; that leans into what drives us to seek out new ideas, new experiences and new people - and celebrates the joy of being together."