DCI
DCI '22: The Number Of Times You'll See Your Favorite Corps This Season
DCI '22: The Number Of Times You'll See Your Favorite Corps This Season
Plan your road trips and watch parties accordingly, because here are the number of times you can see your favorite corps perform this DCI season
May 5, 2022
by Natalie Shelton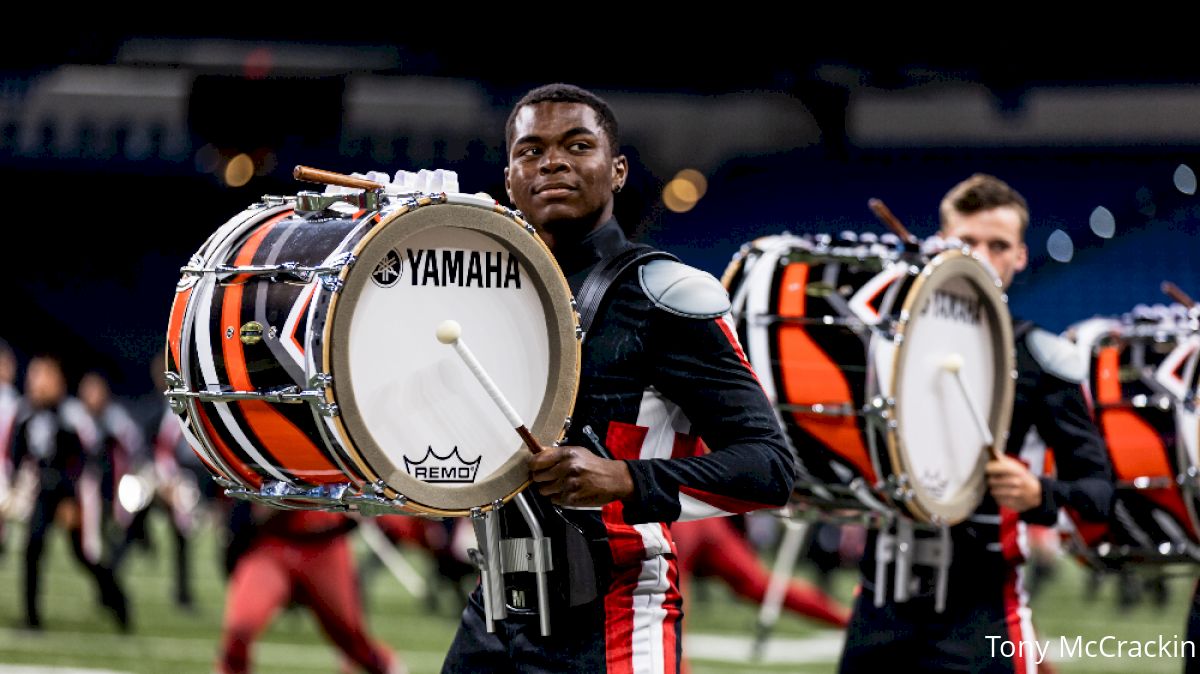 The start of the 2022 Drum Corps International season is right around the corner, which means that it's time to take a look at the DCI schedule and plan your watch parties and road trips accordingly! After a few years of atypical competition, you won't want to miss an opportunity to see your favorite corps take the field.
This year, FloMarching is streaming an all-time high number of performances, so fans can look forward to a minimum of two performances a week for the entire season, allowing for the opportunity to see even more corps than ever.
Here's a list of all the World Class corps along with the number of shows they'll be competing at throughout the 2022 season:
*Note that the performance cutoff is DCI World Championships Prelims, and does not account for any Semifinals or Finals performances.
World Class
Ensemble

# of Performances

First Show

The Academy
24

Corps at the Crest - San Diego

June 24

Blue Devils
18

Drum Corps at the Rose Bowl

June 25

Blue Knights
22

Drums Across the Desert

July 2

Blue Stars
24

DCI Tour Premiere

June 28

Bluecoats
20

DCI Tour Premiere

June 28

Boston Crusaders
20

DCI Tour Premiere

June 28

The Cadets
21

East Coast Classic

July 2

Carolina Crown
19

DCI Central Indiana

July 1

The Cavaliers
26

DCI Tour Premiere

June 28

Colts
23

DCI Central Indiana

July 1

Crossmen
21

DCI Tour Premiere

June 28

Genesis
13

Drums Along the Rockies

July 16

Jersey Surf
15

East Coast Classic

July 2

Madison Scouts
21

Drums on Parade

July 2

Mandarins
24

Corps at the Crest - San Diego

June 24

Music City
21

Innovations in Brass: Canton

July 2

Pacific Crest
19

Corps at the Crest - San Diego

June 24

Phantom Regiment
23

DCI Tour Premiere

June 28

Santa Clara Vanguard
20

Corps at the Crest - San Diego

June 24

Seattle Cascades
21

Drums of Fire

July 8

Troopers
21

Drums of Fire

July 8
Open Class
Ensemble

# of Performances

First Show

7th Regiment
11

East Coast Classic

July 2

The Battalion
10

Corps Encore

July 13

Blue Devils B
12

TBD - California

July 5

Blue Devils C
8

TBD - California

July 5

Colt Cadets
17

Drums on Parade

July 2

Columbians
10

Drums of Fire

July 8

Gold
16

Corps at the Crest - San Diego

June 24

Golden Empire
12

Corps at the Crest - San Diego

June 24

Guardians
11

West Texas Drums

July 18

Heat Wave
6

CrownBEAT

July 9

Impulse
9

Corps at the Crest - San Diego

June 24

Legends
8

Music on the Mountain

July 29

Les Stentors
12

Riverside Open

July 15

Louisiana Stars
10

DCI Tupelo

July 14

Raiders
9

Summer Thunder

July 23

River City Rhythm
15

Drums on Parade

July 2

Southwind
12

DCI Tupelo

July 14

Spartans
14

East Coast Classic

July 2

Vanguard Cadets
13

TBD - California

July 5

Vessel
9

Corps at the Crest - San Diego

June 24

Watchmen
9

Corps at the Crest - San Diego

June 24