2021 DCI Celebration
2022 Tour Schedule: DCI Celebrates 50th Anniversary
2022 Tour Schedule: DCI Celebrates 50th Anniversary
Drum Corps International celebrates 50 years of elite marching performances in 2022 with a revamped tour schedule reminiscent of a pre-pandemic tour.
Nov 24, 2021
by Andy Schamma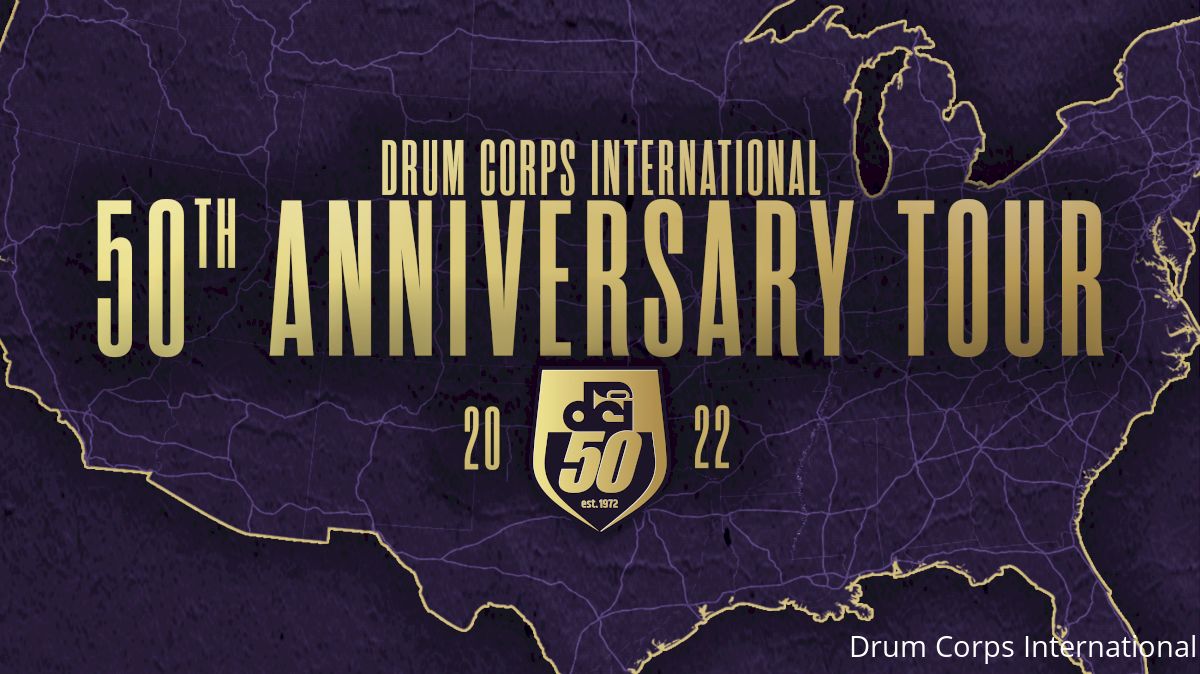 Drum Corps International celebrates 50 years of elite marching performances in 2022 with a revamped tour schedule reminiscent of a pre-pandemic drum and bugle corps season.
Read the full release at DCI.org.
"We're thrilled to provide the opportunity for our incredible performers to safely get back on the field at stadiums across the country this summer," Drum Corps International CEO Dan Acheson said. "As we prepare to usher in the next great chapter in a storied history, we look forward to celebrating 50 incredible years of our activity."

With more than 90 events scheduled across eight weeks, the 2022 Drum Corps International Tour map is in place for a truly historic summer.
The first week of the season opens in California with the West Coast usuals: Blue Devils, Santa Clara Vanguard, Mandarins, Pacific Crest, The Academy, Gold, Golden Empire, Gold, Phenom, Impulse, Watchmen, and Vessel.
The DCI Tour Premiere will return once again to Detroit as a marquee event to show off the Midwest corps like Bluecoats, The Cavaliers, Blue Stars, and Phantom Regiment—not to mention a few non-Midwesterners in Boston Crusaders and Crossmen to round out the line-up.
Archives with Sound | Photo Galleries by Tony McCrackin | Documentaries
San Antonio will once again play home to one of the biggest events of the summer, the DCI Southwestern Championship, bringing together nearly all World Class corps into one place on a hot, July Saturday. The following weekend includes a packed few days during which nearly every corps is scheduled to perform. The former home of the Atlanta Braves and current home of the Georgia State University football team will play host to 17 corps in 2022's version of the Atlanta showdown.
As usual, the back half of the season is planned to to put the pedal to the metal through the two-night DCI Eastern Classic in Allentown, PA's historic J. Birney Crum Stadium, eventually leading into the final week in Indianapolis.
The finale of the season will come to its peak at the verifiable mecca of marching arts—Lucas Oil Stadium. After two days of DCI Open Class Championship prelims and finals in Marion, IN, the corps will make their way to Indianapolis on Thursday through Saturday, August 11-13.
Read more about the late season Open Class excitement taking place from DCI's 2022 announcement below, including The Battalion making a long-awaited, first trip to the DCI World Championships after their 2020 visit was cancelled.
Particularly in late July and early August, Open Class corps will hit the road for a series of events that will propel them into the DCI World Championships in Indiana.

Spartans and Legends, 2019's Open Class gold and silver medalist, will meet for the first time on July 29 and 30, in Sheffield, Pennsylvania and Southeast, Michigan, respectively. From there, a string of seven Open Class shows between August 1 and 6 will set the table for World Championship events in Marion, Indiana.

For the very first time, early-August Open Class events will feature The Battalion. The Salt Lake City, Utah corps was prepared to attend its first DCI World Championships in 2020 before that year's tour was canceled, so 2022 will mark their debut at the season-ending events.

Prior to arriving in the Hoosier State, The Battalion will appear at Open Class-centric events in locations including Twin Cities, Minnesota (August 3), Cedar Rapids, Iowa (August 5) and Charleston, Illinois (August 6), the last of which will be held at Eastern Illinois University's 10,000-seat O'Brien Field.

A pair of California Open Class corps — Vanguard Cadets and Blue Devils B, which finished as Open Class gold and silver medalists every year from 2013 to 2018 — will both make their respective returns to August's Open Class events for the first time since the 2018 season, after performing a California-specific tour in 2019. They will also be joined in the journey from the West Coast to Indiana by 2018 and 2019 Open Class bronze medalist, Gold, adding a hefty dose of intrigue to the competitive landscape.