2021 Corps Encore
5 Reasons To Be Excited For DCI 2021
5 Reasons To Be Excited For DCI 2021
Although it'll be a shorter season, DCI 2021 will still be packed with exciting, in-your-face drum corps—here are just a few things to look forward to.
Jun 25, 2021
by Andy Schamma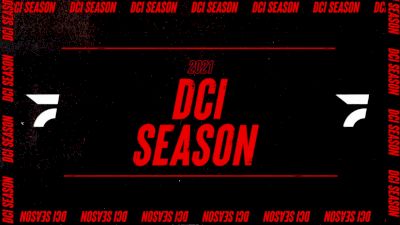 Although it'll be a shorter season, the 2021 DCI season will still be packed with exciting, in-your-face drum corps—here are just a few things to look forward to.
Behind the Scenes | Documentaries | Technique/Training
From the very first 2021 DCI event on FloMarching in La Crosse, WI on July 30 to the final night in Lucas Oil Stadium on Saturday, August 14, you can watch DCI live every night except for August 2 and August 11.
The corps will only be performing their shows for 2-3 weeks this summer averaging less than 10 performances for each ensemble making each show that much more important. Typically, most corps would perform around 30 times in stadiums across the country between June 20th and the second weekend in August.
2021 DCI Streaming Schedule
7/31 - Saturday - Sun Prairie, WI
7/31 - Saturday - Cheyenne, WY
7/31 - Saturday - Pasadena, CA
8/4 - Wednesday - Lawrence, MA
8/4 - Wednesday - Round Rock, TX
8/7 - Saturday - Allentown, PA
8/8 - Sunday - Little Rock, AR
8/10 - Tuesday - Centerville, OH
8/10 - Tuesday - Cape Girardeau, MO
As we've been preparing for the 2021 DCI season, FloMarching has been investing heavily into the licensing required to be able to offer on-demand archives of corps' performances with audio. After weeks of hard work, we have already acquired approvals for the licensing of a number of full performances with audio which will be available to view immediately after corps perform LIVE on FloMarching between July 30 and August 14. Below, you can find a list of some of the approvals we've acquired as of Tuesday, June 29.
Full Shows
Blue Stars
Bluecoats
Madison Scouts
Phantom Regiment
Crossmen
Mandarins
The Cadets (except "Moon Dance")
Spirit of Atlanta (except "Lilac Wine")
Blue Knights (except "What a Wonderful World")
The Academy (except "Fame")
Partial Shows (clearance requests outstanding)
Boston Crusaders
The Cavaliers
3. No Scores = More Creative Freedom
In a typical season, the pressure of competition lingers from the first day of creating the show to the final performance in Lucas Oil Stadium at the DCI World Championships. In 2021, however, the weights are lifted and creativity can flow from the designer's minds through to the performers without the typical restrictions of the rules and criteria from the judge's sheets.
From the performer's perspective, they must tap into their own motivation towards reaching performance excellence rather than relying on judged numbers as a gauge of their own quality in specific categories.
With the removal of judges, you also remove the explicit and implicit restrictions around drum corps design. Some of the differences we'll see include:
more time to perform and transition
the pressure to change shows over the season in order to manage judge expectations no longer exists
experimentation with programming, pacing, music selections, and technology advancements
4. Flashier, Bigger, Louder Than Ever
With this season being a special "bridge tour" to the 2022 season, some corps have pumped up their numbers and have pulled together some of the largest drum and bugle corps that have hit the Drum Corps International mainstage.
Officially, Drum Corps International's member corps voted to increase the upper limit to 164 performers for only 2021, while the minimum still sits at 110 performers.
5. 720 Reasons Why
720. That's the number of days that will have passed between August 10, 2019, the final day of the DCI World Championships to the first DCI show LIVE on FloMarching on Friday, July 30th in La Crosse, WI. In a typical season, it would be a bit more than 300 days between the last day of the previous season and the new season's tour premiere.