Unlock this article, live events, and more with a subscription!
Get Started
Already a subscriber? Log In
In preparation for Avon High School's 2018 show design process, Daniel Wiles found himself at a Petco.
Yes, a Petco.
Wiles and the design staff at Avon had a vision — an unorthodox, creative vision. Using some of the resources from his pet store shopping spree, Wiles realized that idea in the form of a scale model.
A scale model of a fish tank.
"I bought all of this stuff, I don't know, like, $300, $400 worth of stuff," Wiles said. "Just rock sculptures and all these flowers and all of the stuff that you'd put in an aquarium. And I went home and laid out this green tarp that I got, and I started setting up."
"I was like, 'This is it, this is a great idea,'" he said. "'We've got to do this.'"
The 2018 stage for Avon was set, quite literally.
For the latest edition of the Avon Marching Black and Gold, the field isn't just a field. Figuratively speaking the field is a giant aquarium. And it's got all the trimmings — rocks, undersea plants, a pirate ship, and a 12-foot-tall backdrop that acts as the tank's outer wall.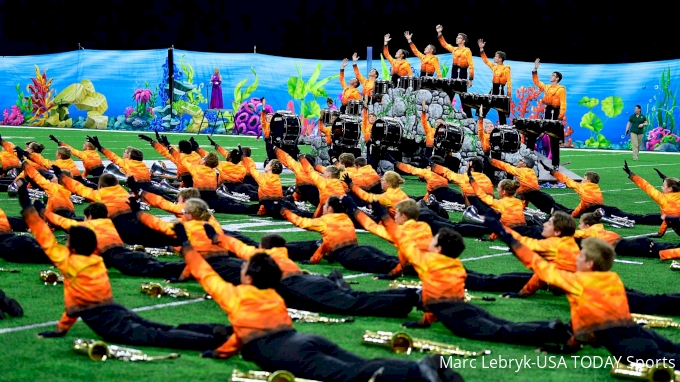 Avon performing at the 2018 BOA Indianapolis Super Regional
"We wanted to make it so the entire thing truly looks like you're looking into the fish tank," he said.
Above all, this year's show has plenty of color, which is relatively new for a band whose color scheme usually manifests itself in darker visual design aesthetics.
"Everything's driven by the fish tank," he added. "We're like, 'We want neon, this is so cool.' When I went to the store, I bought all things neon. And that was fun for us, because we're so dark always."
With that in mind, Avon abandoned its traditional all-black look for a bright orange long-sleeved uniform top.
"We wanted to put it on our shirts and everything, and nobody agreed with us," he said. "I was big on the idea that we should tell everyone we're the 'Marching Black and Goldfish' this year."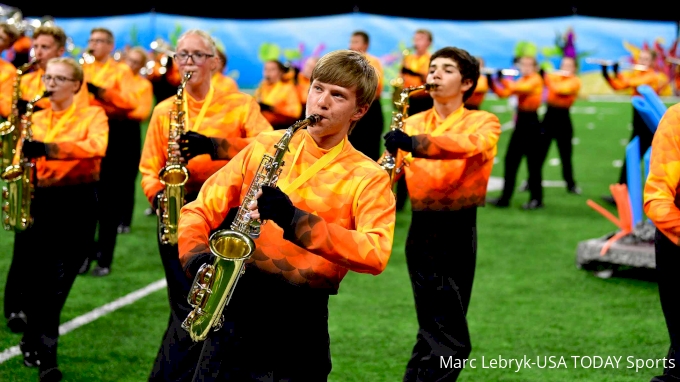 While the fish tank aesthetic, the goldfish-esque uniforms and the bright color palette play a vital role in the concept's development, they're not the crux of the show's theme—titled "A Fish Tale."
That's where things really get unique. "A Fish Tale" is, essentially, an undersea retelling of "Romeo and Juliet."
The story of the star-crossed lovers has been done plenty of times across all platforms of the marching arts. Wiles and his fellow designers at Avon, though, have never had the chance to put their own musical, visual and overall artistic fingerprints on the timeless theme.
"Now that we're in the fish tank, what story do we want to tell?" Wiles said. "We went through a lot of stuff, and eventually, we just kind of said, 'I've never gotten to do Romeo and Juliet.' We just started trying to figure out what way we could do it a little differently than the ways we've seen it, whether it's Phantom Regiment, or everybody who's ever done this story."
"We all know the story, so it wasn't like we were going to have a hard time figuring out what we were doing," he added. "How could we do it in a different, funny way?"
Avon's iteration of Romeo and Juliet is certainly told from a unique angle. That angle is relatively light-hearted—playful, even. It's humorous at times, while still carrying a high level of sophistication in terms of music selections and overall demand.
Avon's 2018 repertoire includes a wide variety of styles, including Camille Saint-Saens "Aquarium," pieces of Prokofiev's "Romeo and Juliet," and "I'm Kissing You" by Des'ree, featured in the 1996 film version of "Romeo and Juliet" with Leonardo DiCaprio.
"As much as we want to be high-brow—and the musical selections are pretty incredible—we do want you to chuckle a little bit," Wiles said. "Because we don't take it all that seriously either."
According to Wiles, it took a little time for the concept to click with the band performers at Avon. Even director Jay Webb, he said, was a bit skeptical of the idea when it was first presented to him.
When things started to come together visually, though—props, uniforms, etc.—that's when it all began to sink in. Since performances began in earnest for Avon, Wiles said the students have displayed plenty of excitement over this year's program.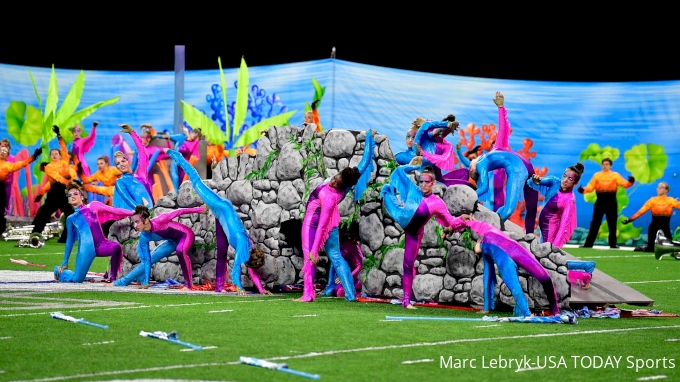 "As soon as they started seeing all the prop pieces show up, they were just like, 'Wow,' and now the kids love it," he said. "There are so many band kids that come up to me now and I'm just blown away by it, they're really happy to be doing the show."
According to Wiles, the design of the show isn't complete just yet.
In an effort to further develop their whimsical interpretation of the "Romeo and Juliet" story, Wiles and the design staff at Avon have a handful of extra wrinkles to toss into the tank before the 2018 BOA Grand National Championships roll around, right in their backyard in Indianapolis, the second weekend in November.
"There's a couple of things that you'll start to see in the next couple weeks that we couldn't even do at the regional just because, my god, we're just trying to finish that thing," Wiles said. "We've got some good things that are going to end the show, too, that are going to make this even more fun."