Spirit of Atlanta has one of the longest and most storied histories of any drum and bugle corps involved in DCI. In 2018, the corps started a new chapter.
Skimming Through History
Spirit of Atlanta started its story in the late-1970s and finished its first season in 23rd place overall. The corps quickly progressed to become a consistent top-10 contender nearly every season until the 90's, when the corps made a slight drop in progression. 1989 marked the corps' first year out of finals since 1978 as well as a slow decline for the next four seasons eventually becoming inactive for the summer of 1994.
Spirit toured in 1995 and began their climb to the finalist ranks towards 2002 when they once again finished in the top-10. From then on until 2013, the corps made finals 7 more times. After that, however, Spirit of Atlanta's hold on the 11-12th place finals spot was passed over to groups like Crossmen and now Mandarins. Since 2014, the corps has slipped as low as 21st place—but in 2018, things changed.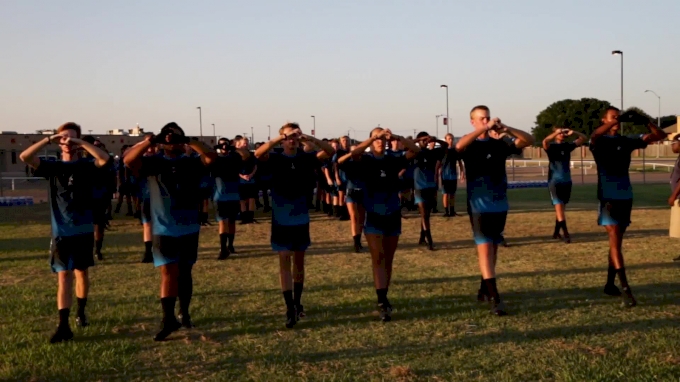 On The Doorstep
The 2018 season showed a reinvigorated Spirit of Atlanta drum corps. A Spirit of Atlanta that could be back in finals in the coming seasons. Let's take a look back at this season, by itself.
June 28 - First show in Pennsylvania, a pretty late start compared to most World Class corps who started a week earlier.

Spirit topped Madison Scouts by 1.500 points—a gap that was 6.400 in favor of the Scouts at their last meeting (2017 DCI World Championship semis).
To give you an idea, SoA started their 2017 season with a 61.000. In 2018, it was 65.700.

July 5 - Spirit breaks 70 in Clifton, NJ

In 2017, this didn't happen until July 24.

July 15 - The Midwestern Championship, seeing Scouts again, Colts join the mix

Spirit of Atlanta (76.850) placed just behind Crossmen (77.875), and still maintained their lead over Madison Scouts (with Colts closely behind them).

July 21 - San Antonio. Spirit is now in 14th.

The Academy has now wedged themselves between Spirit and Crossmen, and Mandarins have skirted by everyone to put themselves in 11th.
San Antonio was the first opportunity to see all of the top 15 corps in one place—a first look at what could happen down the road in Indianapolis.

July 23 - Final Texas showdown, Spirit and The Academy duke it out again

Spirit only fell to The Academy by .150, a gap that was over a point and a half in San Antonio.
SoA took the general effect caption by .1, tied in visual, and lost by .25 in music
Oh yeah, the corps also broke 80 here.

July 28 - Home Show. Dome Show. Best Show.

Spirit returns to Atlanta for a phenomenal show and an enthusiastic crowd.
The corps jumped The Academy handily and were knocking on Crossmen's backdoor once again.
Scores: Crossmen (83.763), Spirit of Atlanta (83.163), The Academy (81.500)

Finals Week - Holding steady and locking in 13th

Although they lost some momentum on Crossmen in the last few weeks, the hardest work had been done already by that point.
Spirit WILL BE a future contender for the last couple finals spots if they can keep up what they did in 2018.