Clemson's Charlotte Colt Marched At National Title Game With Torn ACL
Clemson's Charlotte Colt Marched At National Title Game With Torn ACL
Read the story of Charlotte Colt and how her perseverance to perform was a source of inspiration for the Clemson University marching band.
Jan 24, 2017
by Michael Gilley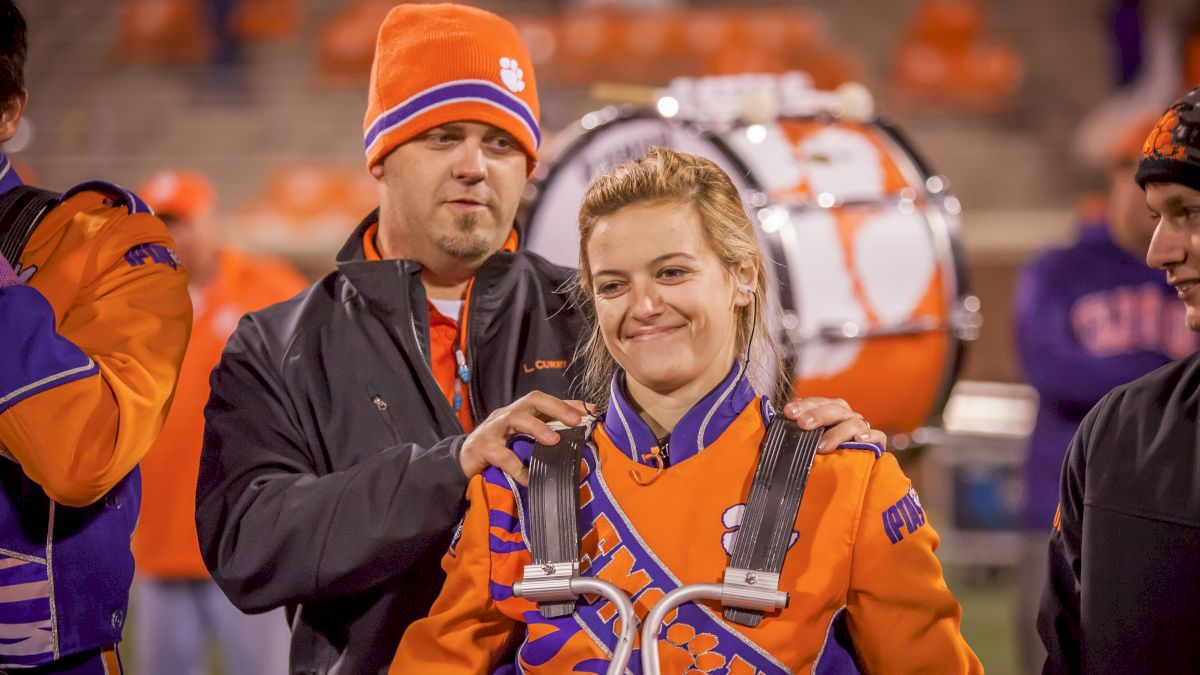 When Charlotte Colt performed a traditional hype cadence with the Clemson University Drumline near Scottsdale, Arizona, last month, it wasn't her position as a senior section leader or her bulky knee brace that first drew attention.
Instead, it was a primal howl that roared over the call-and-answer section between the drumline and nearly drowned out the entire tenor and bass sections at a performance at the Phoenix Zoo just days before Clemson's College Football Playoff Semifinal game against Ohio State.
Colt was the source of the scream, and there was no mistaking her toughness or willingness to fight to stay on the field for her drumline.
After suffering a torn ACL back in October, the 22-year-old biochemistry major marched nearly the entire season on her injured knee before seeing her Clemson drumline career culminate with a trip to the CFP National Championship in Tampa, Florida, on January 9.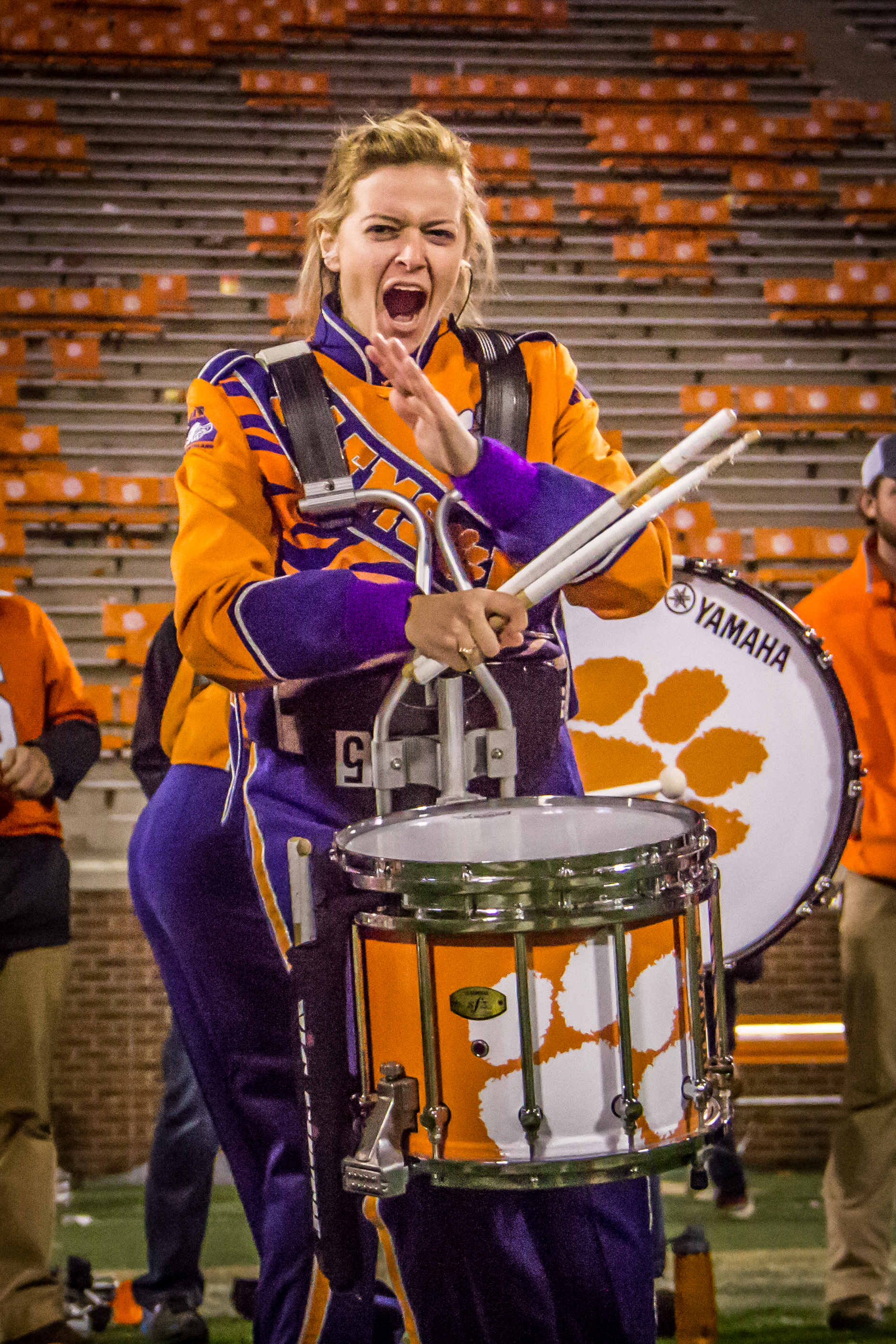 "Despite all that Charlotte was going through with her knee, she always put her CUD family first and never let up," Clemson University Drumline percussion director Lance Curry said. "Through our ups and downs this season, she was always there to step up when we needed her most. She has grown so much as a leader and her impact will continue to be felt for years to come."
It wasn't the first time Colt pushed through adversity in the form of knee injuries.
Colt, who now wears a cumbersome knee brace that stretches from the middle of her thigh to the middle of her shin during performances, suffered her first ACL and meniscus tear in her left knee while playing lacrosse in 2008. In April 2011, the screw used in the first surgery disintegrated too quickly and caused an infection in the bone. That led to exploratory surgery and eventually a bone graft.
Then, just a week prior to band camp this past summer, Colt suffered a meniscus tear again. A third surgery was needed to clear out the damaged material, leaving only 30 percent of her meniscus intact.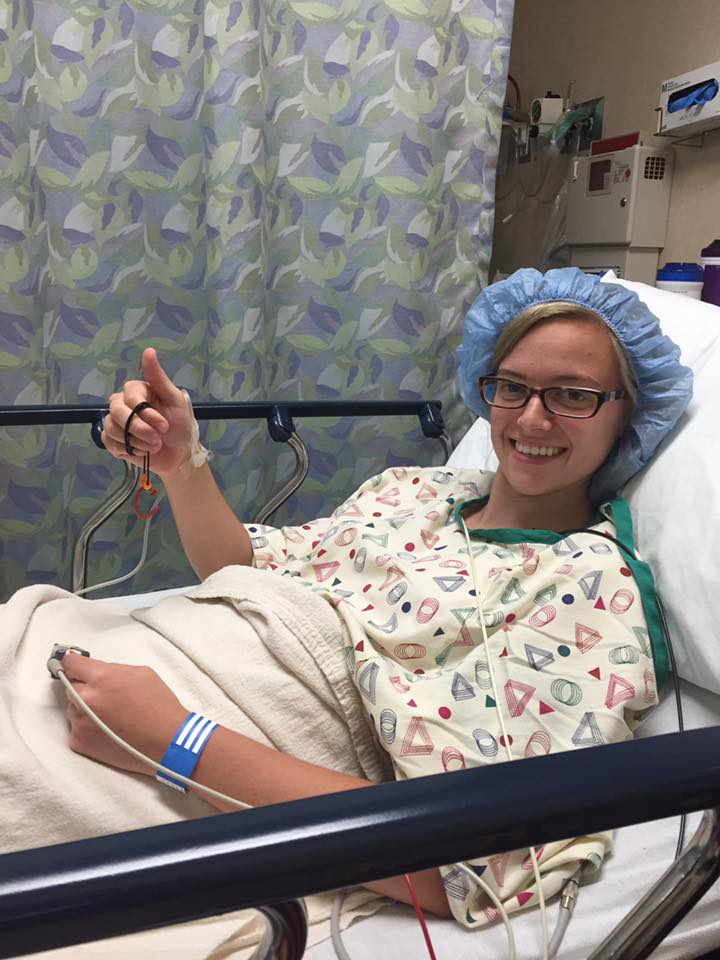 Charlotte prior to surgery in August of 2016

After rehabbing the knee and continuing to perform during the fall 2016 season, she had another setback. While at home, she stood up and felt a distinctive pop in her knee. She knew immediately her ACL was gone -- again.
"I literally just stood up from the couch and went down to the ground," Colt recalled.
Faced with season- and career-ending surgery to repair the damage while Clemson was on the path to an eventual national championship, Colt decided to push through the pain.
She braced her knee as much as possible, dealt with the discomfort, and continued to march from October all the way to the national championship game against Alabama on January 9.
"A normal person would have thrown in the towel, but not her," Clemson director of bands Dr. Mark Spede said. "It was very important for her to maintain her leadership and commitment to the drumline. In fact, at our band banquet in November, I created an award to give her: The Tiger Band Perseverance Award!"
When asked why she pushed through such severe injuries this season, Colt referred to the bond and family-like culture she enjoys with the Clemson band, calling members of the drumline her brothers and sisters.
Following the national title game, Colt came home, and within 48 hours of her final marching performance, had a fourth surgery to repair the knee -- this time, hopefully for good.
She is now in the process of applying for medical school and would like to pursue a career as either a neurosurgeon or trauma surgeon.

FloMarching's hottest content, delivered to your inbox
Don't miss breaking news, feature stories, event updates, and more. Sign up for the FloMarching mailing list today.