BOA
BOA RECAP: Hebron Nears 90, Razor-Thin Margins in Memphis, More from Week 4
BOA RECAP: Hebron Nears 90, Razor-Thin Margins in Memphis, More from Week 4
Recapping key regionals and their results from week 4 of the 2023 Bands of America season, October 7th
Oct 10, 2023
by Natalie Shelton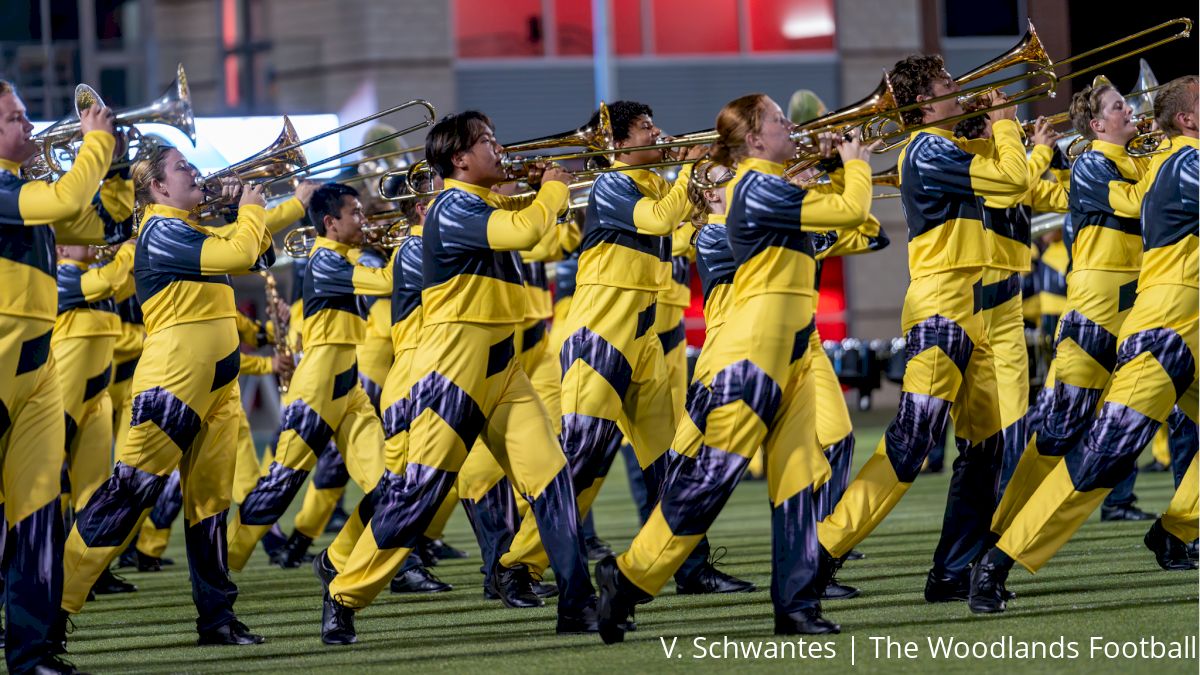 October 7 was just about the busiest single day of the 2023 Bands of America season.
Obviously, key Super Regional events — and, of course, Grand National Championships — are by far and away the most jam-packed schedules of the fall, but with five different events featuring well over 100 total bands, BOA's fourth week of the season was about as full as it gets.
Here's a crash course from all across the country — pretty much, literally:
Texas bands post breakout numbers in the DFW area
At a Dallas-Fort Worth area, Hebron nearly broke 90 points, and held close-but-not-too-close leads over Flower Mound, Marcus, Coppell, and Wakeland.
That was 2022. Change the order of those last four ever so slightly, and the exact same statement was true on Saturday.
Hebron posted a score of 89.275 Saturday in Bedford, defeating second-place Marcus (88.050) and third-place Flower Mound (87.425). For early October, all three of those scores — as well as, one could assert, Coppell's 86.400 and Wakeland's 85.200 — are quite impressive, with Hebron's near-90 and caption award sweep, of course, taking the cake.
For the next three bands, though — who were separated by just a total of 1.65 points — the performance captions ended up telling the story. Just 0.05 points separated Marcus and Flower Mound in General Effect, but Marcus found the majority of its scoring margin in music and visual captions, while nearly edging out Hebron in the visual performance caption.
While each of the top four bands competed in Class AAAA, Wakeland (AAA), Grapevine (AA) and Krum (A) took home their own class wins.
Houston-area W for The Woodlands
In a Texas event that featured slightly-less-astounding total scores but still intriguing Lone Star State competition, The Woodlands — a perennial Texas power — topped the charts with a cushion of exactly one point over Ronald Reagan, a fellow yearly stalwart.
The Woodlands won all Finals caption awards and took home a Class AAAA title, but Ronald Reagan won Class AAAA General Effect in Prelims.
In third place, Cy-Fair backed up its victory from a week ago in Shenandoah, scoring within 2.1 points of the top spot and outscoring a number of well-known Texas headliners.
American Fork takes resounding out-of-state victory
Utah-based American Fork has made quite the name for itself in recent seasons, parlaying local competitive success into a Grand National finalist bid in 2022.
American Fork picked up where it left off in the band's first BOA appearance of 2023, outsourcing all bands by nearly three full points at Saturday's Flagstaff, Arizona event, sweeping all caption awards, and winning Class AAAA.
They weren't the only out-of-state band to make noise at Northern Arizona University, though. Vista Murrieta — which has recently made its name known on the WGI Percussion Scholastic World scene, taking fourth place at 2023's WGI World Championships — cracked 85 points, and edged out the consistently-competitive Clovis (NM) band by just 0.125 points for second overall.
Fossil Ridge — the day's Class AAA champion — and Mountain Ridge — the day's top-scoring Arizona band — also broke 84 points, finished within a point of second-place Vista Murrieta, and landed within the day's top five.
Razor-close top four highlight Memphis event
While Tennessee-based Bartlett earned top marks by over a point at Saturday's Memphis event, a trio of bands from three different states were separated by just 0.15 points in a heated race for second place.
Bartlett's win also came with awards for Outstanding Music Performance and Outstanding General Effect. Bartlett didn't win its class in Prelims, though, trailing Collierville by just three-tenths of a point.
Collierville, which earned Outstanding Visual Performance in Finals, landed in third place overall (80.250), just one-tenth of a point behind second-place Hernando (80.350) from Mississippi, which one Class AA.
Fourth-place Harrison (80.200), a Georgia-based band, won Class AAA, and finished just 0.05 points behind Collierville. Winning Class A was Murray (KY), which ended up in seventh overall in Finals, but just a point off of the top five.
Jenison wins close in Toledo
At a Toledo, Ohio event that featured 12 finalists from five unique states, the top four finishers were separated by less than a point.
Michigan-based Jenison (82.250), won Class AA and took overall caption awards for Outstanding Music Performance and Outstanding Visual Performance.
Centerville (2nd, 81.700), which won Class AAAA and earned the Outstanding General Effect nod in Finals, scored just 0.55 points behind first place, and ever-so-slightly edged out third-place Rockford (81.650), the day's Class AAA champion from Michigan, by just 0.05 points, thanks especially to a slight edge in General Effect. Rounding out the list of class winners, Crestwood (OH) represented the Class A division.
Norwin, which also landed in the top four and broke 80 points, scored just 0.3 points behind Rockford for a spot in the top three.