DCI
A Running List of 2023 DCI Show Announcements
A Running List of 2023 DCI Show Announcements
A list of the show announcements that have been published for the 2023 DCI season. Continue to check back with this article as more show reveals come in
Mar 8, 2023
by Natalie Shelton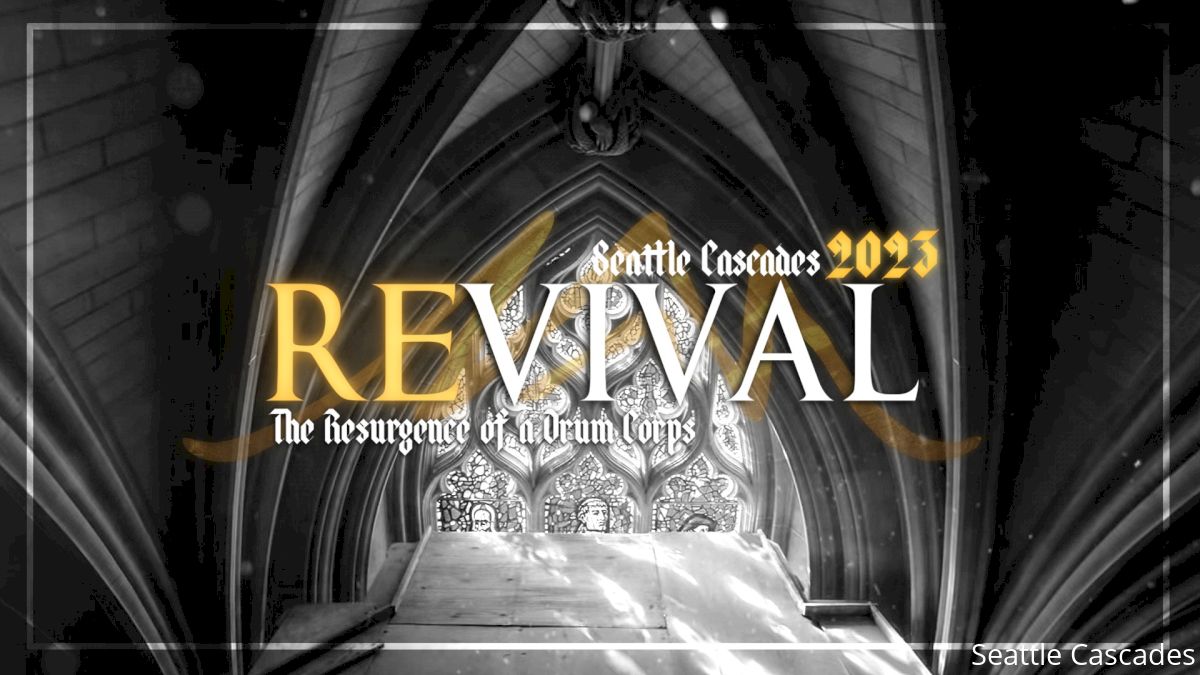 The 2023 DCI season is fast approaching, which means that fans can expect a lot of show announcements over the next couple of months. Below, you'll find a running list of show titles, program information, music repertoires, and show graphics from corps as they get released. Continue to check back in on this page for updates!
---
World Class
The Academy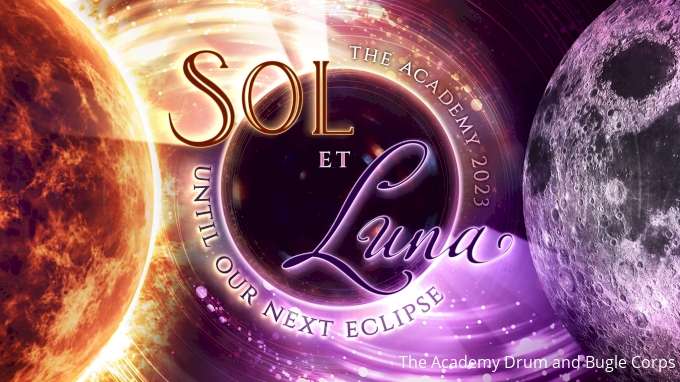 Show Title: Sol et Luna
Repertoire: TBA
Program Information: "Until our next eclipse."
Blue Devils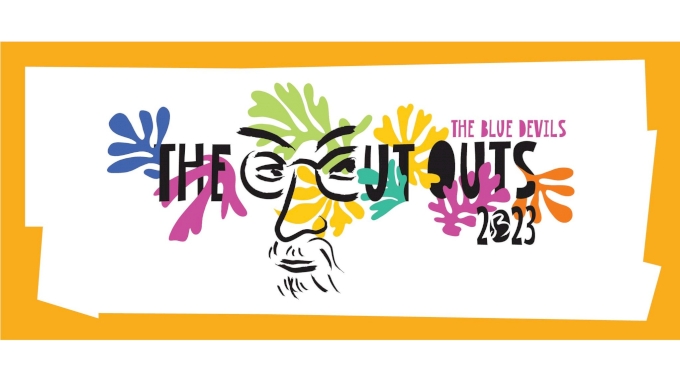 Show Title: The Cut-Outs
Repertoire Includes:
The Rise by Dave Glyde
Caves by Cody Fry
Jojo's Bizarre Adventure by Tominaga, Fujibayashi, Tanaka
Stardust Crusaders "Jotaro's Theme" by Yugo Kanno
Resistence by Dave Glyde
Both Sides Now by Joni Mitchell
Of Energy by TesseracT
Incident in Jazz by Bob Graettinger
Grand Canyon Fanfare by James Newton Howard
Program Information: "In a whirlwind of inspiration and event, the 2023 Blue Devils imagine the world of Matisse's final chapter with THE CUT-OUTS. A musical and visual collage that celebrates environmental installation with shape, sound and texture.THE CUT-OUTS mines the tensions that lurk in all the shapes, between finish and process, fine art and decoration, drawing and color. An eclectic soundtrack bridges the past to the present and reflects the circumstance to the vision."
Blue Knights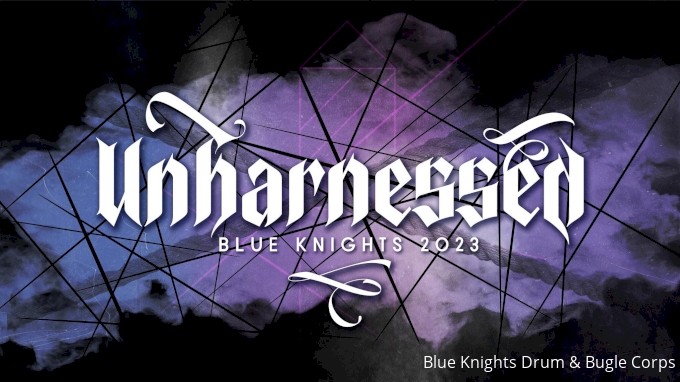 Show Title: Unharnessed
Repertoire Includes:
Requiem by Verdi
Break on Through by The Doors
Fly Away by Lenny Kravitz
Freedom by Pharrell Williams
Program Information: "Join the Blue Knights this summer as we take the music of Giuseppe Verdi, The Doors, Lenny Kravitz, and Pharrell Williams on a journey through overcoming restraint and personal struggle to become unharnessed from that which holds us back."
Blue Stars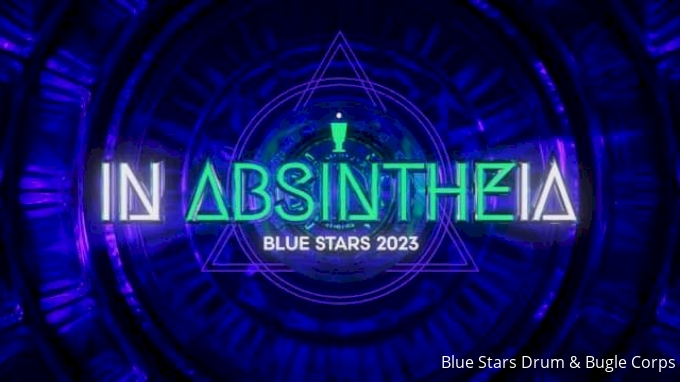 Show Title: In Absintheia
Repertoire Includes Music By:
Everfish
Michael Torke
Orville Peck
Symbion Project feat. Melissa R Kaplan
Jim Wunderlich
Program Information: TBA
Boston Crusaders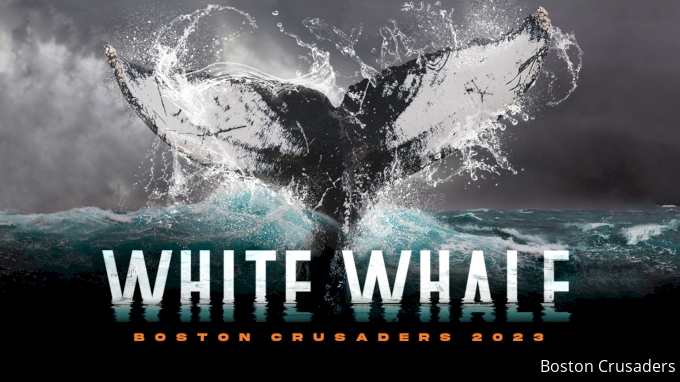 Show Title: White Whale
Repertoire Includes:
Fantasia on a Theme By Thomas Tallis by Ralph Vaughn Williams
Out to Sea by Ryan George, Colin McNutt, Iain Moyer, Mike Zellers
The Whale by Colin McNutt, Iain Moyer, Mike Zellers
Swallowtail Jig, Traditional sea shanty
The Wellerman, Traditional sea shanty
Show Me the Way to Go Home by James Campbell, Reginald Connelly
Shipping Up To Boston by Dropkick Murphys
On the Waterfront by Leonard Bernstein
Program Information: "Boston Crusaders' production of White Whale is inspired by Herman Melville's great American Novel, Moby Dick. It offers a turbulent ocean adventure filled with gritty characters while exploring the realms of philosophy, science, history, and politics with intrigue and insight. This is the story of Captain Ahab's self-destructive obsession with the white whale, called Moby Dick. The plot of the novel follows Ahab's manic drive to kill the whale, even as it endangers his crew. The Boston Crusaders' 2023 show makes a geographical connection the corps' home in Massachusetts, while also drawing parallels to the White Whale metaphor; chasing the seemingly unattainable, at all costs."
The Cadets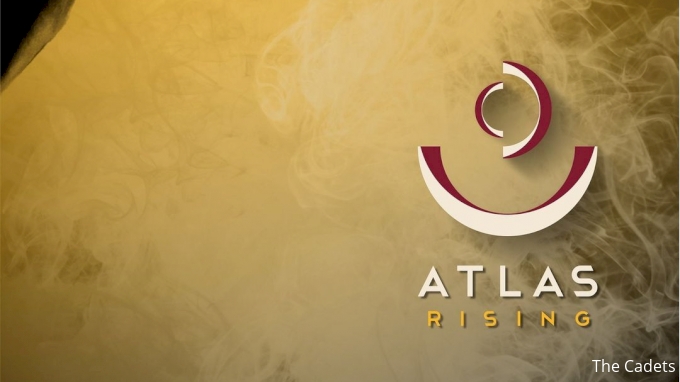 Show Title: Atlas Rising
Repertoire Includes:
What Are You Going To Do When You Are Not Saving the World? by Hans Zimmer
Corynorhinus by Hans Zimmer
Immortal by Paul Lovatt Cooper
Defeat by Lee Beddis and Andrew Monteiro
Program Information: "Strength does not come from physical capacity. it comes from an indomitable will."
Carolina Crown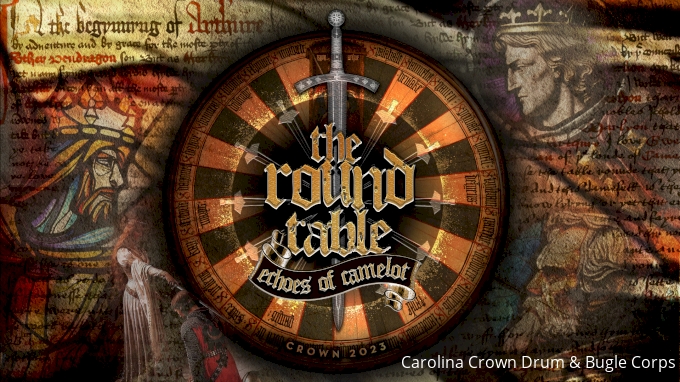 Show Title: The Round Table: Echoes of Camelot
Repertoire Includes:
The Night Window by Thomas Newman
Bachelorette by Bjork
String Quartet No. 2, Mvt. 2 by Bela Bartok
Requiem in D Minor (Lacrimosa) by Wolfgang Amadeus Mozart
Stampede (from Australia) by David Hirschfelder
All is Full of Love by Bjork
Tristan and Isolde by Richard Wagner
Manifest 3 by Elliot Goldenthal
The Wounded King by Michael Klesch, Michael Martin, Kevin Shah, and Mike Jackson
Dido's Lament by Henry Purcell
Program Information: "A legend told for centuries. The boy who would be king. Compelled to embrace his destiny, King Arthur assembled a court of brave, fierce, and honorable followers who pledged their lives and loyalty to him. Their shared vision: to create a kingdom where justice, harmony, and the noble principles of chivalry prevail. And Camelot—the court and stronghold of King Arthur and the Knights of the Round Table—was the epicenter of their dreams and mythic quests."
The Cavaliers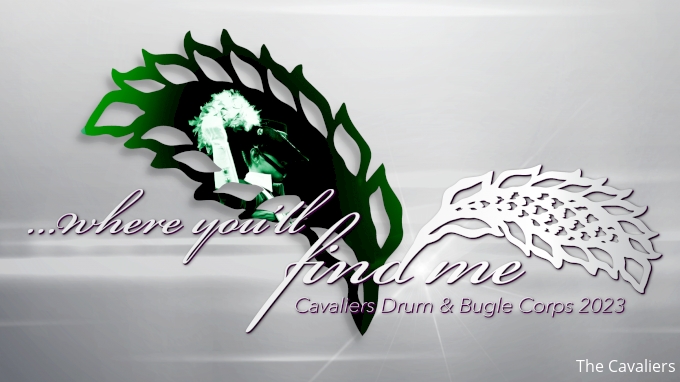 Show Title: ...Where You'll Find Me
Repertoire: TBA
Program Information: TBA
Colts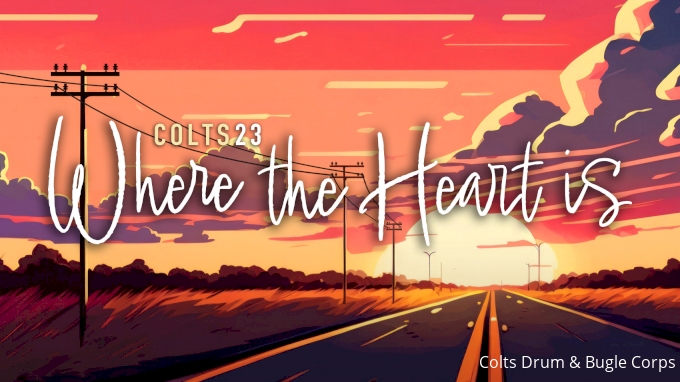 Show Title: Where the Heart Is
Repertoire Includes Music From:
Motley Crue
Pat Metheny
Cinematic Orchestra
Randy Newman
Mason Williams
Pink Floyd
Program Information: "This year's program embodies the heartfelt concept that, regardless of one's location or companions, the deepest affection and emotional pull always stem from family and home. It signifies that home is not merely a physical structure but a place where relationships, warmth, and memories converge - a sanctuary where one finds a sense of belonging and fulfillment alongside the people they hold dear."
Crossmen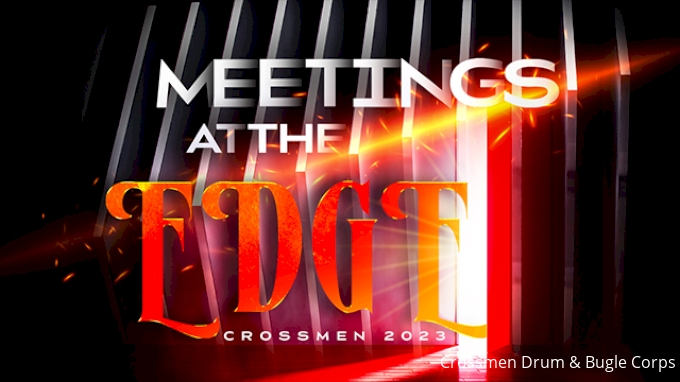 Show Title: Meetings at the Edge
Repertoire Includes Music From:
The Long and Winding Road by The Beatles
Meetings Along the Edge by Philip Glass, Ravi Shankar
Letter From Home by Pat Metheny
The Windup by Keith Jarrett
The Yellow Jacket by Shaun Martin
Program Information: "Meetings at the Edge'' will take us on a journey to explore the physical and emotional "edge", a phenomenon that exists between individuals and groups, places and things. We travel to the edge, challenge the edge and push beyond the edge on the winding road that leads to your door."
Genesis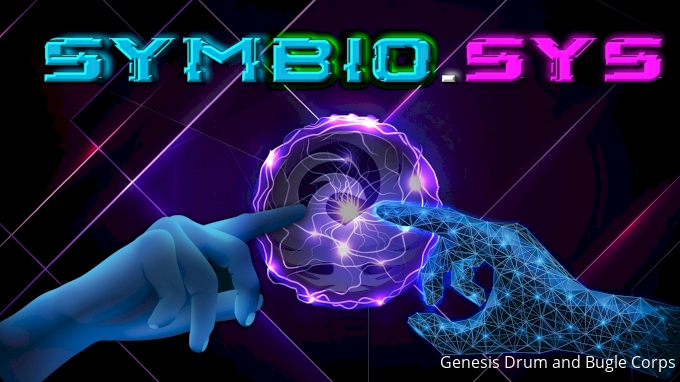 Show Title: Symbio.sys
Repertoire Includes:
Igor Stravinsky
Isao Tomita
Imogen Heap
John Mackey
and original works by Key Poulan and Mike Huestis
Program Information: "Humanity has mixed feelings about the future of AI and it's role in our world. Will AI have the ability to truly be creative in the future? Can human creativity and the future of AI work together to take us to places we have never before seen? Genesis will take us on an exploration of these thoughts with our 2023 production Symbio.sys! Featuring music from Igor Stravinsky, Isao Tomita, Imogen Heap, John Mackey and original works by Key Poulan and Mike Huestis and inspired by the creative visuals produced by AI."
Jersey Surf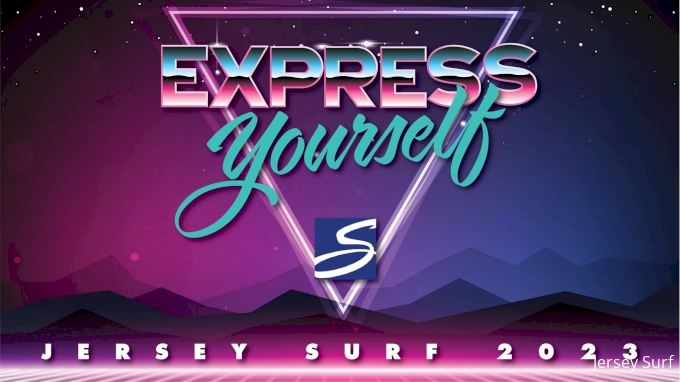 Show Title: Express Yourself
Repertoire: TBA
Program Information: TBA
Madison Scouts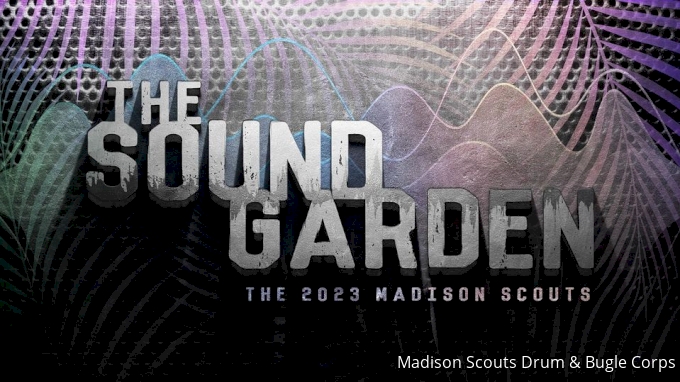 Show Title: The Sound Garden
Repertoire Includes:
Rusty Cage by Chris Cornell/Soundgarden
La Mer by Claude Debussy
Hold Music by Jacob Mann
Black Hole Sun by Chris Cornell/Soundgarden
23 Degrees North, 82 Degrees West by Bill Russo/Stan Kenton
Program Information: "The Madison Scouts present their 2023 production titled The Sound Garden. Influenced by the Seattle-based rock band "Soundgarden", who are themselves named for an aural-based art installation, the show's intent is to combine an energetic combination of musical styles, sounds, and visual textures to create and cultivate a blooming garden of sound."
Mandarins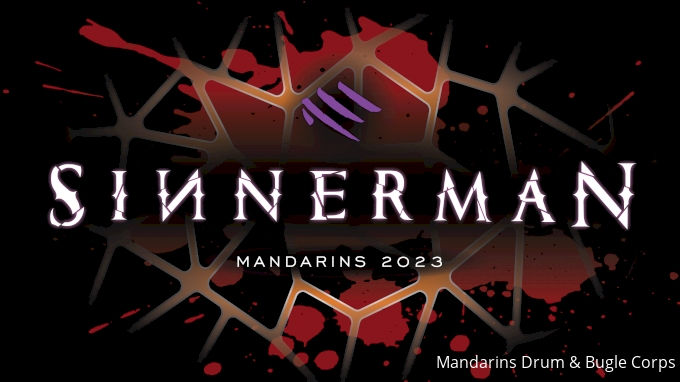 Show Title: Sinnerman
Repertoire Includes:
Sinnerman by Nina Simone
Take Me to Church by Hozier
Smile by Nat King Cole
Swing Symphony (4th Movement) by Wynton Marsalis
Présage by Univers Zero
I'm Tired by Labyrinth and Zendaya
Program Information: TBA
Music City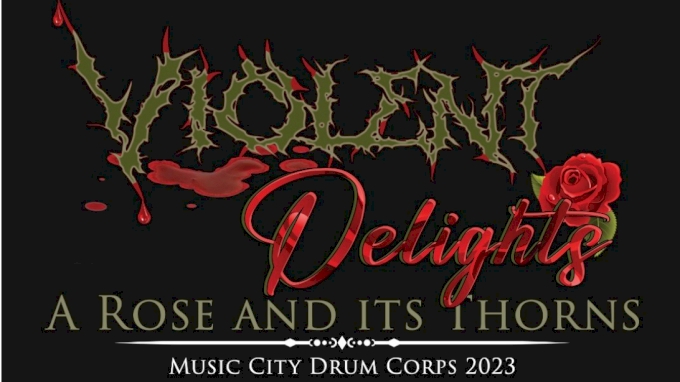 Show Title: Violent Delights: A Rose and Its Thorns
Repertoire: TBA
Program Information: "A rose blooms with beauty and grace, Its thorns a reminder of life's embrace, For in its death, its beauty is gone, But its thorns remain, a legacy strong."
Pacific Crest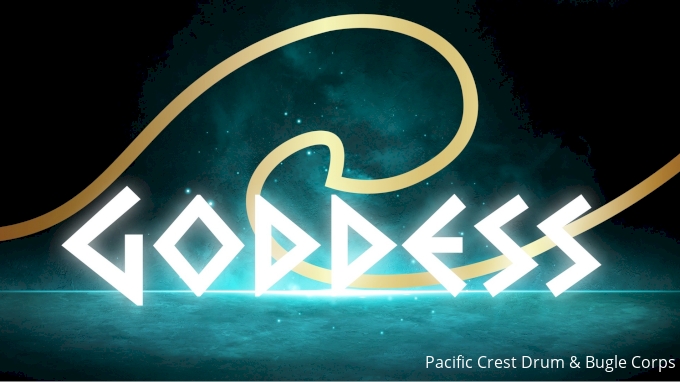 Show Title: Goddess
Repertoire Features Music By:
Vienna Teng
Claude Debussy
Joseph Hellmesberger Jr.
Yasuhide Ito
Sergei Prokofiev
Program Information: TBA
Phantom Regiment
Show Title: Exo Genesis
Repertoire Includes:
The Second Law: Isolated System by Muse
Supremacy by Muse
As If A Voice Were In Them by Oliver Waespi
To Walk or Run in West Harlem by Andy Akiho
Piano Concerto #2 by Sergei Rachmaninoff
For I Have Fought the Good Fight by Stephen Melillo
Program Information: TBA
Seattle Cascades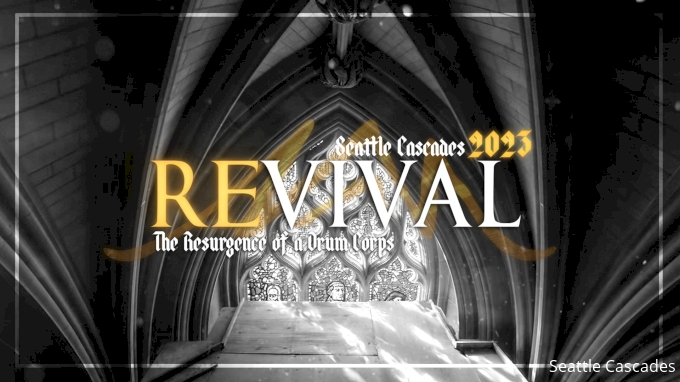 Show Title: Revival
Repertoire Includes:
Bad Moon Rising by Mourning Ritual
Stained Glass by David R. Gillingham
Angel in the Architecture by Frank Ticheli
Revival by Eminem
Program Information: "We have returned, we have resurged, we have remained, we are revived."
Spirit of Atlanta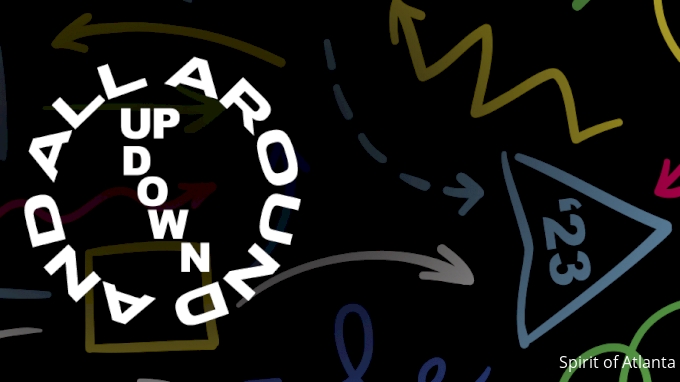 Show Title: Up, Down, and All Around
Repertoire Includes:
Route 12 by Thomas Newman
What Goes Up by Alan Parsons
Metroliner by Eric Andrew Hirsch
Stuff We Did by Randy Newman
My Human Heart by Coldplay/Jacob Collier
Program Information: TBA
Troopers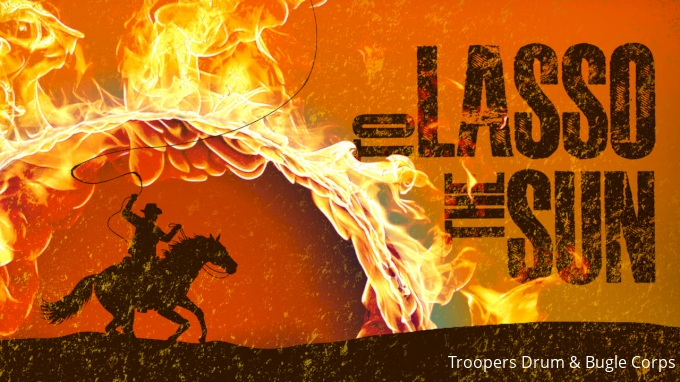 Show Title: To Lasso the Sun
Repertoire: TBA
Program Information: TBA
---
Open Class
7th Regiment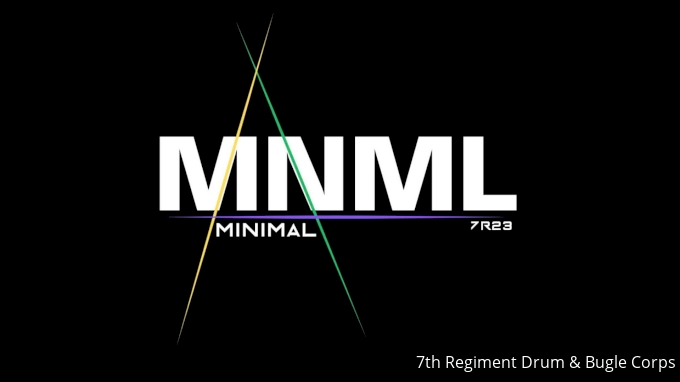 Show Title: MNML
Repertoire Includes:
1000 Airplanes On the Roof by Philip Glass
On the Nature of Daylight by Max Richter
Halcyon Hearts by Katahj Copley
Program Information: TBA
The Battalion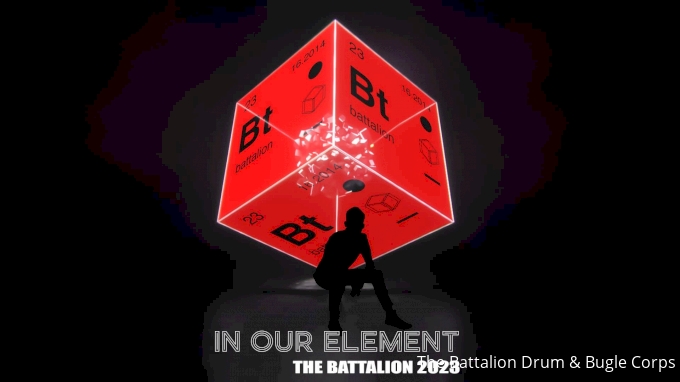 Show Title: In Our Element
Repertoire: TBA
Program Information: "The wait is over. Nothing will stop us this season, and beyond."
Blue Devils B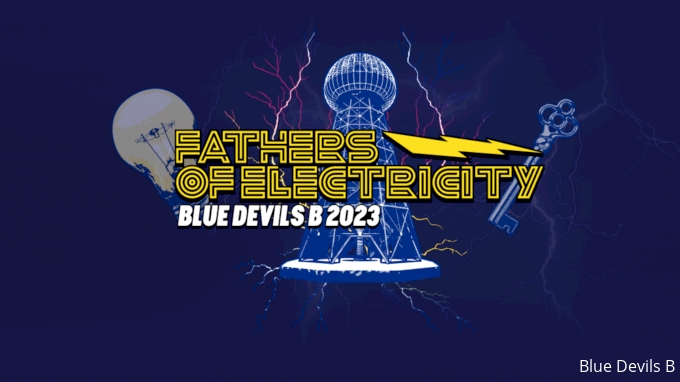 Show Title: Fathers of Electricity
Repertoire: TBA
Program Information: "We've come so far that it is hard to imagine a world without electricity, but at one point the idea was inconceivable. From early experiments with a kite and a key to the invention of the portable battery, human life is dependent more and more on the fundamental resource of electricity. Retracing the footsteps of four of the pioneers that gave humanity the gift of electricity, Blue Devils B is proud to present the 2023 production Fathers of Electricity. Benjamin Franklin, Thomas Edison, Alessandro Volta and Nikola Tesla each gave us pivotal inventions that catapulted technology forward, and Blue Devils B pays homage to these geniuses through music and motion. Featuring original music by John Meehan, Sean Clark, and Chavadith Tantavirojn, Fathers of Electricity sets an old story in a fresh new way, with musical depictions on the cutting edge of the modern drum corps and marching band sound. Each production focuses on a single historical figure, and brings you the sights and sounds of their imagination."
Blue Devils C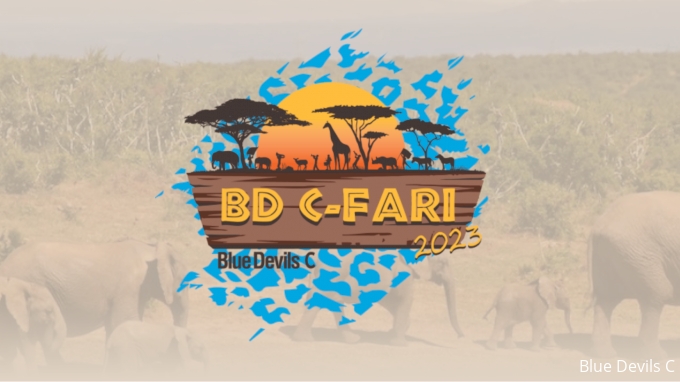 Show Title: BD C-FARI
Repertoire Includes:
This year's show opens with a bang, as Guns N Roses' classic rock anthem "WELCOME TO THE JUNGLE" sets the tone for our adventure ahead. As the music builds, we are surrounded by sounds of the wild and soon the familiar rhythms of Toto's "AFRICA" begin to paint a picture of our first night under the starry jungle sky.
Program Information: "Get ready to take a walk on the wild side this summer with Blue Devils C as they present their 2023 program – BD C-FARI! This jungle-themed drum corps show will transport you to an exotic, far away land where lions, tigers, zebras, and elephants roam free. From the thrill of the hunt to the majestic beauty of nature, excitement lurks around every corner and BDC is ready to serve as your guide on this unforgettable journey."
Colt Cadets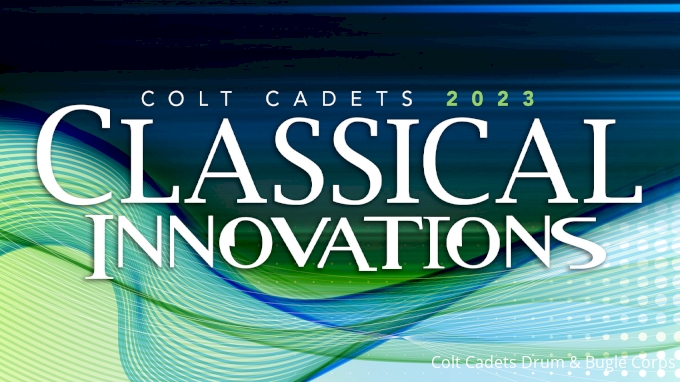 Show Title: Classical Innovation
Repertoire: TBA
Program Information: "Classical Innovations pays homage to the foundations of classical music while simultaneously pushing the boundaries of tradition. The show aims to reshape established norms, bringing together the diatonic nature and structured patterns of classical music with modernized, intricate, and chromatic renditions. As the performance unfolds, viewers will be treated to a visual spectacle that reflects the evolution of music itself."
Columbians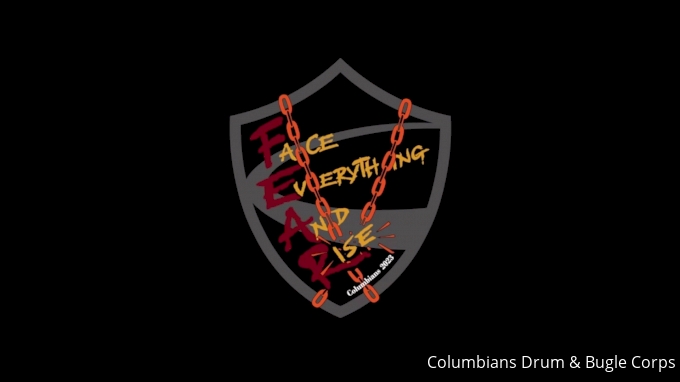 Show Title: Face Everything And Rise
Repertoire Includes Selections From:
Stephen Melillo
The Newton Brothers
The Score
Paul Halley
Hillsong UNITED
With original music and arrangements by:
Jeff Chambers
Sy Hovik
Emmanuel Olaiya
Luke DeDominces
Tim Mitchell
Program Information: "The 2023 Columbians portray the experience of fear and the tyrannical, straining role it plays. Represented by wraps of chain, it grips the members as fear is as personal as it is constricting. Fear comes out of nowhere and running only starts the chase. Keep running, check your surroundings: fear is right behind you."
Gold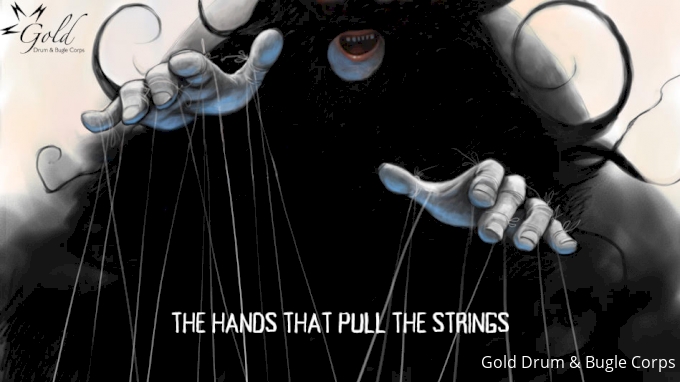 Show Title: The Hands That Pull the Strings
Repertoire: TBA
Program Information: TBA
Golden Empire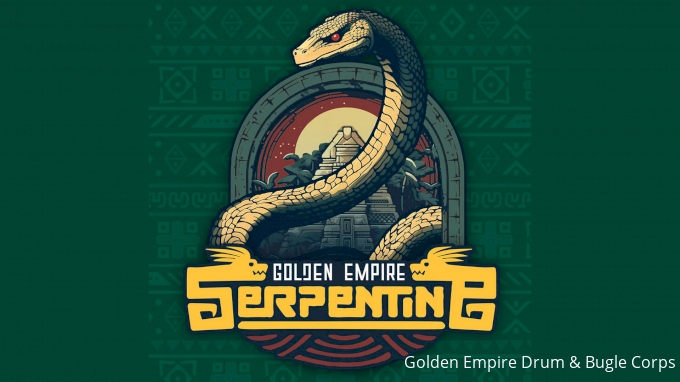 Show Title: Serpentine
Repertoire Includes:
La Noche de los Mayas by Silvestre Revueltas
Sensemaya by Silvestre Revueltas
Culebra by Ezekiel Lanser
Unholy by Kim Petras and Sam Smith
Program Information: "Serpentine explores one of nature's most mysterious and misunderstood creatures. The serpent is a prominent figure in religious and cultural practices around the world, commonly as the embodiment of evil, deception, and violence. In contrast, Golden Empire draws upon the rich tapestry of Mesoamerican mythology and folklore, presenting the serpent as a creature of power, rebirth, and renewal."
Guardians
Show Title: I Know The End
Repertoire Includes:
Sound and Color by The Alabama Shakes
X. Adjuah (I Own The Night) by Christian Scott aka Chief Xian aTunde Adjuah
Everything In Its Right Place by Radiohead
Welcome to the Black Parade by My Chemical Romance
Original music by Ben Hylton, Matt Penland, and Tyler Sammons
Program Information: TBA
Heat Wave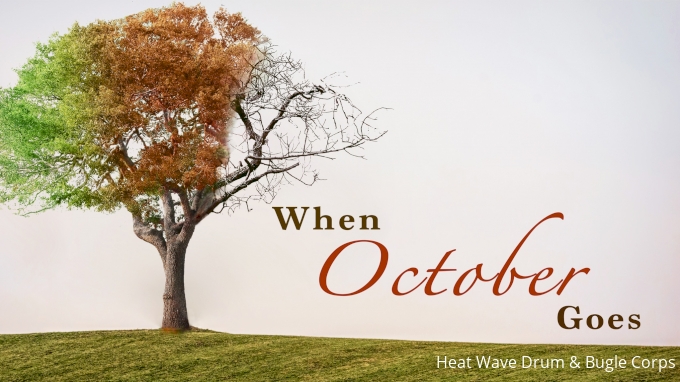 Show Title: When October Goes
Repertoire Includes:
When October Goes by Barry Manilow
6th Symphony (Pastorale) by Beethoven
6th Symphony (Pathetique) by Tchaikovsky
Program Information: "This production takes you on a journey throughout the changing of the seasons, from lush, green summer to cold, harsh winter. Through it all, nature finds a way, and the life cycle lives on.
As October winds down, it tells of the snow and ice to come. As such, it parallels human aging, and the fact that some of us could very well be in the "October" of our lives. But October is not a sad month. In fact, it's quite beautiful. As we reach the end of our performance, we ask that you do not cry because the month is over, but smile because it happened."
Impulse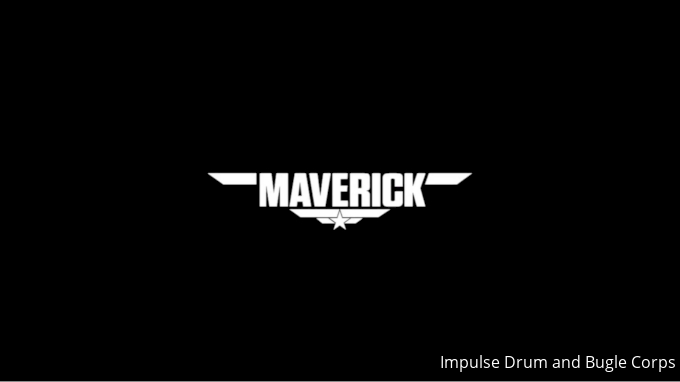 Show Title: Maverick
Repertoire Includes:
Musical selection from 'Top Gun Maverick,' including:

Darkstar
You're Where You Belong
I Ain't Worried
The Man, The Legend
Hold My Hand

And music from

Hans Zimmer
Harold Faltmeyer
One Republic
Lady Gaga
Program Information: TBA
Raiders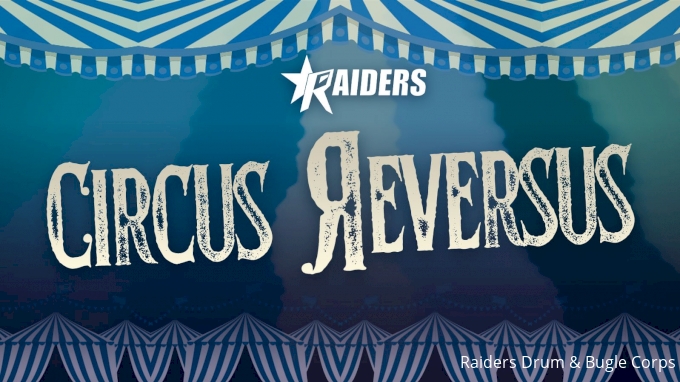 Show Title: Circus Reversus
Repertoire Includes:
Blazes and Thunder
Trip to the Circus
Clowns the in Send
From Now On (The Greatest Showman)
Program Information: "A deserted circus, once left to ruin, finds a way to reverse time and return to its former glory. Step right up and come inside for the EARTH ON SHOW GREATEST!"
River City Rhythm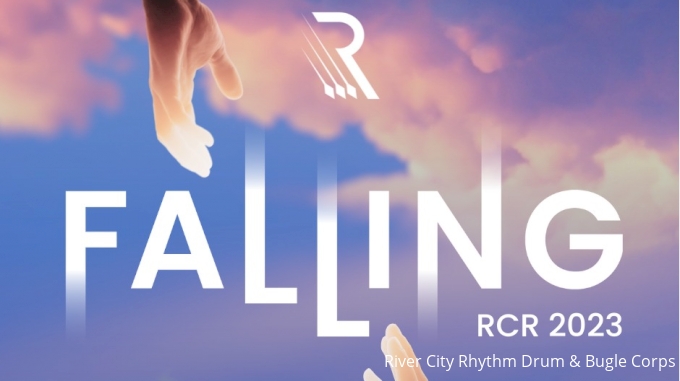 Show Title: Falling
Repertoire Includes:
Such Great Heights by The Postal Service
Can't Help Falling In Love by Elvis Presley
New Born by Muse
Balancing Act by Ward Miller, Bojan Hoover, and Paul Weber
Program Information: "There are many ways to fall - in love, asleep, even flat on your face. Sometimes we need to fall out of something in order to fall into something new."
Southwind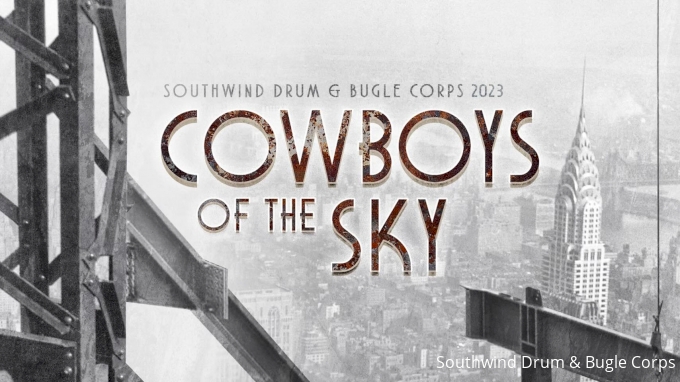 Show Title: Cowboys of the Sky
Repertoire: TBA
Program Information: TBA
Spartans
Show Title: Surreal
Repertoire Includes:
Zambra by Ojos De Brujos
Redemption for the Pain Endured by The Dear Hunter
Fables of Faubus by Mingus
Playing God by Polyphia
Tragic Kingdom by No Doubt
Program Information: "Bizarre. Illogical. Contradicting. Strange. Unfamiliar. Intriguing.
Incorporating the visual palette of surrealism and the musical canvas of Ojos de Brujo, The Dear Hunter, Polyphia, Charles Mingus, and No Doubt, the Spartans explore the techniques of surrealist artists and the unbridled imagination of the subconscious in their 2023 program, Surreal."
Vessel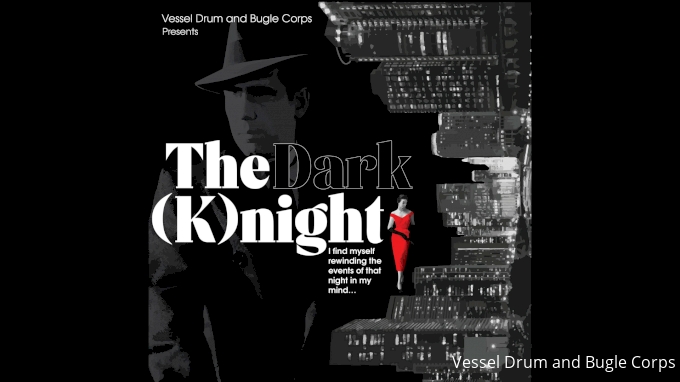 Show Title: The Dark (K)night
Repertoire: TBA
Program Information: TBA