2004 Santa Clara Vanguard "Attraction: The Music of Scheherazade"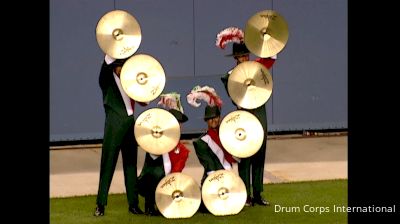 Unlock this video, live events, and more with a subscription!
Get Started
Already a subscriber? Log In
Watch the 2004 Santa Clara Vanguard show "Attraction: The Music of Scheherazade" at the DCI World Championship finals.
The story of Scheherazade is one worth doing research on to understand the full background, but Michael Boo explains the main points succinctly:
In the original story, the Sultan was grumpy due to discovering his wife had been unfaithful to him, and so he handed her over to his vizier (sort of like an ancient prime minister) to have her put to death by the sword. After his wife's death, he married a new woman every day and had each executed at sunrise, convinced each was unfaithful. Scheherazade was the vizier's brave daughter; she begged her father to present her to his boss. On her wedding night, she started to tell the Sultan a story, but by dawn, she was not yet finished. The Sultan, now engrossed in how the story would end, spared her every day as she continued the story. With this story, SCV created one of the greatest narrative productions in DCI's history.
Music Repertoire:
"Scheherazade" by Nikolai Rimsky-Korsakov