Red Oak Elementary Winter Guard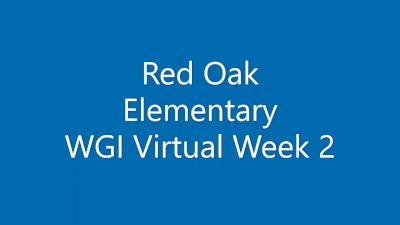 Red Oak Elementary Winter Guard is proud to present its 2023 show, Easy as 1,2,3...
Performing to the music of the Jackson 5, The Red Oak winter guard will put a modern spin on this classic tune. This year's show centers around a typical school day and will use this song as the basis of the production which provides the excitement for the show.
This group is coming out of a two-year hiatus and will be doing performances in exhibition at Tri-State, as well as, competing virtually again in the juniors class at WGI. Red Oak is a group consisting of 3rd, 4th and 5th graders. All of the members this year are new to this unit and this performance was their first in person ever.
Red Oak was selected as a 2021 WGI Virtual Finalist in the Juniors class as well as the 2021 WGI Small Division Finalist receiving a Masters rating in that season.
Red Oak Elementary Winter Guard is under the direction of Adam Miller and Angela Miller, who also serve as co-directors of the JCS - Meridian Winter Guard.