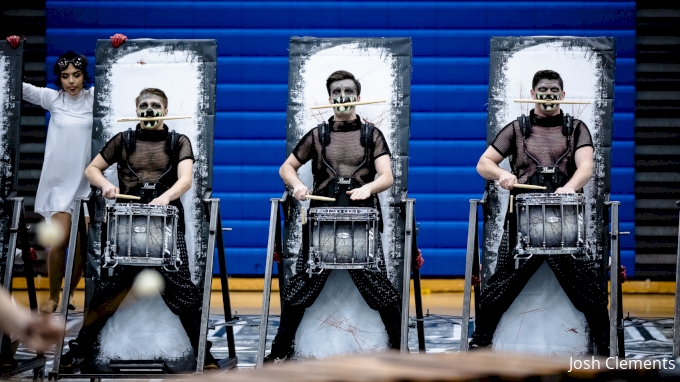 Welcome to the official live streaming home of Winter Guard International. Click 'Read More' below to find the very best coverage of the competition including live streams, the order of competition, results, behind-the-scenes coverage, articles, news, and more!
Results
It was a battle for top positioning in the Independent Marching World class, with Rhythm X eventually beating out Music City Mystique by over 2 points. Avon HS takes first in Scholastic Marching World, and Freedom Percussion beats out Cap City 2 and Triple Crown in Independent Marching Open.
Decatur Central HS tops the Scholastic Marching Open class, and Noblesville HS finishes first in Scholastic Marching A.
2022 WGI Percussion Indianapolis Results - Finals
Scholastic Marching A




Score
1
Noblesville HS
80.100
2
Westfield HS
78.850
3
Franklin Community HS
77.700
4
Kickapoo HS
76.100
5
Perry Meridian HS
76.050
6
Hamilton Southeastern HS
75.850
7
Olentangy Liberty HS
73.200
Independent Marching A




Score
1
Vortex Percussion
71.100

2
Fruitport Independent Percussion
69.050
Scholastic Concert A




Score
1
Lewis Cass HS
84.000
2
Penn-Trafford HS
81.400
3
East Central HS
81.150
Scholastic Concert World




Score
1
Fishers HS
91.300
Scholastic Marching Open




Score
1
Decatur Central HS
86.200
2
Victor J. Andrew HS
85.550
3
Plainfield HS
82.700
4
Greenfield-Central HS
80.900
5
Brownsburg HS
80.750
6
Zionsville Community HS
80.050
7
Central Crossing HS
79.550
Independent Marching Open




Score
1
Freedom Percussion
81.800
2
Cap City 2
80.850
3
Triple Crown
77.200
Scholastic Marching World




Score
1
Avon HS
86.850
2
Franklin Central HS
83.350
3
Fishers HS
82.100
4
Center Grove HS
81.350
Independent Marching World




Score
1
Rhythm X
89.600
2
Music City Mystique
87.450
3
Cap City Percussion
83.850
4
Redline
81.650
5
MBI Indoor Percussion
77.500
6
4th Wall
75.600
7
ConneXus
75.150
8
Veritas
73.000


2022 WGI Percussion Indianapolis Results - Prelims
Scholastic Marching A




Score
1
Westfield HS
83.400
2
Central Crossing HS
81.650
3
Noblesville HS
76.800
4
Kickapoo HS
76.100
5
Franklin Community HS
75.400
6
Perry Meridian HS
74.950
7
Hamilton Southeastern HS
74.600
8
Olentangy Liberty HS
73.500
9
Beavercreek HS
72.950
10
Southport HS
72.850
11
Northview HS
71.100
12
Northeastern HS
66.750
13
Greenwood HS
66.250
14
Southgate Anderson HS
65.650
Independent Marching A




Score
1
Vortex Percussion
71.650

2
Fruitport Independent Percussion
71.250
Scholastic Concert A




Score
1
Lewis Cass HS
82.300
2
East Central HS
80.800
3
Penn-Trafford HS
79.600
Scholastic Concert World




Score
1
Fishers HS
89.300
Scholastic Marching Open




Score
1
Decatur Central HS
82.550
2
Victor J. Andrew HS
82.150
3
Plainfield HS
80.900
4
Greenfield-Central HS
79.550
5
Brownsburg HS
79.400
6
Zionsville Community HS
77.475
7
Central Crossing HS
77.025
8
Goshen HS
73.600
Independent Marching Open




Score
1
Freedom Percussion
82.700
2
Cap City 2
81.450
3
Triple Crown
78.250
Scholastic Marching World




Score
1
Avon HS
88.600
2
Franklin Central HS
82.300
3
Fishers HS
81.700
4
Center Grove HS
79.050
Independent Marching World




Score
1
Rhythm X
86.600
2
Music City Mystique
86.450
3
Redline
81.850
4
Cap City Percussion
80.200
5
ConneXus
80.150
6
Veritas
79.350
7
MBI Indoor
76.950
8
4th Wall
75.850
---