2022 WBA Class & Grand Championships - 1A/2A/3A
Chino Hills HS & Trabuco Hills HS Take Home WBA Grand Championship Hardware
Chino Hills HS & Trabuco Hills HS Take Home WBA Grand Championship Hardware
On the final weekend of 2022 WBA competition, Chino Hills High School and Trabuco Hills High School take home top honors in their class finales
Nov 21, 2022
by Natalie Shelton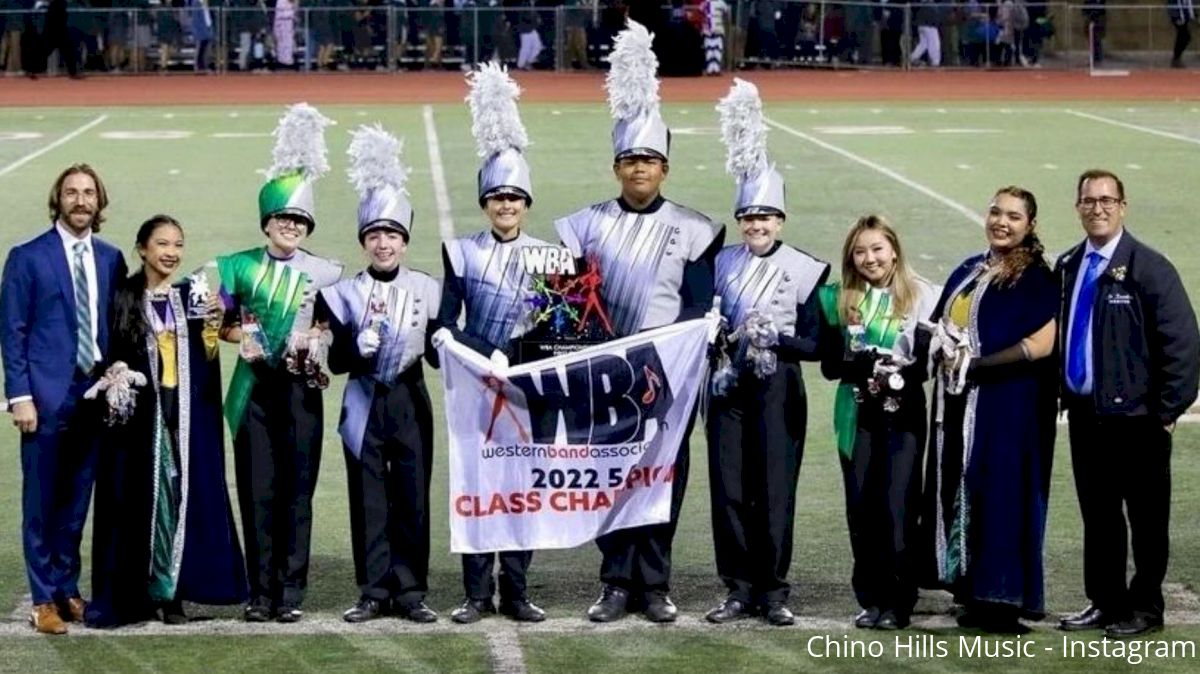 And just like that, the Fall marching band season is over.
On the final weekend of 2022 WBA competition, two class championships and two grand championships competitions took place. Saturday saw more than 30 ensembles across the 1A, 2A, and 3A classes take the field in Ontario, Canada, and battle for top honors in their respective classes.
At the end of Saturday's 1A/2A/3A Class Championships, The King's Academy topped Class 1A, while El Toro High School claimed gold in Class 2A, and Trabuco Hills High School nabbed Class 3A honors.
In 4A/5A Class Championship competition, Gahr High School topped the Class 4A table while Chino Hills High School muscled out a first-place finish in Class 5A.
Sunday saw fierce competition in the two WBA Grand Championship competitions, highlighted by season-high scores and slim margins.
In Class 1A/2A/3A Grand Championships competition, Trabuco Hills claimed victory, with a score of 93.900, sliding past second-place Fountain Valley High School which kept it close with a 93.075. The King's Academy claimed third place with a score of 89.225.
1A/2A/3A WBA Grand Championships (Sunday)
Combined 1A/2A/3A
1
Trabuco Hills High School
93.900
2
Fountain Valley High School
93.075
3
The King's Academy
89.225
4
Santa Teresa High School
88.500
5
Damien High School
88.225
6
Carlsbad High School
87.350
7
Oak Grove High School
87.125
8
El Toro High School
86.625
9
Clovis West High School
86.175
10
Live Oak High School
85.938
11
Independence High School
85.600
12
Rowland High School
85.500
13
Modesto City Marching Brigade
82.138
14
Los Alamitos High School
81.425
15
Madera High School
80.775
16
Murrieta Valley High School
79.713
17
Chaffey High School
78.950
18
Don Antonio Lugo High School
77.925
19
Sobrato High School
77.150
20
Bloomington High School
74.025
Finally, in the 4A/5A WBA Grand Championships, top honors were bestowed to some of California's finest.
Chino Hills High School had a decisive first-place finish, scoring a 96.525, edging out Vista Murrieta High School which took home second place with a score of 95.550. James Logan High School claimed third place with a score of 94.187, while Ayala High School took home fourth place with a 92.475.
4A/5A WBA Grand Championships (Sunday)
Combined 4A/5A
1
Chino Hills High School
96.525
2
Vista Murrieta High School
95.550
3
James Logan High School
94.187
4
Ayala High School
92.475
5
Homestead High School
91.375
6
Gahr High School
90.963
7
Upland High School
89.163
8
Clovis High School
89.038
9
Amador Valley High School
88.975
10
Clovis East High School
87.663
11
Cupertino High School
85.200
12
Granite Bay High School
83.550
13
Rancho Verde High School
82.025
14
Redwood High School
81.638
15
Kingsburg High School
81.050
16
Mission Hills High School
80.300
17
Mira Costa High School
79.050
17
La Cañada High School
79.050
19
Damonte Ranch High School
77.525
20
Milpitas High School
76.650