BOA
RECAP: Carmel takes gold, several make history at BOA Grand National Finals
RECAP: Carmel takes gold, several make history at BOA Grand National Finals
A memorable and exciting Bands of America season came down to the wire, with intriguing competitive finishes throughout a packed Grand Nationals weekend.
Nov 14, 2022
by Jeff Griffith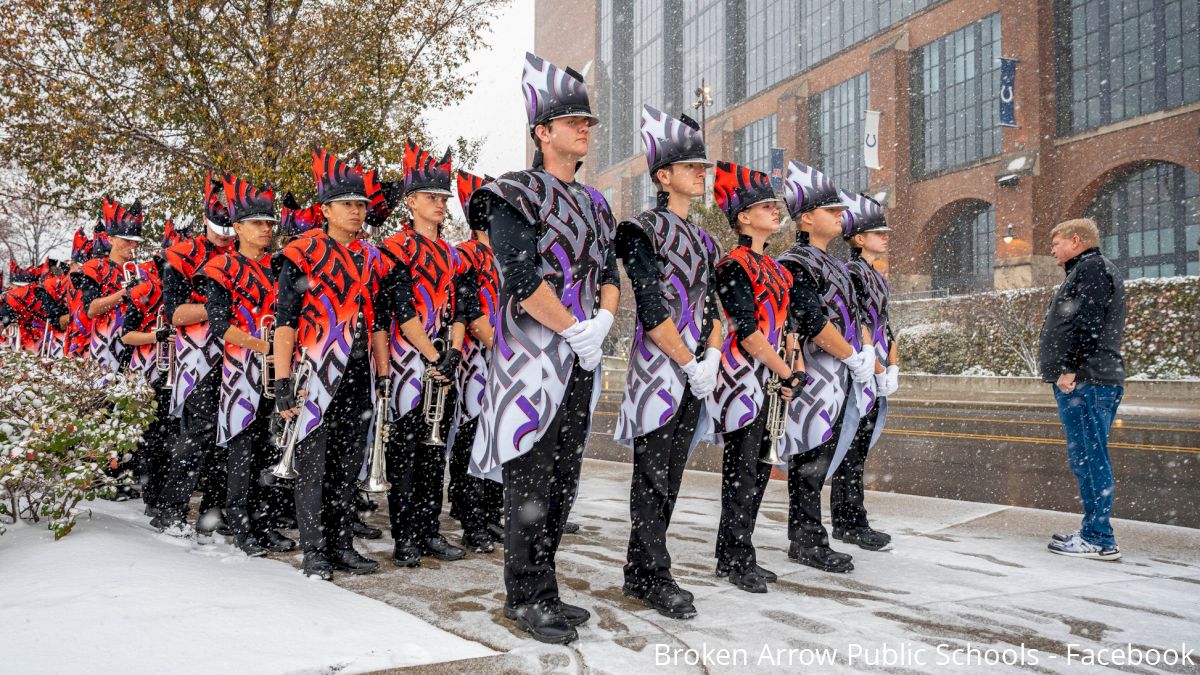 A memorable and exciting Bands of America season came down to the wire, with intriguing competitive finishes throughout a jam-packed Grand Nationals weekend in Indianapolis.
Without any further ado, let's dive into the final recap of BOA 2022:
The Top Six
1st - 97.500 — Carmel (IN/AAAA champion)
2nd - 96.150 — Avon (IN)
3rd - 96.000 — Broken Arrow (OK)
4th - 95.150 — William Mason (OH)
5th - 95.000 — Tarpon Springs (FL/AA champion)
6th - 92.800 — Dobyns-Bennett (TN/AAA champion)
As of Saturday, around 5:30 PM ET, as is often the case at BOA Grand Nationals, there were a lot of questions regarding the competitive landscape of the event.
Bands of America doesn't release a full score order of bands until after the end of Finals, so Semifinals results — featuring an announcement of each classification's top three finishers and caption award winners — provide a small window into what's taking place in the overall scoring recaps.
After Semifinals, William Mason — which had taken 11th at the previous year's Grand Nationals — taking Class AAAA second place turned some heads. Broken Arrow — the defending champion — ranked outside Class AAAA's top three likely turned even more heads.
And there was Carmel sitting atop the list.
Ultimately, a few hours later, at the conclusion of Finals, Carmel remained in its top spot, earning its first Grand National championship since 2018 and outsourcing the field by nearly a point and a half.
Avon (IN) matched its 2021 output of second place, narrowly defeating Broken Arrow (OK) — by just 0.15 — on the wings of strong general effect scores; Broken Arrow outscored Avon in music and visual performance captions.
Behind the three medalists, William Mason, despite dropping two spots from its Semifinals position of second place, earned its best BOA finish ever, fending off Class AA champion Tarpon Springs by 0.15.
William Mason's general effect made the difference — the Ohio band scored ahead of Broken Arrow in GE and tied Avon in music performance. Meanwhile, Tarpon Springs flashed standout visual scores, tying Broken Arrow for the night's second-highest visual performance score.
Just over two points behind Tarpon Springs, Dobyns-Bennett rounded out the top half of the finalist pool.
The History Makers
William Mason's standout placement wasn't the only bit of history at 2022's Grand Nationals, as multiple bands — two of which performing in their home state of Indiana — made their finalist debuts.
Newcomers (in bold) littered the bottom half of the Top 12:
7th - 91.000 – Southlake Carroll (TX)
8th - 91.000 – Brownsburg (IN)
9th - 89.450 – Robert E. Hendrickson (TX)
10th - 89.300 – Fishers (IN)
11th - 88.600 – Prosper (TX)
12th - 88.150 – Castle (IN)
Class A winner Archbishop Alter performed in Finals exhibition as one of the event's four class champions.
That's right — one third of this year's BOA Grand National finalists were brand-new, making for an exciting, new-look Saturday night lineup.
Also — if you didn't happen to see it there — BOA Grand Nationals became the second-consecutive Lucas Oil Stadium event to feature a tie, as Southlake Carroll and Brownsburg both notched 91s on the nose in their Finals debuts.