2022 WBA Regional Championships - James Logan Invitational Band Tournament
WBA Preview: It's Regional Championships Weekend! Stream All 3 Shows on Flo
WBA Preview: It's Regional Championships Weekend! Stream All 3 Shows on Flo
There are only two weekends left of the 2022 WBA season which means that ahead of next weekend's Class Champs, this week we've got Regional Championships
Nov 9, 2022
by Natalie Shelton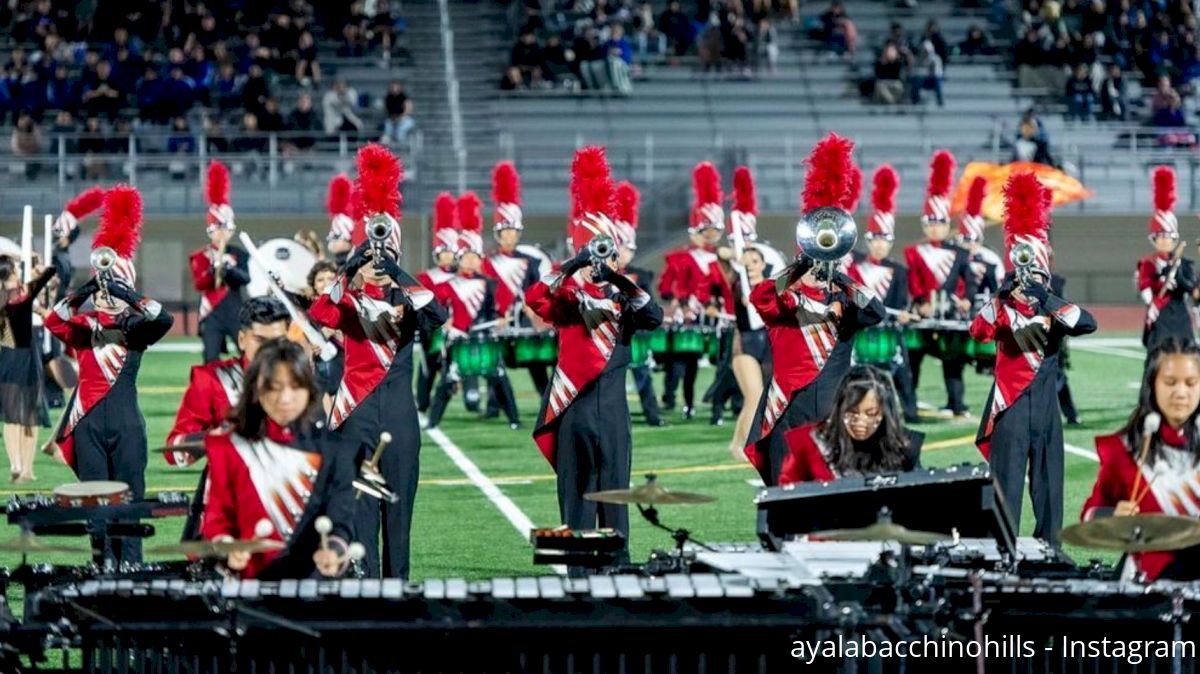 There are only two weekends left of the 2022 WBA season which means that ahead of next weekend's Class Championship competitions, this week we've got Regional Championships. Three of them, to be exact.
Here's everything you need to know going into the weekend that's going to be full of sizzling competition and dazzling showmanship which you can watch LIVE on FloMarching all day on Saturday!
November 12 | Mission Viejo, CA
Start Time: 12:00pm PT
The 2022 WBA Trabuco Hills Tournament in the Hills will take place on Saturday, November 12th at Trabuco Hills High School in Mission Viejo, California. Competition will kick off right at 12:00pm PT with Bloomington High School in Class 1A. Class 2A competition will begin around 12:30pm with El Segundo High School, and following the last 2A competitor will be the 1A and 2A awards ceremony at approximately 2:45pm.
The action will start back up at 4:20pm with Fountain Valley High School in Class 3A and will go until a short dinner break beginning at 6:30pm. The final block of competition will begin around 7:30pm and will conclude following Ayala High School's performance, which begins at 9:00pm. The 3A, 4A, and 5A awards ceremony will close out the evening and will begin around 9:35pm.
November 12 | Union City, CA
Start Time: 1:50pm PT
The 2022 James Logan Invitational Band Tournament will take place on Saturday, November 12th at James Logan High School in Union City, California. The first ensemble of the day, Santa Clara High School, will be the first to take the field at 1:50pm in Class 1A competition. The first half of the day's action (encompassing Clas 1A, 2A, and 3A) will conclude after Branham High School takes the field at 5:25pm, and the awards ceremony for Class 1-3A will follow, beginning around 6:00pm.
The second block of the day will begin at 6:45pm with Granite Bay High School in class 4A. Competition will run through the evening and will wrap up with James Logan High School at 8:40pm. Immediately following their show will be a special exhibition performance from the Alisal union School District at 8:55pm. Once the final ensemble has left the field, awards prep will begin around 9:10pm and the awards ceremony will begin at 9:30pm.
November 12 | Kingsburg, CA
Start Time: 4:30pm PT
The 2022 Kingsburg Viking Classic will take place on Saturday, November 12 at Kingsburg High School in Kingsburg, California. Competition will begin with Templeton High School (1A) at 4:30pm and will run straight through until the final competitor of the evening (Clovis East High School) takes the field at 8:55pm. There will be a short break following Clovis East's performance, and then the awards ceremony will begin at 9:30pm.