BOA
Victorious Texas Headliners Highlight Busy BOA Week 2
Victorious Texas Headliners Highlight Busy BOA Week 2
With the calendar set to shift over to October, the BOA schedule has already seen the completion of eight competitively-intriguing contests.
Sep 27, 2022
by Jeff Griffith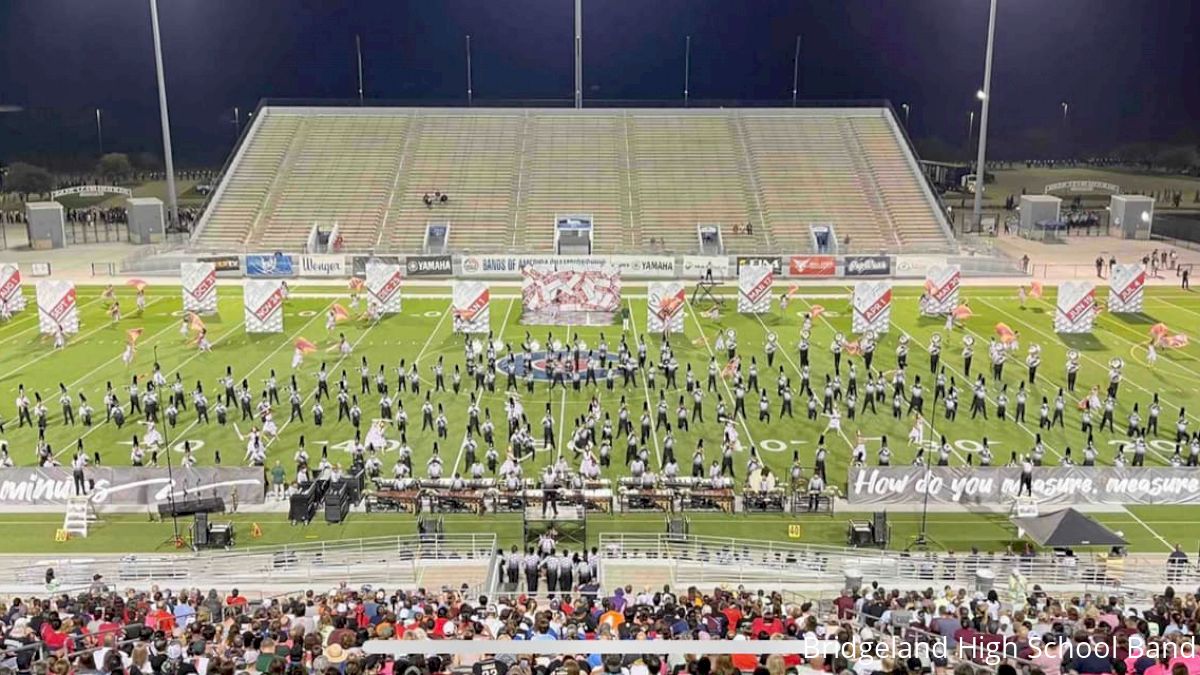 Another weekend of Bands of America events is in the books.
With the calendar set to shift over to October, temperatures poised to cool, and competition poised to heat up across the country, the BOA schedule has already seen the completion of eight unique contests.
And its four from Saturday, September 24 produced plenty of intriguing results, with a trio of Texas bands breaking 83 points early on in the new season.
Here's a look at the latest from the national BOA stage:
WAUKEE, IA | Visitors Take Over Hawkeye State
Out-of-state bands had their fill of competitive success at this weekend's event in the greater Des Moines, Iowa area.
The day's overall winner, coming down from across Iowa's northern border in South Dakota, Lincoln High School, earned a top score of 79.700, a Class AAA title, and overall outstanding general effect honors.
Things were close with second-place, Illinois-based Lincoln Way (2nd, 78.450), who also won caption awards for music and visual, but Lincoln's general effect scores were enough to make up the difference.
Bands from Nebraska and Kansas rounded out the top four, with Bellevue West (3rd, 74.450) and Blue Valley Southwest (4th, 70.700) both breaking 70 on the day. Blue Valley Southwest finished second in Class AA in prelims to Davenport Central, but jumped ahead of the Iowa-based band in Finals. Davenport Central, the day's Class AA champion, earned fifth overall with a score of 69.600 and was the day's top scorer from Iowa.
MOC-Floyd Valley High School earned the day's Class A title and finished sixth in Finals, scoring 68.500.
AUSTIN, TX | Victorious Vandegrift
Vandegrift — certainly a headline name after winning a BOA Grand National Championship in 2019 — defeated a field of 25 Texas bands and scored an impressive September number of 83.725. Cedar Ridge wasn't far off at all in second place, though, scoring 83.125 while finishing just 0.125 points behind Vandegrift in both overall music and overall visual.
Despite the close margin, Vandegrift — which also was named Class AAAA winner — took home all three of the day's caption awards.
Two other brands impressively cracked 80 points, Cedar Park (3rd, 82.250) and Vista Ridge (4th, 81.150). Cedar Park also earned a Class AAA title. Rouse (5th, 79.675), which finished second in Texas' 5A division a year ago, got off to a strong start, fending off Round Rock (6th, 79.250) by a close margin for a top-five spot after finishing sixth in Prelims.
Burnet and Manor New Tech, which both didn't compete in Finals, won Saturday's Class AA and Class A championships respectively.
SHENANDOAH, TX | Woodlands Wins Big
The Woodlands, which has also made its fair share of headlines in recent seasons as a BOA Grand National Finalist in 2021 (4th) and 2019 (8th).
Saturday got The Woodlands off to another strong start, scoring 83.000 to take first place and defeat a field of 23 bands by a margin of nearly three full points. The Woodlands also took home all three caption awards and a Class AAAA title.
The race for second, though, was noticeably close, with Cy-Fair (2nd, 80.100) narrowly breaking 80 and fending off Bridgeland (3rd, 79.500) thanks to a strong advantage in general effect. Cy-Fair had finished fourth in Prelims, also jumping ahead of Pearland (4th, 78.850) in close fashion to move to second.
Rounding out the top five was Saturday's Class AAA champion, Wylie East (5th, 78.100), which defeated sixth-place Clear Brook (77.350) by less than a point.
While Saturday featured no Class A competitors, its class AA title went to James Earl Rudder.
TOLEDO, OH | Michigan Makes Noise
In an event that featured its fair share of well-known Indiana bands, a pair of competitors from Michigan made their presence felt competitively, taking the top two slots.
Jension (1st, 79.350) and Rockford (2nd, 78.350), both from Michigan, fended off Homestead (3rd, 78.050) — which was a Grand National Finalist as recently as 2019 — by a slim margin. Jenison won a Class AA championship, while Homestead won in Class AAAA.
Goshen (4th, 75.900), also from Indiana, outscored Rockford in Prelims to win the Class AAA title. In fifth, Beavercreek (73.150) was the day's top Ohio band, outsourcing fellow Buckeye State competitor Dublin Coffman (72.450) by just over half a point.
The day's Class A champion, Ohio-based Archbishop Alter, earned a spot in Finals and earned 11th with a score of 66.250.