2022 DCI World Championships
DCI's 50th Anniversary Season Ends In A Dramatic (and Historic) Fashion
DCI's 50th Anniversary Season Ends In A Dramatic (and Historic) Fashion
Now that we've all had a moment to process everything that happened on Saturday, let's unpack the facts from the 2022 DCI World Championship Finals
Aug 15, 2022
by Natalie Shelton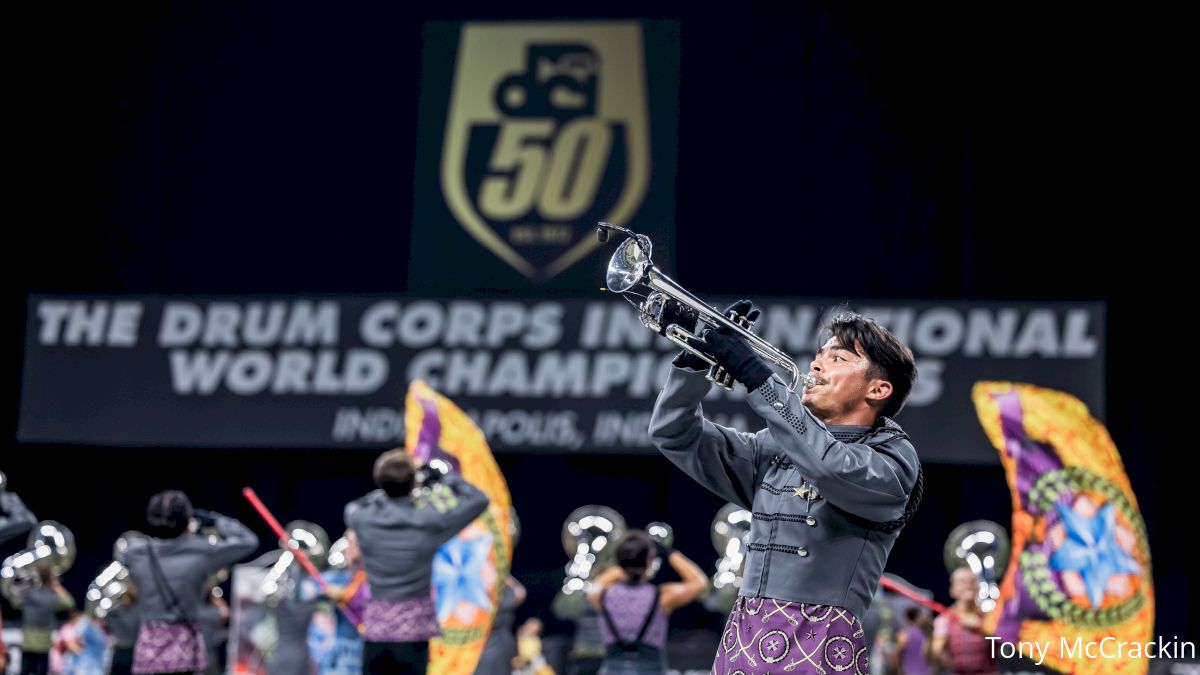 Now that we've all had a moment to process everything that happened on Saturday, let's unpack the facts from the 2022 DCI World Championship Finals and rehash some of the big storylines from the end of the 2022 DCI season.
2022 DCI World Championship Finals Scores
Best Brass - Blue Devils
Best Guard - Boston Crusaders
Best Drums - Bluecoats
Best General Effect - Blue Devils
Best Visual - Blue Devils
Top 5 Takeaways
1. Boston and Bluecoats tie for second for the second consecutive day
The reaction that the crowd had to Brandt Crocker going right from announcing 4th place to saying, "And now presenting the silver medals..." was on a whole other lever to experience live, folks. For the second consecutive day, Boston Crusaders and Bluecoats managed to tie with a score of 96.975 on Semifinals night and then 97.325 on Finals night. The Boston-based corps made history by receiving their highest-ever placement in their history, while Bluecoats capped off the season by earning their second silver medal in back-to-back competitive seasons. The Canton-based corps managed to make some history of their own though...
2. Bluecoats win the Fred Sanford Best Percussion Performance Award for the first time EVER
After a season-long battle with Santa Clara Vanguard and the Blue Devils, Bluecoats edged out their fellow competitors and clinched their first ever Fred Sanford Award. In previous years, the Canton-based corps won top awards for GE in the 2016 and 2019 seasons, in addition to a World Championship title in 2016.
3. Blue Stars finish off their 2022 season in a historic way
History was made all around in DCI's 50th anniversary season. The 2022 Blue Stars etched their name in the history books by finishing in the highest placement they've had in 45 years (7th place) in addition to scoring a 92.775 - the highest ever score in corps history.
4. Phantom Regiment rally for their best finish since 2016, highest score since 2015
After finishing 9th at both Prelims and Semifinals, Phantom Regiment surged ahead into 8th place after a stellar Finals run and finished ahead of the Cavaliers for the first time in nearly 10 years.
5. Blue Devils win their 20th World Championship title, multiple caption awards... and remain undefeated in 2022
What more is there to say about this historic season for the Blue Devils? The corps and their 2022 program titled 'Tempus Blue' excelled throughout the summer season that culminated in the Concord-based corps winning their 20th World Championship title in addition to the awards for top Brass, General Effect, and Visual performances.
Hear What The Medalist Corps Have To Say