THE WORLD CLASS EXPERIENCE
THE WORLD-CLASS EXPERIENCE: Heather Dremel of Étude World - Episode #3
THE WORLD-CLASS EXPERIENCE: Heather Dremel of Étude World - Episode #3
Follow along with Etude World's 2022 WGI season through monthly member vlogs, titled THE WORLD CLASS EXPERIENCE, created by third-year vet Heather Dremel!
Apr 12, 2022
by Natalie Shelton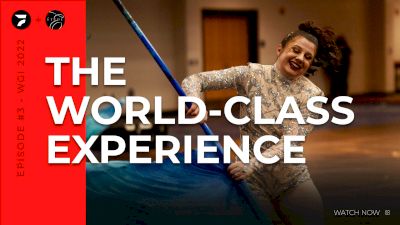 FloMarching's WORLD-CLASS EXPERIENCE vlog series aims to bring Flo readers an inside look at world-class marching ensembles. These monthly installments follow members from Étude World and STRYKE Percussion, and will run through WGI World Championship Finals in Dayton, Ohio.
Overcoming Self Doubt
When I was just a kid doing colorguard 10 years ago, I thought people who marched world class were not even human. I thought they were the epitome of perfection itself. If 18-year-old me was told that I'd be marching alongside those I idolized 10 years later, I would have passed out. But, what my teenage self didn't know is how human those world class heroes actually are.
I think if this vlog exposes anything, it is this: underneath all the glitter and glamor of the world class is a group of humans who are perfectly imperfect. We drop, we break, we cry, and we still wonder if we belong here, and if we are good enough. Every weekend, as we strive for excellence, we have to power through our own mental hurdles and self doubt. And yes... we get nervous for shows. But, before every single one we have a ritual where we are told to "trust [our] hands" and "trust each other." And we do exactly that.
The second we take to the floor, we transcend. We embody the Unicorn. For me personally, it becomes almost an out-of-body experience. Of course I'm thinking about every count and checkpoint as I migrate through the different sections of the show, but at the same time, the feeling of performing at this level is surreal. I think that is why the pressure can often produce unwanted thoughts of self doubt. However, if Unicorn has taught us anything, it is that you are not - nor will you ever be - perfect. Perfection is not attainable; but if you chase perfection, you can catch excellence.
The End Is Near...
This time of the season is so bittersweet. There is a part of you that desires the end because it's the reward that we have been desiring since September last year. You're so tired. You're so sick of cleaning that set of 16 counts. You want the scrapes, cuts, and bruises to heal. Then you realize that you have two weeks left. We're finally going to Dayton again. You want to hear the jam-packed UD Arena screaming for you. You want to feel the confetti hitting your face. You want to see what it feels like to perform this show with your cast for the last time. But, you also never want to let go. You never want that moment to end. You will always want that "one last time."
Our activity is so niche, but within it lies the most passionate and dedicated community of performers and supporters. Even when you age yourself out, you'll never be alone. You'll always be welcomed back with open arms. That's why we love it here. That's why we keep coming back.
I can't believe we are about to load up the bus for our journey to Dayton. This show has meant so much to me; more than words will ever properly articulate. Thank you for coming along on this journey with me.
We still have one last leg of the journey to go. I'll see you at Debbie.