USBands
Final Weekend Of 2021 Season Caps Off USBands Return From COVID
Final Weekend Of 2021 Season Caps Off USBands Return From COVID
Saturday saw many band competitions across the country, including the USBands Open Class National Champs at MetLife Stadium in East Rutherford, NJ.
Nov 12, 2021
by FloMarching Staff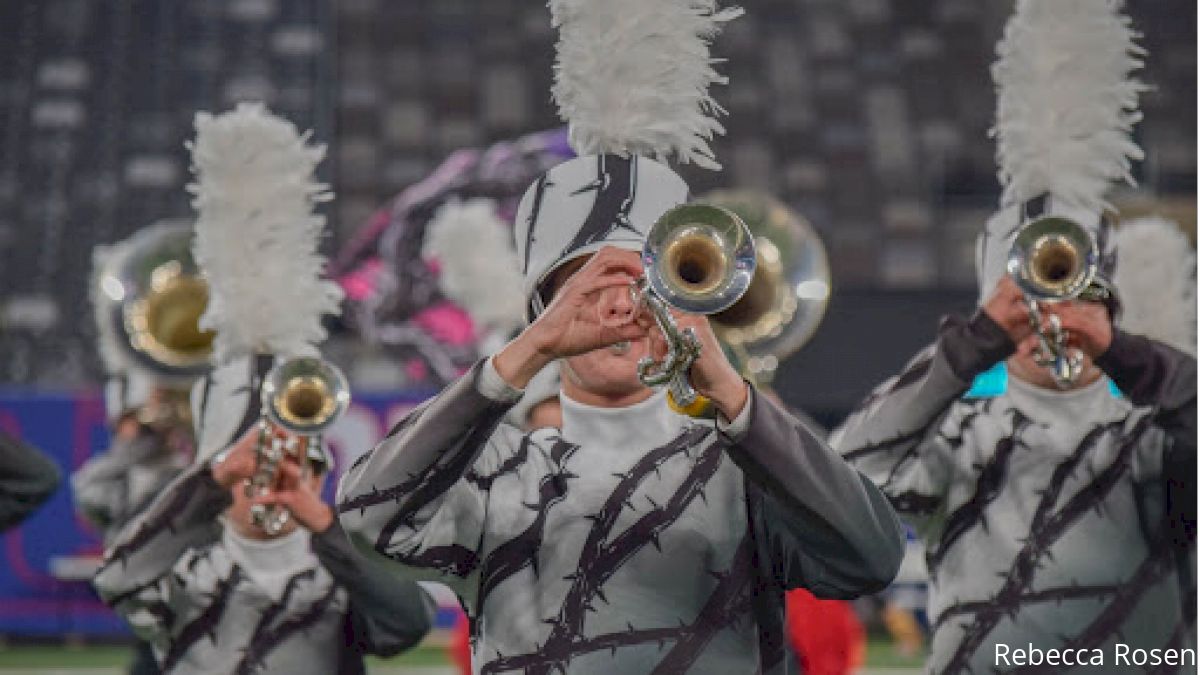 Written by Rebecca Rosen
Saturday saw many large-scale band competitions across the country, including the USBands Open Class National Championships at MetLife Stadium in East Rutherford, NJ. Bands from New Jersey, Massachusetts, Connecticut, Pennsylvania, Maryland, New York, and Virginia fought valiantly at the first USBands in-person Open Class National Championships since 2020. The day was filled with high quality performances that led to some unanticipated results.
Almost every category included state championship-winning bands competing against each other for the national title. In Group 2 Open, New Jersey State Champion Passaic High School overtook Maryland-Virginia State Champion Calvert Hall College High School from Baltimore, MD by 3.300 points. The Passaic, NJ-based school's 2021 program "Bound" took first place with 94.900 points, a 3.400 point increase from their State Championship win on October 30th. The third and fourth place spots, taken by Naugatuck High School and Perkiomen Valley High School, respectively, were only 0.400 points apart, with Naugatuck only trailing behind second place Calvert Hall College High School by 0.100. Even seventh place Rustin High School scored 7.700 points higher than their Pennsylvania State Championship-winning performance.
Perhaps the most competitive group of the entire competition was Group 4 Open. With nine top-tier bands competing for the elusive trophy, there was no question that this was going to be a tough call for the judges. And it was close; the West Shore Marching Band from Lewisberry, PA and the Trumbull High School Marching Band from Trumbull, CT's third and fourth place scores landed them only 0.100 points away from each other. But it's the first and second place finishes that are the most interesting: the North Penn High School Marching Knights soared above their 92.500 point Mid-Atlantic Regional score, past Norwalk High School's New England State Championship-winning 94.00, to take first place with a score of 95.200, besting the three-year reigning National Champion Norwalk. This is North Penn's first National Championship win since 2014.
The highest score of the night went to Group 5 Open winner Dartmouth High School, from Dartmouth, MA, who scored an incredible 98.000 points with their 2021 program "Thorns & Petals." This is a big step up from their already impressive 96.500 point-New England State Championship performance. According to an article covering the band by local news station CBS Boston, this is the band's fifth consecutive national title, and their tenth title overall. Band Director Ian Flint told CBS Boston, "Getting a 98.0 is pretty much the top score you can get at a national competition and it's one of the highest scores in the country this year...it's all about excellence." This was also notably the first year that Dartmouth did custom, show-specific uniforms for the entire band, a practice that emulates DCI and has become increasingly more popular in the past few years.
Overall, the event was highly successful. It sets a good precedent for the strong and bright future of high school bands post-pandemic.
---
About USBands & WBA
USBands
from usbands.org/about
Since its first event in 1988, USBands has supported the development of scholastic performing ensembles through exceptional service, high quality adjudication and world class venues. Over the past 32 years, USBands has expanded to include thousands of bands in 150+ marching band, indoor and concert band events nationwide.
Our guiding principle is to provide ensembles, regardless of style, size and experience, an opportunity to be successful while allowing students to benefit from their involvement with scholastic music. The rules that govern USBands events are minimal by design. USBands prides itself on a user-friendly approach to support and service, in which directors and performers can fully enjoy the performance process without the concern of overly punitive rules and penalties.
Western Bands Association
Western Band Association exists to ensure a high quality, educationally sound performing experience in full support of the total band program.
WBA believes that competition is a means to encourage and reward creativity, artistry and excellence in design and performance while providing a vehicle that will educate all students in such a way that they will grow to understand and evolve to the greatest level of their potential. It is our intent to encourage and reward the training that augments the development of quality musical and visual skills.
Remaining 2021 Event Schedule
November 13
2021 WBA Regional Championships - Trabuco Hills Tournament in the Hills
2021 WBA Regional Championships - Kingsburg Viking Classic