2021 USBands Remo Invitational - Austin
What To Expect From This Weekend's USBands Remo Invitationals In TX
What To Expect From This Weekend's USBands Remo Invitationals In TX
All eyes are on Texas this weekend as some of the best bands in the country compete in two USBands Remo Invitationals in Houston and Austin on Nov. 6.
Nov 5, 2021
by Jeff Griffith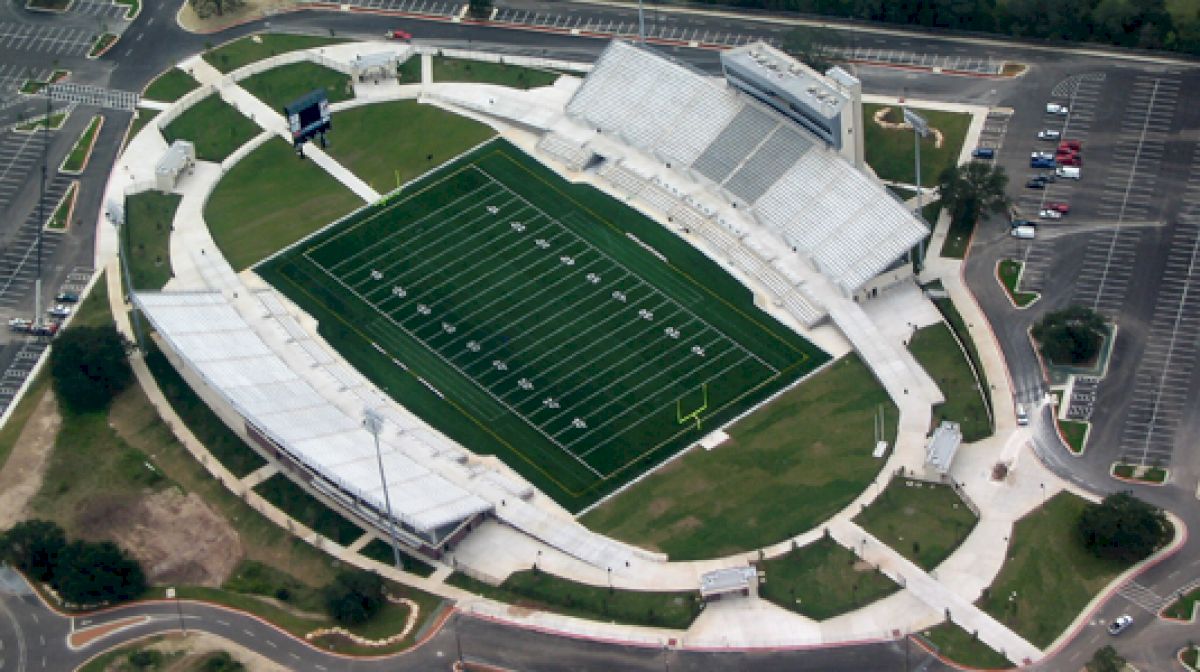 Since everything's bigger in Texas, there's obviously no shortage of competitive marching bands.
With an array of band events taking place across the Lone Star State this week and weekend, several Texas bands will be on display in USBands' Remo Invitational events Saturday — one in Austin, and one in Houston.
Here's everything you need to know about USBands events this weekend in Texas:
US BANDS REMO INVITATIONAL — HOUSTON
Saturday in Houston will feature 13 bands in total, each performing once in Prelims and Finals competition.
The majority of the bands will compete in Open Class competition, with three in Group 3, three in Group 3, and two in Group 4.
OPEN GROUPS 1 & 2 | A — GROUP 2
Saturday's lone Open Class Group 1 participant showed promise in its previous USBands appearance, scoring just shy of an 80 all the way back on October 9. Both Open Class Group 2 competitors met back on late September, with George Bush leading its classification that day.
12:00 PM - Elkhart (Open 1)
12:15 PM - Elsik (2A)
12:30 PM - Mirabeau B. Lamar (Open 2)
12:45 PM - George Bush (Open 2)
OPEN GROUPS 4 & 5
While Ridge Point's lone USBands event this season was canceled, Mayde Creek did appear in USBands' early-October event in Ganado, Texas, earning a commanding victory. As for those in Group 5, each of the three will be making their first appearance in USBands competition for 2021.
1:15 PM - Ridge Point (Open 4)
1:30 PM - Mayde Creek (Open 4)
2:00 PM - Klein Cain (Open 5)
2:15 PM - Klein Collins (Open 5)
2:30 PM - La Porte (Open 5)
OPEN GROUP 3 | A — GROUP 3
Magnolia West was another group that had planned to compete in USBands' event in Dekaney back on October 2, prior to its cancellation. As such, none of Saturday's Group 3 bands have appeared in USBands events yet this season.
3:15 PM - Palestine (3A)
3:30 PM - Goose Creek Memorial (Open 3)
3:45 PM - Jordan (Open 3)
4:00 PM - Magnolia West (Open 3)
US BANDS REMO INVITATIONAL — AUSTIN
Austin's event will feature a slightly deeper lineup than that of Houston, with 20 total bands, all from Texas, across six different competitive tiers.
The 20 groups in competition will be narrowed to 12 finalist positions; the Finals round is set to begin at 7:30 p.m. on Saturday.
OPEN GROUP 1 | A — GROUP 1
Much like its Group 4 counterpart, the Group 1 tier features a pair of groups will make the two-hour trip from marching band hotbed San Antonio, in Central Catholic and Highlands.
10:30 AM - Central Catholic (A)
10:45 AM - Moody (A)
11:00 AM - Highlands (Open)
11:15 AM - Snyder (Open)
11:30 AM - Louise (Open)
OPEN GROUP 2
Navarro Early College High School will play the role of "home team" this weekend, as Group 2's lone competitor with an Austin address. Of the six Open Group 2 contestants in Austin this weekend, East View appeared in BOA competition in the same city back in September, earning 7th the AAA classification.
12:00 PM - Pieper
12:15 PM - Navarro Early College
12:30 PM - East View
12:45 PM - Grandview
1:00 PM - Lehman
1:15 PM - Robstown Early College
OPEN GROUPS 3-5
In Group 4 competition, two groups come all the way from San Antonio in William J. Brennan and John Marshall. As for the Group 5 contestants, Anderson recently appeared at the Bands of America Waco Regional, earning 18th overall.
2:00 PM - George Ranch (3)
2:15 PM - Libertal Arts & Science Academy (3)
2:30 PM - W. Charles Akins Early College (3)
3:15 PM - United South (4)
3:30 PM - Samuel V. Champion (4)
3:45 PM - William J. Brennan (4)
4:00 PM - John Marshall (4)
4:15 PM - Moe & Gene Johnson (5)
4:30 PM - Anderson (5)
Remaining 2021 Event Schedule
November 6
2021 WBA Independence Band Tournament
2021 WBA Golden State Tournament of Bands
2021 USBands National Championships Open Class
2021 USBands Remo Invitational - Houston
2021 USBands Remo Invitational - Austin
2021 USBands Southern States Championships
2021 USBands National Championships A Class
November 13
2021 WBA Regional Championships - Trabuco Hills Tournament in the Hills
2021 WBA Regional Championships - Kingsburg Viking Classic