2021 USBands National Championships Open Class
Norwalk HS Feels The Pressure Before USBands Nationals
Norwalk HS Feels The Pressure Before USBands Nationals
The USBands National Championships are this weekend, and no band has more on the line than the Norwalk High School Marching Band from Norwalk, CT.
Nov 5, 2021
by FloMarching Staff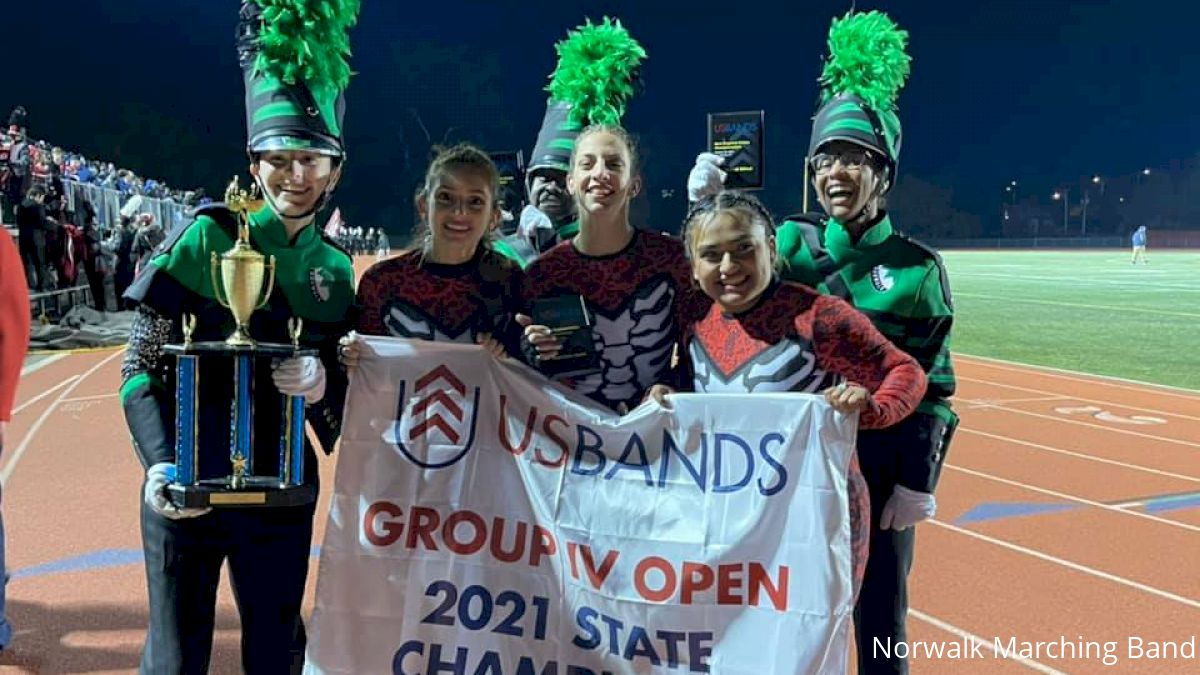 Written by Rebecca Rosen.
The USBands National Championships are this weekend, and no band has more on the line than the Norwalk High School Marching Band from Norwalk, CT.
The Group 4 Open Class band under the direction of Chris Rivera has been the reigning State and National champions in the class for three years running, and has felt a lot of pressure this season to perform at the high level that is expected of them despite smaller numbers as a result of COVID-19.
"We have had steady growth over the competition season, continuing to improve from one show to the next," explained Marie Randle, woodwind tech for the Norwalk High School Marching Band. "Norwalk encourages the kids to improve each week, whether that's changing/learning music, new choreography, adding props, or new work for guard."
Their hard work is paying off: they were able to defend their State Championship title on November 3rd with a score of 94.000, beating the second place band, Southington High School, by just one point. This is a significant score increase from their earlier shows this season, which all scored in the 80s.
And it isn't just legacy and high scores that Norwalk High School is bringing to the field this year; their 2021 program "Día de los Muertos" is unique and personal to the band members themselves. "[The show] focuses on the Mexican tradition of honoring loved ones who have passed," said Randle. "In honor of this tradition, we have included photos of family members and band alumni who have passed on our ofrendas at the front of the field."
The show promises to be an impactful and moving experience. Randle specified that there is a great moment during the second movement specifically that's worth keeping an eye out for when you're watching the show: "The color guard uses these gorgeous yellow and orange spin flags to accentuate some beautiful hit points from the winds," she gushed. "I think we have a couple of cool moments that highlight each of our sections, but [that's] my favorite."
Norwalk High School is scheduled to perform on November 6th at the USBands Open Class National Championships in MetLife Stadium around 9 PM. "Marching band really is one of those life changing experiences, so I hope the students get a chance to pause and really take in the atmosphere of MetLife," remarked Randle. "It's a powerful feeling when you're firing on all cylinders and you and your team are able to succeed and have fun at the same time."
Randle was quick to clarify that the Norwalk team is incredibly proud of the work the members have put into the season, whether they are able to continue their three year National Champion streak or not. "Our goal is to put on the best show that we can," she said. But that doesn't mean they don't want to win --- "[We want to] show the world that while covid had impacted us greatly, it hasn't stopped us from working just as hard and becoming just as good as pre-COVID Norwalk High School."
Tune in to the USBands Open Class National Championships LIVE on FloMarching on November 6, 2021 to see for yourself if Norwalk can defend their National Champion title.
About USBands & WBA
USBands
from usbands.org/about
Since its first event in 1988, USBands has supported the development of scholastic performing ensembles through exceptional service, high quality adjudication and world class venues. Over the past 32 years, USBands has expanded to include thousands of bands in 150+ marching band, indoor and concert band events nationwide.
Our guiding principle is to provide ensembles, regardless of style, size and experience, an opportunity to be successful while allowing students to benefit from their involvement with scholastic music. The rules that govern USBands events are minimal by design. USBands prides itself on a user-friendly approach to support and service, in which directors and performers can fully enjoy the performance process without the concern of overly punitive rules and penalties.
Western Bands Association
Western Band Association exists to ensure a high quality, educationally sound performing experience in full support of the total band program.
WBA believes that competition is a means to encourage and reward creativity, artistry and excellence in design and performance while providing a vehicle that will educate all students in such a way that they will grow to understand and evolve to the greatest level of their potential. It is our intent to encourage and reward the training that augments the development of quality musical and visual skills.
Remaining 2021 Event Schedule
November 6
2021 WBA Independence Band Tournament
2021 WBA Golden State Tournament of Bands
2021 USBands National Championships Open Class
2021 USBands Remo Invitational - Houston
2021 USBands Remo Invitational - Austin
2021 USBands Southern States Championships
2021 USBands National Championships A Class
November 13
2021 WBA Regional Championships - Trabuco Hills Tournament in the Hills
2021 WBA Regional Championships - Kingsburg Viking Classic