2021 USBands National Championships Open Class
Newtown Aims For The Mountain Top With "Everest"
Newtown Aims For The Mountain Top With "Everest"
Newtown High School's 2021 program, Everest, is all about beating impossible challenges and climbing to the top despite obstacles.
Nov 5, 2021
by FloMarching Staff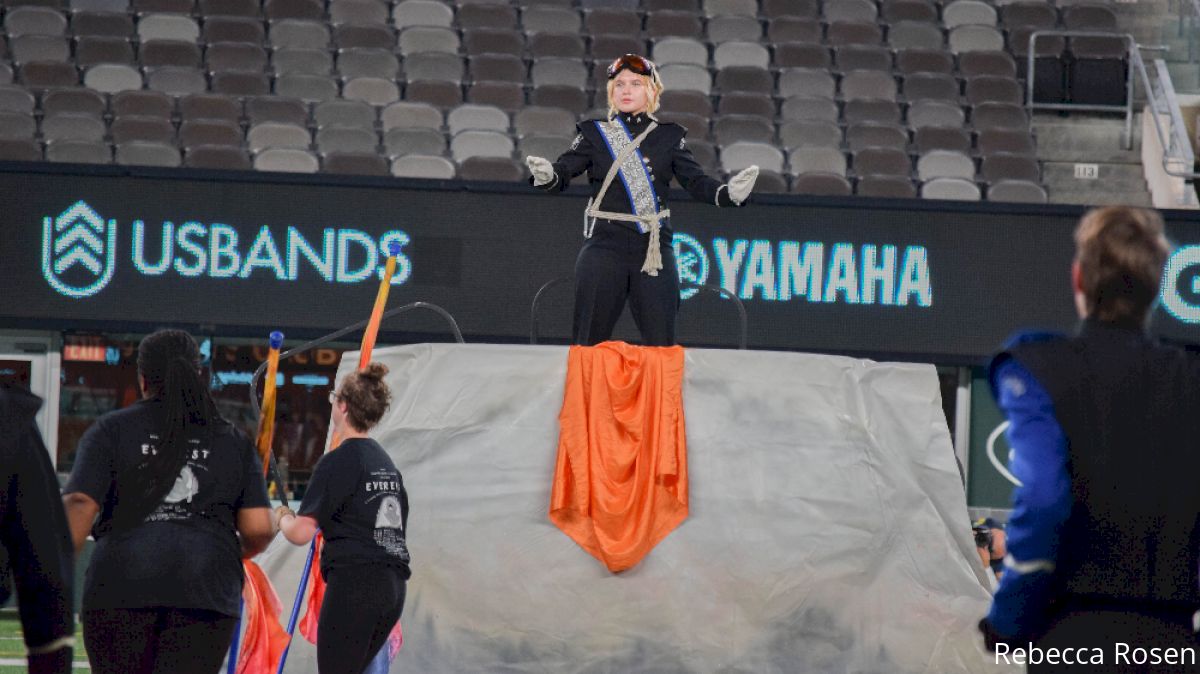 Written by Rebecca Rosen.
Putting a band on the field this year has been an upward climb for every high school. Newtown High School's 2021 program, Everest, is all about beating those impossible challenges and climbing up to the top despite the obstacles you may face on the way there.
Everest sets out to show the world that nothing, not a pandemic or even a giant mountain, can stop this band from accomplishing their goals.
"The show is very expressive and exciting, as players explore the emotional journey of an almost impossible task (to get to the top)," said Tyler Campbell, Newtown's Percussion Caption Head.
Newtown High School is no stranger to being at the top; the Newtown, CT school was crowned Class IV National Champions in 2017, won 3rd Overall and Best Percussion in 2018 and 2019, and placed 2nd overall (with Guard and Percussion placing 2nd) in 2020.
But like every school, Newtown faced their own Everest going into the 2021 season - without in-person competitions in 2020, almost half of the band had never marched before. "The most interesting thing about this show is the challenge it presents the performers, some of which are very new to the activity," explained Campbell. "It is amazing to see them continue to handle the difficulty well and achieve more each week... reflective of the story they tell in this show!"
Everest is still being developed musically and visually, but Newtown is ready to take it off the mountain and onto the road. On October 2, the band travelled over an hour and a half to compete at the USBands Yamaha Cup in Metlife Stadium, where they will return on November 6 for the 2021 USBands Open Class National Championship.
"The coolest part of the show right now is during the first movement," said Campbell, when asked what audiences should be on the lookout for when watching the show. "The woodwinds and front ensemble have a bit of a feature together while the band is [at a] standstill. Guard rifles are tossed and a tenor drum can be heard to cue the ensemble into the final push, with a full horn sound and high energy drill."
About USBands & WBA
USBands
from usbands.org/about
Since its first event in 1988, USBands has supported the development of scholastic performing ensembles through exceptional service, high quality adjudication and world class venues. Over the past 32 years, USBands has expanded to include thousands of bands in 150+ marching band, indoor and concert band events nationwide.
Our guiding principle is to provide ensembles, regardless of style, size and experience, an opportunity to be successful while allowing students to benefit from their involvement with scholastic music. The rules that govern USBands events are minimal by design. USBands prides itself on a user-friendly approach to support and service, in which directors and performers can fully enjoy the performance process without the concern of overly punitive rules and penalties.
Western Bands Association
Western Band Association exists to ensure a high quality, educationally sound performing experience in full support of the total band program.
WBA believes that competition is a means to encourage and reward creativity, artistry and excellence in design and performance while providing a vehicle that will educate all students in such a way that they will grow to understand and evolve to the greatest level of their potential. It is our intent to encourage and reward the training that augments the development of quality musical and visual skills.
Remaining 2021 Event Schedule
November 6
2021 WBA Independence Band Tournament
2021 WBA Golden State Tournament of Bands
2021 USBands National Championships Open Class
2021 USBands Remo Invitational - Houston
2021 USBands Remo Invitational - Austin
2021 USBands Southern States Championships
2021 USBands National Championships A Class
November 13
2021 WBA Regional Championships - Trabuco Hills Tournament in the Hills
2021 WBA Regional Championships - Kingsburg Viking Classic