2021 USBands New Jersey Open Class State Championships
USBands Weekend Preview: October 30
USBands Weekend Preview: October 30
As the 2021 season comes to a close, don't miss the action from State Champs across the northeast and a hundred performances coming live to FloMarching.
Oct 29, 2021
by Jeff Griffith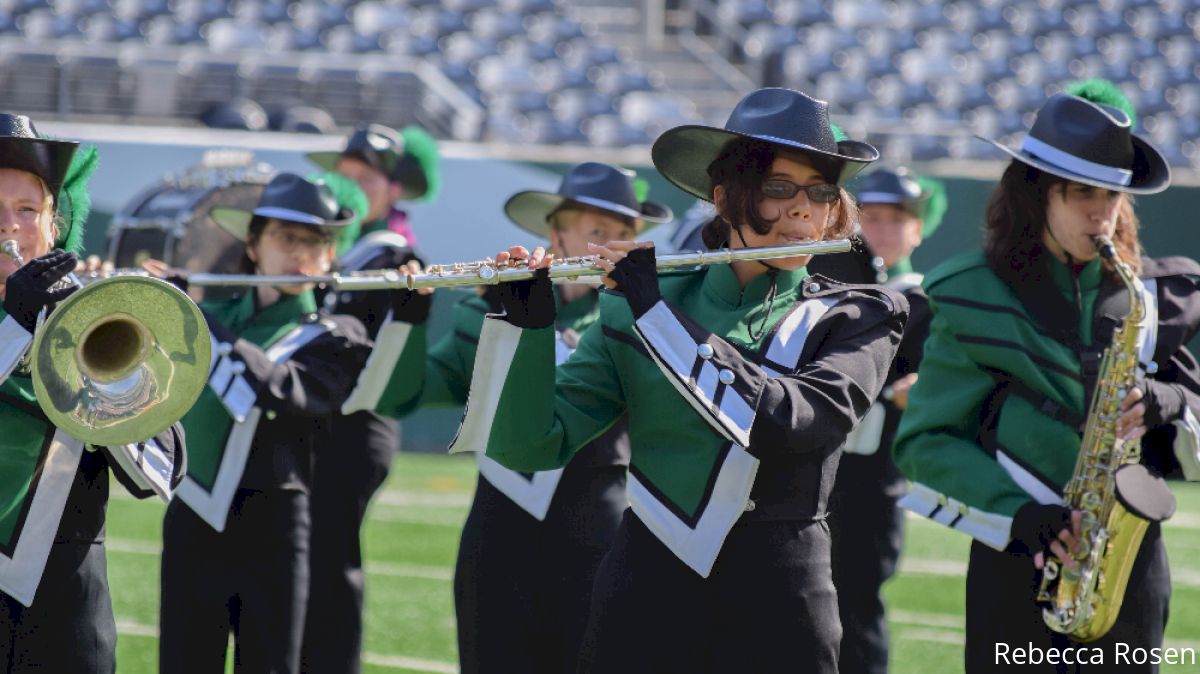 We're just a handful of days away from November, and that means one thing annually for the marching community — jam-packed band weekends.
The final weekend of October may not have the sheer volume of USBands contests that others have, but regional and state championships, it's arguably the biggest weekend of competition to date.
With a total of 123 performances between 99 high schools and three college bands, here's what to watch for throughout the busy Halloween weekend:
Union High School will play host to 32 different high schools across just three A Class competitive classifications, with intriguing competitive storylines up and down the linup.
Between a close three-way race atop the 1A leaderboard and other intriguing head-to-head races in the 2A and 3A groupings, there will be plenty to watch for on Saturday.
Read more about the USBands New Jersey A Class State Championships.
Click here to watch this event LIVE on FloMarching on Saturday, October 30th.
Several of New Jersey's top bands will get their final run before heading to East Rutherford, including a pair of closely-matched Open Class Group 4 bands in Edison and Hillsborough. A week ago, Hillsborough held the slight advantage head-to-head.
While Old Bridge (Open Group 3) and South Brunswick (Open Group 5) will be two notable bands going uncontested this weekend, a litany of 4A bands also make for intriguing competition at Saturday's event.
Read more about the USBands New Jersey Open Class State Championships.
Click here to watch this event LIVE on FloMarching on Saturday, October 30th.
In the only event of the weekend that will feature both a prelims and finals round, 11 mid-atlantic bands will take the field in Camp Hill, Pennsylvania.
The majority of the participating bands hail from the Keystone State, including North Penn and West Shore, which will be the lone competitors in Open Class Group 4. A pair of Pennsylvania schools — Council Rock South and Mechanicsburg Area — will also go head-to-head by themselves in Open Group 3 competition.
Click here to watch this event LIVE on FloMarching on Saturday, October 30th.
About USBands & WBA
USBands
from usbands.org/about
Since its first event in 1988, USBands has supported the development of scholastic performing ensembles through exceptional service, high quality adjudication and world class venues. Over the past 32 years, USBands has expanded to include thousands of bands in 150+ marching band, indoor and concert band events nationwide.
Our guiding principle is to provide ensembles, regardless of style, size and experience, an opportunity to be successful while allowing students to benefit from their involvement with scholastic music. The rules that govern USBands events are minimal by design. USBands prides itself on a user-friendly approach to support and service, in which directors and performers can fully enjoy the performance process without the concern of overly punitive rules and penalties.
Western Bands Association
Western Band Association exists to ensure a high quality, educationally sound performing experience in full support of the total band program.
WBA believes that competition is a means to encourage and reward creativity, artistry and excellence in design and performance while providing a vehicle that will educate all students in such a way that they will grow to understand and evolve to the greatest level of their potential. It is our intent to encourage and reward the training that augments the development of quality musical and visual skills.
Remaining 2021 Event Schedule
October 30
2021 USBands New Jersey A Class State Championships
2021 USBands New Jersey Open Class State Championships
2021 USBands Mid-Atlantic Regional
2021 USBands Show Up and Show Out on The Hill
November 6
2021 WBA Independence Band Tournament
2021 WBA Golden State Tournament of Bands
2021 USBands National Championships Open Class
2021 USBands Remo Invitational - Houston
2021 USBands Remo Invitational - Austin
2021 USBands Southern States Championships
2021 USBands National Championships A Class
November 13
2021 WBA Regional Championships - Trabuco Hills Tournament in the Hills
2021 WBA Regional Championships - Kingsburg Viking Classic