2021 USBands New Jersey A Class State Championships
New Jersey State Championships On FloMarching This Weekend, Oct. 30
New Jersey State Championships On FloMarching This Weekend, Oct. 30
In a flurry of USBands action to round out October, two NJ high schools host a lineup of Garden State bands competing live on FloMarching this weekend.
Oct 29, 2021
by Jeff Griffith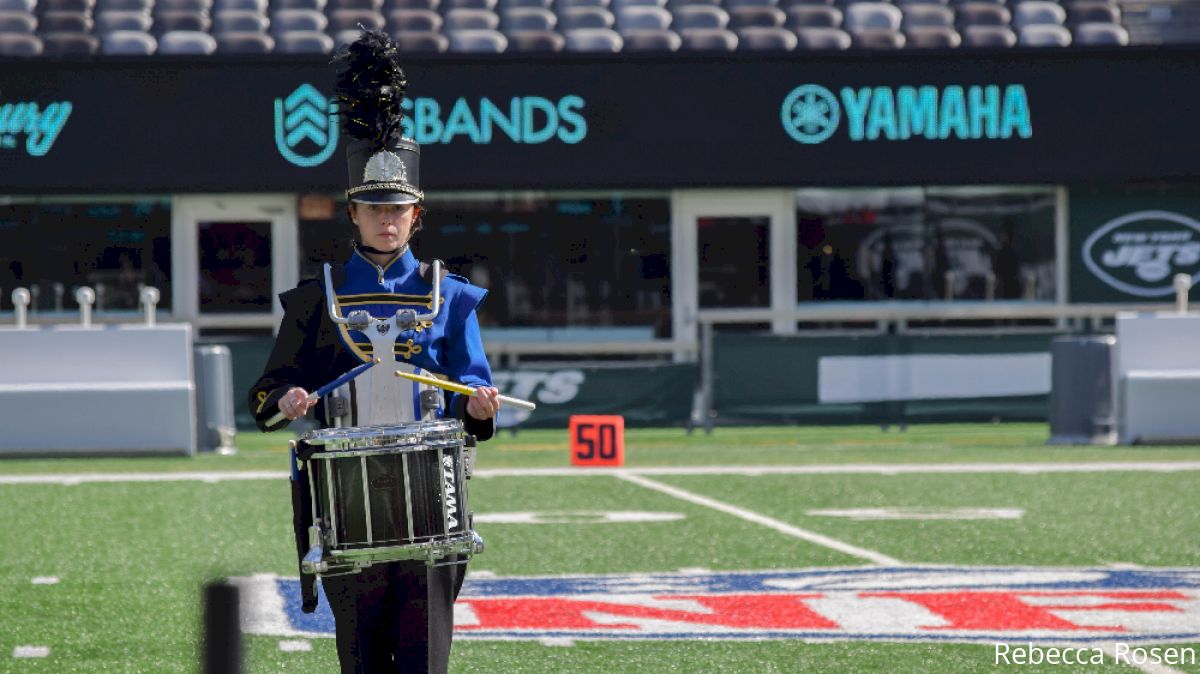 In a busy weekend of USBands action to round out the month of October, Union High School in New Jersey is set to play host to a marquee lineup of Garden State bands competing in the USBands New Jersey A Class State Championships.
Meanwhile, the remainder of New Jersey state championship participants will compete in the USBands New Jersey Open Class State Championships at Old Bridge High School.
For the A Class event, which is set to kick off at 10 AM ET Saturday, 32 groups are split into three different competitive groups — Group 1A, Group 2A and Group 3A — with the day's final performance set for 8 PM ET with Vernon Township HS.
The majority of the day's participating ensembles — 15 in total, so just shy of half — are slotted into Group 1A. Awards for each group are scheduled throughout the day, at 2:05 PM (1A), 6:10 PM (2A) and 8:15 PM (3A).
As for the Open Class lineup, the first band will step off at 3:00 PM, with 18 different groups competing across seven different competitive classifications.
Entering the climactic events of the New Jersey fall band season, here are a few key competitive storylines to keep an eye on for Saturday's lineups:
USBands Schedule & Entries | Documentaries | Results
GROUP 1A
Nearly all 15 of the 1A bands competed in a USBands New Jersey event last weekend on October 23, so there's somewhat of a clear competitive picture for what to expect in Union.
Of the 12 1A groups on that list, though, just shy of 10 points separated last weekend's top and bottom groups across four unique locations.
Three of Saturday's competing bands topped the 80-point threshold a week ago, and they all did so at separate events — North Warren earned an 82.100 in Vernon Township, Bayonne an 81.2 in Fair Lawn, and Delran an 81.1 in Robbinsville.
Simple trends would allude to the notion that those three are in the best position to win the 1A title on Saturday, but scoring in fall band is never quite that simple.
Five different 1A groups all scored between 76.9 and 77.7 in their most recent events — that's Hackettstown, Weehawken, Delaware Valley Regional, Linden and Matawan Regional. With that in mind, there's a pretty long list of groups within striking distance of fighting for top three positioning.
10:00 AM - Collingswood
10:15 AM - Rumson-Fair Haven Regional
10:30 AM - Voorhees
10:45 AM - Long Branch
11:00 AM - Passaic Valley Regional
11:15 AM - BREAK
11:25 AM - Burlington Township
11:40 AM - Hackettstown
11:55 AM - Delran
12:10 PM - Linden
12:25 PM - Nottingham
12:40 PM - BREAK
12:50 PM - North Warren
1:05 PM - Bayonne
1:20 PM - Delaware Valley Regional
1:35 PM - Matawn Regional
1:50 PM - Weehawken
GROUP 2A
One benefit to the 2A lineup, in terms of a competitive picture, is that five of the 11 participating groups all performed at the same event just one week ago; four of those five perform after the group intermission.
If last week's results are an indicator, Allentown (NJ) is the frontrunner, having led the pack with an 87.000 at October 23's Robbinsville event. That said, Hightstown, Bordentown and Hopewell Valley Central all finished within five points of the leader at that same location.
It's also worth noting in the 2A classification that Lenape Valley Regional — which will be Saturday's final band to perform, led its event a week ago with a score of 85.500. Theoretically, such a tally also places Lenape Valley Regional within reach of the 2A title.
But again, it's anybody's game during the fall band season.
3:00 PM - Colonia
3:15 PM - Northern Highlands
3:30 PM - Union
3:45 PM - Hanover Park
4:00 PM - Rancocas Valley Regional
4:15 PM - Northern Valley Regional
4:30 PM - BREAK
4:40 PM - Hopewell Valley Central
4:55 PM - Hightstown
5:10 PM - Bordentown
5:25 PM - Allentown
5:55 PM - Lenape Valley Regional
GROUP 3A
The 3A tier, generally speaking, is the top competitive class featured in Saturday's event. For the New Jersey state championships, the group consists of just five bands, one of which — Randolph — will be appearing at its first USBands of the season.
Two other bands, Robbinsville and Vernon Township, are fresh off of exhibition performances as hosts of October 23 events. As such, it's anyone's guess how the chips may fall. West Milford, though, did come out of last weekend with a score of 87.300, which is certainly a high mark for mid-October, making that worth noting.
7:00 PM - Randolph
7:15 PM - Nutley
7:30 PM - West Milford
7:45 PM - Robbinsville
8:00 PM - Vernon Township
OPEN — GROUPS 1 & 2
Saturday features a trio of groups in each of the Open Group 1 and Open Group 2 classifications.
It's hard to get a read on the Group 2 competitors, as one of the three — Fair Lawn — went without a score last week as a host of its own event. That said, at that same event, Passaic popped out an impressive score of 86.500. Immaculata enters the weekend with a top score of 82.700, whereas Fair Lawn most recently earned a tally of 77.900 back on October 16.
In terms of Group 1, Lenape enters the weekend with a top mark of 87.700. That said, its other two competitors haven't been scored in two weeks; back on October 16, Glen Ridge earned an eye-catching tally of 83.100.
3:00 PM - Glen Ridge (1)
3:15 PM - Burlington City (1)
3:30 PM - Lenape (1)
3:45 PM - BREAK
4:00 PM - Passaic (2)
4:15 PM - Fair Lawn (2)
4:30 PM - Immaculata (2)
4:45 PM - AWARDS
GROUPS 4A & 5A
Competing at Open Class State Championships
Other than Hunterdon Central, every group in this block will compete in the same competitive tier.
In terms of top contenders, Somerville currently leads the way in terms of top score to date, having come just shy of breaking 90 (89.900) a week ago. Peqannock Township and New Providence have also scored within close distance of that mark in their most recent performances.
6:00 PM - Monroe Township (4A)
6:15 PM - North Brunswick Township (4A)
6:30 PM - Ridgewood (4A)
6:45 PM - New Providence (4A)
7:00 PM - BREAK
7:15 PM - Pequannock Township (4A)
7:30 PM - Jackson Memorial (4A)
7:45 PM - Somerville (4A)
8:00 PM - Hunterdon Central (5A)
OPEN — GROUPS 3-5
Of the four groups in this top tier, two of them will be competing in their own class this weekend, with sights likely set — in terms of competitive achievements — on next weekend's USBands National Championships in East Rutherford.
That said, Edison and Hillsborough will go head to head for the mark of Group 4 champion. In their most recent head-to-head meeting a week ago, Hillsborough edged Edison by just shy of two points, earning a winning mark of 91.100
8:30 PM - Old Bridge (3)
8:45 PM - Edison (4)
9:00 PM - Hillsborough (4)
9:15 PM - South Brunswick (5)
9:30 PM - AWARDS
About USBands & WBA
USBands
from usbands.org/about
Since its first event in 1988, USBands has supported the development of scholastic performing ensembles through exceptional service, high quality adjudication and world class venues. Over the past 32 years, USBands has expanded to include thousands of bands in 150+ marching band, indoor and concert band events nationwide.
Our guiding principle is to provide ensembles, regardless of style, size and experience, an opportunity to be successful while allowing students to benefit from their involvement with scholastic music. The rules that govern USBands events are minimal by design. USBands prides itself on a user-friendly approach to support and service, in which directors and performers can fully enjoy the performance process without the concern of overly punitive rules and penalties.
Western Bands Association
Western Band Association exists to ensure a high quality, educationally sound performing experience in full support of the total band program.
WBA believes that competition is a means to encourage and reward creativity, artistry and excellence in design and performance while providing a vehicle that will educate all students in such a way that they will grow to understand and evolve to the greatest level of their potential. It is our intent to encourage and reward the training that augments the development of quality musical and visual skills.
Remaining 2021 Event Schedule
October 30
2021 USBands New Jersey A Class State Championships
2021 USBands New Jersey Open Class State Championships
2021 USBands Mid-Atlantic Regional
2021 USBands Show Up and Show Out on The Hill
November 6
2021 WBA Independence Band Tournament
2021 WBA Golden State Tournament of Bands
2021 USBands National Championships Open Class
2021 USBands Remo Invitational - Houston
2021 USBands Remo Invitational - Austin
2021 USBands Southern States Championships
2021 USBands National Championships A Class
November 13
2021 WBA Regional Championships - Trabuco Hills Tournament in the Hills
2021 WBA Regional Championships - Kingsburg Viking Classic