DCI
A Brief History: Boston Crusaders' Most Pivotal Year... So Far
A Brief History: Boston Crusaders' Most Pivotal Year... So Far
The Boston Crusaders' impressive rise of the last 5 years has set the standard in DCI, but it all began with one pivotal season—2017.
Jun 23, 2021
by Jeff Griffith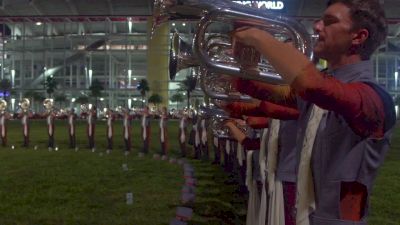 Jeff Griffith is a writer and columnist for FloMarching, and any perspective presented in this article represents his own only.
It almost seems hard to remember a time when the Boston Crusaders weren't fighting for spots in Drum Corps International top five.
But it shouldn't be, right? It's only been that way for two full seasons — maybe two-and-a-half, depending on how you look at it.
If you've been a drum corps fan for more than a few years, though, you surely remember it. "Wicked Games" was an immediate hit, and it lit the typical DCI competitive pecking order on fire. It was the perfect show to pack all the punch of a group primed to remove all doubt from its spot in the top, elite, competitive tier of drum corps. It was in-your-face, and it was angry.
So many moments in that show gave the feeling of — whether intentionally or not — performers staring directly into your soul and saying, "Yeah, we really are that good."
Behind the Scenes | Documentaries | Technique/Training
The Dog Days of July 2017
And they were. Throughout 2017, they proved it, competitively, time and time again. A few dates — moments in time in an unforgettable breakout season — come to mind.
July 9 — Orlando, FL — Boston put the drum corps community on notice in its first big-stage event of the year in the Sunshine State. They didn't beat anyone of note, but their score was nipping at the heels of some of the top-ranked corps entering that summer.
Just one year prior, Boston had snuck into 12th place by the skin of its teeth and was now within a point and a half of a corps that had finished among 2016's top six, The Cadets.
Most importantly, though, they debuted the iconic "fire" prop effect to a roaring audience that night in Orlando. Whether through being there in-person, watching online, or following social media buzz, the drum corps community could start to tell something was coming.
July 12 — Atlanta, GA — That gap in Orlando, which was 1.45 points, to be exact, was gone three days later — completely erased. The head-to-head win Boston earned over the Allentown corps on July 12 was its first in over thirty-seven years.
Thirty-seven. Generally speaking, things that haven't happened in almost four decades are pretty monstrous surprises. And they ought not to be taken lightly.
This one surely wasn't. Both literally and figuratively, there was a new fire under the Crusaders, who exploded competitively during the second full week of July. Their rise was far from over.
July 22 — San Antonio, TX — Now, make no mistake; there was plenty of other corps that Boston still needed to prove itself against. The Cadets weren't the only corps leapfrogged by the Crusaders that summer; there were six in total. In the early weeks of the 2017 season, though, they were just the first to meet Boston head-to-head.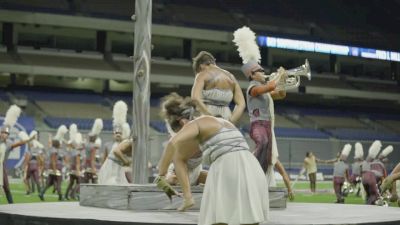 So, San Antonio, the season's first and only full meeting of every single World Class corps, was Boston's true proving ground.
Sixth place. 85.625. A corps that had barely finished among the Top 12 in 2016 was a full seven-plus points away from the cut-off, not to mention it had a 0.65-point cushion for its spot in the Top 6.
All Eyes On Boston
Frankly, year-over-year jumps like the one Boston Crusaders experienced in 2017 just don't happen.
No, of course, that's not to say a corps rising by six spots in the rankings in one year is completely unheard of. But statistically speaking, movement happens far more slowly the higher up the rankings you look. That's the crazy part.
Within 12 months, Boston Crusaders — driven by a new-look staff and a revitalized organization — went from a corps that had literally clawed its way into the Top 12 on the final day of the 2016 season, to a corps that owned a spot in the Top 6, with the next closest finisher more than a full point behind.
In closing, a few statistics from that season that are simply bonkers:
It was mentioned earlier that Boston scored an 85.625 in San Antonio, with three full weeks left on tour. Crusaders' Finals score in 2016? 84.800.

By the time the season ended, Boston had topped that 2016 number by over eight points. That's the largest one-year jump in final score by any World Class corps in the last decade.

Prior to 2017, Boston had broken 92 twice in its history — with fifth-place finishes in 2000 (92.350) and 2002 (92.400). The Crusaders — who actually scored higher numbers in 2017's Prelims and Semifinals than in Finals, hit all-time corps record-high scores on all three nights of DCI World Championships.
And all of that really was just the beginning. Of course, 2018 and 2019 weren't the drastic competitive leaps that 2017 was for the Boston Crusaders, but they cemented the corps into its new territory.
Not to mention, those years did write new highs into the corps' record books, including a top-five finish, first-ever Finals caption awards, and a first-ever 95-or-higher.
But again, that really is the interesting part of all of it; it's only been three seasons, yet as drum corps fans, we already feel so used to the idea of Boston Crusaders being a top-tier scorer.
Maybe that's because they're here to stay. Honestly, from what we've seen — on the field and in the score sheets — it probably is.