DCI
A Brief History: 2008 Phantom Regiment's "Spartacus"
A Brief History: 2008 Phantom Regiment's "Spartacus"
Saturday night. The 2008 Drum Corps International World Championship Finals. Bloomington, Indiana. Build me a time machine, and I'm there in an instant.
Jun 8, 2021
by Jeff Griffith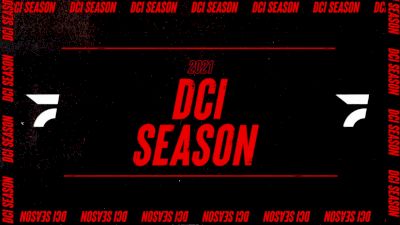 Jeff Griffith is a writer and columnist for FloMarching, and any perspective presented in this article represents his own only.
Bloomington, Indiana, August 9, 2008. Build me a time machine, and I'm there in an instant.
There's not a doubt in my mind. As a drum corps fan, there are dozens of iconic moments I've only witnessed on video that, if given the opportunity, I'd jump on the chance to go back in time and experience them in person.
Behind the Scenes | Documentaries | Technique/Training
My first DCI Finals was in 2017, so season-ending moments like Carolina Crown's 2013 victory, Blue Devils' record score in 2014, and the winners' encore performance of "Down Side Up" all come to mind. Ask anyone who knows me, I'm a sucker for an electric crowd.
But my first drum corps show, in person, was the DCI Eastern Classic in 2009; I'm only 23, so while my passion for drum corps has led me to develop knowledge of its distant history, my personal experiences with the activity only date back a little over a decade.
By now, you've probably done the math.
The Show of Shows
I never saw "Spartacus" live.
For my age group of "band kids" who entered the high school activity in the early 2010s, "Spartacus" was our "Tilt." If you wanted to get someone amped about drum corps, you pulled up YouTube and showed them Phantom Regiment's 2008 title-winning production. How could you see "Spartacus" and not be enamored? It was an intersection of accessible storytelling, vivid character development, impactful pay-off, and elite performance quality in all facets. You couldn't watch it and be lost. You couldn't watch it and be unimpressed. You could only be electrified.
I look back to that Saturday night in Bloomington — the last DCI World Championships "under the lights" to date, which made Regiment's gold and silver costume accents, not to mention its medals, shimmer all the more eye-catchingly — and I'm just stunned by the palpable energy.
Now, I've felt the rush of an ecstatic drum corps crowd in person before. I've witnessed three champions' encore runs from the field in Indy, I watched The Cadets break out their Z-Pull in 2018 from the tunnel at Lucas Oil Stadium, and I experienced crowd-favorite shows like "Inferno," "Babylon" and "The BLUECOATS." Those crowds went ballistic.
But every time I watch those videos back, I can remember the energy, but I can't feel it again. To expect that would be unrealistic; it's a two-dimensional video.
That's what makes "Spartacus" so insane. It's like the crowd is its own audio track on the file and it's ramped up to the decibel level of the corps itself. It's like those in the audience didn't even care if — over their own screams the screams of those around them — they could clearly hear the final moments of show the were so excited about, because they legitimately could not hold in their pure adrenaline.
Can I blame them? Not even slightly.
And there's a reason for that. I alluded to it earlier; "Spartacus" had everything. It had a story you could understand and follow. It wasn't cheesy, but it was pretty cut-and-dry. And it was performed impeccably.
But the main kicker? Not only did "Spartacus" set up its impact moments perfectly, but each of those moments all pointed more and more clearly toward the show's climax. They kept giving you tastes but generally kept you waiting for a perfectly orchestrated peak moment.
If you've seen "Spartacus" — if you haven't, go watch it, fall in love with this beautiful activity all over again, and then come back and keep reading — think about that show for a minute. Other than a brief opening moment and prior to the ballad, when is there a truly resounding impact melody in that show? Even the ballad itself is only half of a true pay-off.
Don't get me wrong for a second, that ballad is gorgeous. But in terms of a powerful melodic moment, there are truly just 15 seconds of loud, impactful brass melody before things turn dissonant once again, tightening rapidly and suddenly toward the chilling sound effect of the slice of a knife, which marks the ruthless killing of one of the show's characters.
It's almost as if that ballad was meant to make you feel, musically, the same way the characters felt; for all I know, maybe that was the exact intent.
For the first time in the story's arc, the protagonists — the slave class, down-trodden under the tyrannic rule of the Roman Republic — began to experience happiness in the form of a love story. The beautiful brass music, along with that joy, is erased out of thin air in seconds.
And then it's right back to the tension and angst. The protagonists are angry, and they're fed up with the status quo.
Finally, Spartacus rises from their ranks.
For the first time in the show, at that moment, as optimistic brass music begins to build and members, one by one, shout, "I am Spartacus," you can feel it — the pay-off is on its way.
The rest is history, and it's when the members of the audience — that massive gathering of drum corps fans who, to this day, I'd give anything to stand among — absolutely lose. Their. Minds.
What must it have felt like to hear everyone around you, in unison with the soon-to-be-crowned champions on the field — all of you having waited for this moment, essentially, all summer — to scream at the top of your lungs, "I am Spartacus!" and have a wave of pure brass sound cascade over you, soaring up the one large grandstand at Memorial Stadium in Bloomington?
What must it have felt like to see the main character emphatically overthrow the powerful villain front and center, take his throne, and ring in the melody you've waited 12 minutes to hear, all while you and thousands of your closest friends are screaming and shouting as though you yourselves had spent all of those years under tyrant rule and were now experiencing this long-awaited victory and freedom firsthand?
What must it have felt like to perform it? To literally be that sound? To receive that crowd response? And on top of it all, to win?
I'll never know. But if you do, I'm certain you'll never forget it. And I'm certain that drum corps is better for it, forever.