DCI
Quick Hit: The Story Behind "Lucy," The Bluecoats 2021 Show
Quick Hit: The Story Behind "Lucy," The Bluecoats 2021 Show
The Bluecoats' 2021 production continues their 2019 production with part two, this time focusing on the perspective of "Lucy," through Sgt. Pepper's doors.
May 20, 2021
by Andy Schamma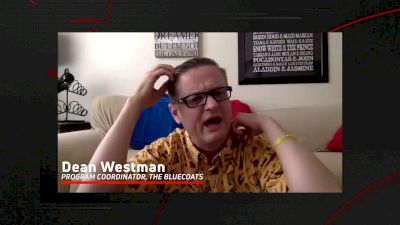 The Bluecoats' 2021 production continues what they began in 2019 that spotlighted the music of the Beatles and became an instant crowd favorite from season premiere to DCI World Championship finals. This time, the corps steps through the door into the imaginary world of Lucy, "in the sky, with diamonds."
Kaleidoscope Goggles
Despite repeated denial by John Lennon, the song "Lucy in the Sky with Diamonds" has been often tied to the hallucinogenic drug LSD and seen as an iconic song from the psychedelic genre due to its unique instrumentation, sound effects, and the imagery depicted through the lyrics. The origination of the song and its title, however, as told by John Lennon, is that it came from a painting that his son, Julian Lennon, brought home from nursery school of a classmate named Lucy—Julian himself described the painting to his father as "Lucy in the sky, with diamonds."
Regardless of the intent of the title to reflect illicit drugs or not—the colorful, kaleidoscopic aesthetic of "Lucy in the Sky, with Diamonds" will no doubt be the Bluecoats' main vehicle for visually executing this year's production on the field.
The 2021 field production picks up where their 2019 show "The Bluecoats" left off—the corps sings "Hey Jude" after completing their concert and encore and heading back into the doorway to the world beyond.
Quick Overview
"In 2019 The Bluecoats rocked stadiums around the country in a 31-stop concert tour that explored the works of The Beatles. Now, we go through the door into the world of Lucy on a magical mystery tour with just 11 stops. The Bluecoats have returned, intermission is over, please take your seats.
Originally slated for the 2020 competitive season, we continued to refine Lucy during the pandemic to create the show on the field this summer. The show features a similar landscape to create the show on the field this summer. The show features a similar landscape transformed into Lucy's world and featuring The Bluecoats in concert once again.
The world-renowned creative team that created Tilt, Down Side Up, Jagged Line, Kinetic Noise, Session 44, and The Bluecoats returns again with Lucy and her world of 'tangerine trees and marmalade skies."
"My son came home with a drawing, and showed me this strange-looking woman flying around. I said 'What is it,' he said 'It's lucy in the sky with diamonds' and I thought 'that's beautiful.' I immediately wrote a song about it."
More information coming soon...